Phone Number
(831) 667-1112
Dogs Allowed?
No
Dogs not allowed beyond day-use parking lot.
Driving Directions to Andrew Molera SP
The park is 20 miles south of Carmel on Highway 1.



Visitors will be able to reserve campsites and lodging six months in advance from the current date. Bookings may extend from the arrival date to the desired departure date – based on availability and the park's maximum stay rules.
Upcoming Park Events
No events scheduled at this moment.
BOATING
Boating

TRAIL USE
Bike Trails
Hiking Trails

DAY-USE ACTIVITIES & FACILITIES
Historical/Cultural Site
Picnic Areas
Env. Learning/Visitor Center
Exhibits and Programs
Guided Tours
Interpretive Exhibits
Beach Area
Swimming
Vista Point
Nature & Wildlife Viewing
Windsurfing/Surfing
Museums

OTHER FACILITIES & VISITOR INFORMATION
Parking
Restrooms
Drinking Water Available

Andrew Molera Campground
November 4, 2023 - Trailcamp at Andrew Molera State Park is closed for the season. For camping reservations for next season, please visit www.ReserveCalifornia.com Campgrounds are expected to open in June 2024 and sites can be reserved up to 6 months in advance.
The footbridge across the Big Sur River has been removed for the winter season. To get to the beach or access Creamery Meadow, Ridge, Panorama or Bluff trails you need to wade across the river.
Follow us on social media @BigSurStateParks for more photos and Big Sur State Parks information. For current highway conditions and closures please visit https://quickmap.dot.ca.gov/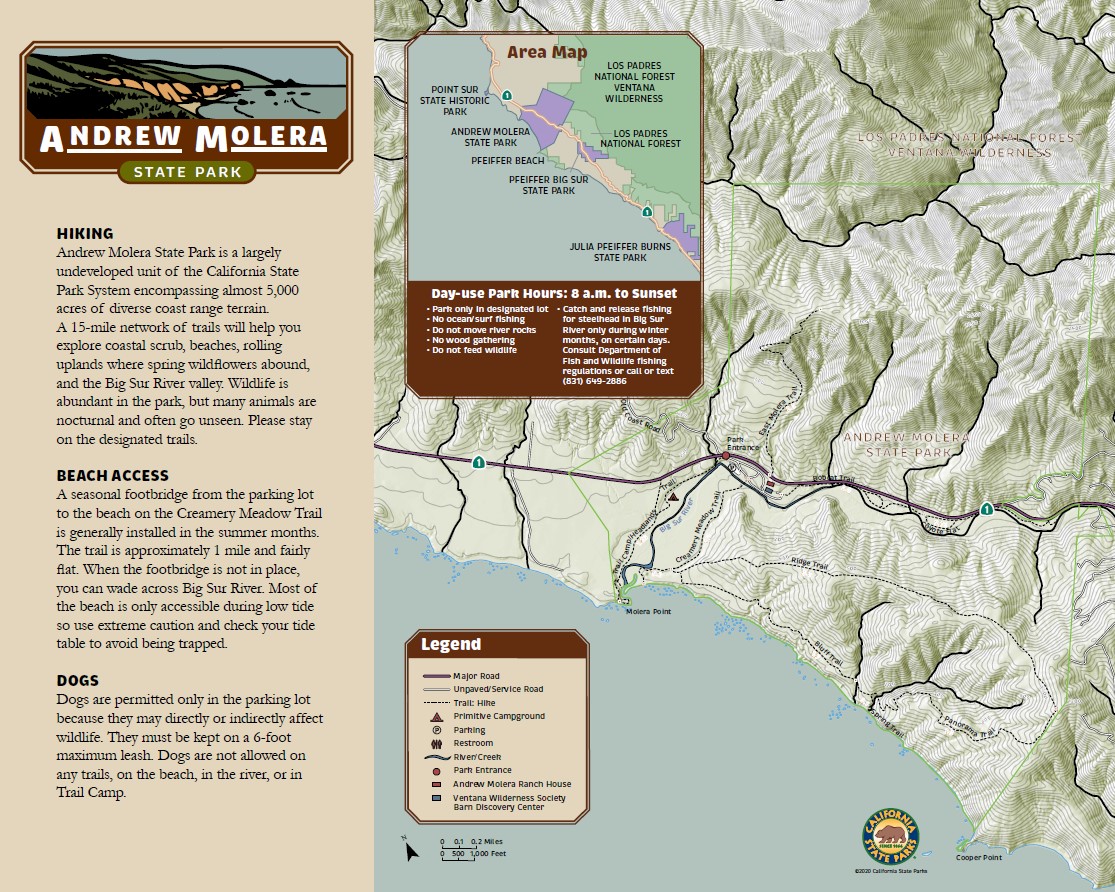 HIGHWAY 1 CLOSURES
Northbound / Southbound 1 Full Closure

From South end of Limekiln Creek Bridge to Lucia

Due to Slide Removal
No estimated time for reopening of closure.
Information courtesy of
Last updated: 11/16/2023 5:08pm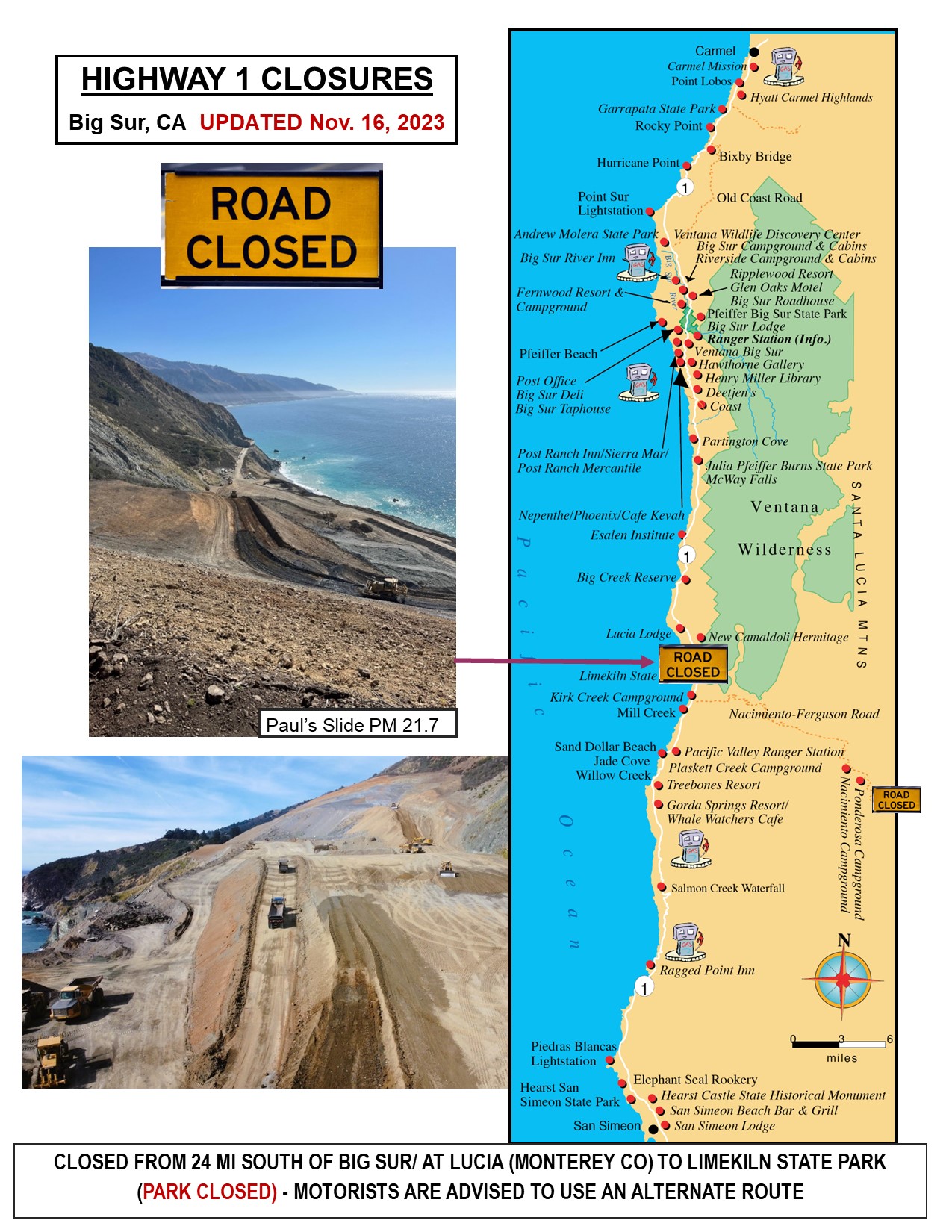 About Andrew Molera State Park
TRESPASS ALERT
During your visit to Andrew Molera State Park, you may encounter fenced and posted boundaries for the El Sur Ranch. We ask your cooperation in refraining from climbing or cutting these fences. The El Sur Ranch is a working cattle grazing operation. These grazing areas are not safe for hiking. These private lands should not be utilized for beach access. Stay on park trails and obey all signs.

California Penal Code Sec. 602,602.8
In the spectacular Big Sur area, this park is still relatively undeveloped and offers visitors great hiking and beachcombing as well as panoramic views of the Monterey Bay National Marine Sanctuary, a federal marine protected area. Miles of trails wind through meadows, bluffs, beaches and hilltops.

Weather

CURRENT WEATHER

CURRENT TIDES
The weather can be changeable. Layered clothing is advised. In winter, overnight temperatures can range in the 30s-50s (Fahrenheit). Winter daytime temperatures can be low 50s-mid 70s. In summer, overnight temperatures can range in the 50s-70s, with daytime temperatures typically in the 70s-80s. Summer mornings bring fog, which usually burns off by midday.

Location
Near mile marker 51.2 on Highway 1, the park is located 21 miles south of Carmel.

GOOGLE MAP
LOST AND FOUND: bigsur.lostandfound@parks.ca.gov
(CAMPING ONLY) LATE ARRIVALS: BigSur@parks.ca.gov
Additional Visitor Services