California State Parks Disabled Discount Pass
For the quickest service, apply online through your ReserveCalifornia.com account!
---
All disabled discount passes that were set to expire have been renewed for an additional five years. If your pass has expired or is due to expire, you do not need to reapply. Please enjoy the continued benefits of your pass!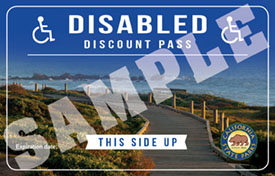 For persons with permanent disabilities, this pass entitles the bearer to a 50% discount for vehicle day use, family camping, and boat use fees at California State Park operated units.

This is a lifetime pass and is valid for use of the pass holder only. View the complete Disabled Discount Pass Program Terms and Conditions.
---
As of 2022, applicants can apply for the Disabled Discount Pass online via ReserveCalifornia.com. This will ensure quickest service.
Applications may also be made in person at designated locations within the State Park System – View List. Please contact the sites in advance to ensure availability. Completed applications may also be mailied, with required documentation including copy of photo ID, to:
California State Parks
ATTN: Disabled Discount Pass Program
P.O. Box 942896
Sacramento, CA 94296-0001
Download the Disabled Discount Pass Application

(Accessible form when downloaded)
View a detailed list of required documents for the Disabled Discount Pass Application.
Where is the Disabled Discount Pass accepted?
Once pass is received, you may use passcard for reservations and applicable benefits. The pass holder is required to present the Disabled Discount Pass and a valid California Driver License or other suitable photo identification, along with any campsite reservation, and to pay any supplemental fees at the park.
---
For questions or more information, please contact the Park Pass Sales Office via email at passinfo@parks.ca.gov.

Note:
A lost or damaged pass may be replaced only through reapplication and no refunds can be issued.
Lifetime pass holders are not permitted to own more than one lifetime pass.