Program Areas
The Department has many policies, guidelines, programs, and activities that support its natural resource mission.

More...
Natural Resource Acquisition Program
Guidance for acquisition has been developed for "Sustainable Ecosystems" and "Unique Natural Resource Areas."

More...
Policy
The Natural Resources Division is responsible for providing leadership and policy direction that contributes to protection and improved management of natural resources in the State Park System.

More...
Environmental Compliance
Environmental compliance in the Department of Parks and Recreation includes both the review and preparation of necessary environmental documents under California's Environmental Quality Act (CEQA).

More...
California Natural Landmarks Program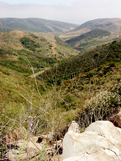 The California Natural Landmarks Program (CNLP) identifies natural areas that best illustrate the biological and geological character of the state, enhance the scientific and educational values of preserved areas, strengthen public appreciation of natural history, and foster a greater concern for the conservation of the State's heritage.

More...
GeoGems of California
California is a veritable treasure chest of nationally acclaimed natural landmarks and much adored scenery. This geologic legacy on display in the landscape can be observed throughout California's State Park system.

More...