Andrew Molera State Park: DAY USE
PLEASE REMEMBER!
All park features are protected by law and may not be disturbed.
Stay on trails to avoid poison oak throughout the park.
Do not move rocks, branches, or other material in the Big Sur River. This helps protect the Steelhead habitat.
Please do not feed wildlife.
Except for service animals, pets may not use trails. In the parking area, dogs must be on a six-foot leash at all times.
Fee
$10 per car, per day. Your entrance fee allows you access to all California state parks until sundown.
Senior Citizen Discount: Age 62 or older, $1.00 off, except vehicles over 9 passenger capacity.*
Disabled Discount Pass Holders: $5
Distinguished Veterans Pass Holders: no charge
Golden Bear Pass Holders: no charge
Limited Use Golden Bear Pass Holders: no charge during off-season (Labor Day through Memorial Day)
State Parks Pass holders must present pass at kiosk upon entry to park. Most State Park passes can be purchased at the Monterey District office at 2211 Garden Road, Monterey, CA 93940. California Explorer and Golden Poppy annual passes may be purchased at the Pfeiffer Big Sur entrance kiosk.
*NOTE: Tour buses and RVs are not permitted in the parking lot of this park.

Hours
The park is open to day use visitors from 8 a.m. to sunset. The park entrance stations' hours of operation vary. When the entrance station is not staffed, visitors must pay day use fees by following the self-registration instructions.

Parking
Parking is permitted only in the designated parking lot. RVs and travel trailers are not permitted in this lot. Parking in the pullouts along Highway 1 is allowed.

Dogs
Dogs are not allowed on any State Park trails, but they are allowed in the parking area and adjoining picnic area. Dogs must be on a leash at all times. Do not leave your dog unattended at any time. See Dogs in Big Sur for more information on where to take your dog.
Service Dogs: California State Parks promotes and supports equal access for park visitors of all abilities. Download the publication Service Animals in State Parks for more information.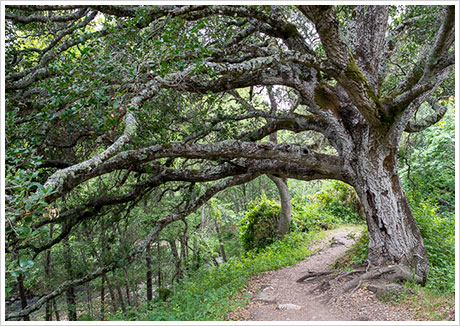 Swimming + Surfing
Our park has a beautiful beach on the Pacific Ocean. There are no lifeguards and conditions can be extremely hazardous, therefore swimming and surfing is not advised.

Hiking
There are a number of trails in the park. Many allow for bicycling and hiking. Check the park kiosk for trail map and trail designations. See the TRAILS page for more information.

Seasonal Footbridge
One temporary seasonal footbridge is installed near the parking area around June 15 to allow pedestrians to cross the Big Sur River and access the Creamery Meadow Trail which leads to the beach. The bridge is removed around October 31 each year. .

Fishing
Fishing in the Big Sur area is highly restricted. Catch and release steelhead fishing in the Big Sur River is allowed only under certain conditions in the winter. Call the Department of Fish & Wildlife's Steelhead Fishing Hotline at 831-649-2886 for the current status of fishing in the Big Sur River and other Big Sur coastal streams. All ocean fishing is prohibited. The Point Sur State Marine Reserve extends from Point Sur to Cooper Point. See Department of Fish and Wildlife Fishing Regulations for more information.

Molera Ranch House Museum
Find out what it was like to live in Big Sur 100 years ago. Located near the river crossing and Ventanta Wildlife Society Discover Center, the Ranch House is open for visitors during peak season on Saturday from 11:00 a.m. to 3:00 p.m. when a volunteer is available. More Info

California Condor Discovery Center
Come learn about the magnificent condors and the reintroduction program run by the Ventana Wildlife Society. The center is open during peak season on Saturday and Sunday from 10 a.m. to 4 p.m. when staff are available. More Info
Lost and Found: BigSur.LostandFound@parks.ca.gov

Photograph courtesy of Sharon Pieniak