This park unit is partially open.
Please take the time to read the information contained on this webpage to find out what is open and closed, and what COVID-19 guidelines are in place. - (May 28, 2021)
What is open now?
Garrapata State Park coastal trails, beach, and the Soberanes Canyon Trail on the east side of Hwy 1, are open for day use.
There is no restroom facility, but portable restrooms are available.
What is currently closed?
Rock Ridge Trail east of Hwy 1 is closed due to hazardous conditions.
There is no campground at Garrapata State Park.
---
COVID-19 Guidelines - (February 16, 2022)
Recreate Responsibly
Protect yourself, family, friends and your community by following these prevention measures:
Know Before You Go – Prior to leaving home, check the status of the park unit you want to visit to find out what restrictions and guidelines are in place. Have a back-up plan in case your destination is crowded. Stay home if you are sick
Plan Ahead – Some restrooms will be temporarily closed to keep up with cleaning schedules. Bring soap/hand sanitizer.
Play It Safe – Find out what precautions you should take when exploring the outdoors, especially if this is your first time visiting the State Park System. Learn more at parks.ca.gov/SafetyTips.
Be COVID-19 Safe – State Parks continues to meet guidance from local and state public officials as COVID-19 is still present and still deadly. Effective March 1, 2022, state guidance recommends that all individuals, regardless of vaccine status, continue masking in indoor settings, such as museums and visitor centers. Universal masking remains required in specified high-risk settings. Please plan ahead as local county guidelines may differ from state guidance and visitors are urged to follow county guidelines when required. Read the latest COVID-19 guidance at COVID19.ca.gov.
Leave No Trace – Leave areas better than how you found them by staying on designated trails and packing out all trash. Do not disturb wildlife or plants.
Phone Number
(831) 624-4909
Park Hours
8 AM – ½ Hour After Sunset
Dogs Allowed?
Yes
Dogs allowed on the beach at Gate 19 (south end of the park) and trails leading to it. Dogs not allowed in all other areas.
Driving Directions to Garrapata SP
The park is located on Highway 1, 6.7 miles south of Rio Road in Carmel (18 miles north of Big Sur).


Online reservations are not available for this park.
Upcoming Park Events
No events scheduled at this moment.
TRAIL USE
Hiking Trails

DAY-USE ACTIVITIES & FACILITIES
Fishing
Guided Tours
Scuba Diving/Snorkeling
Beach Area
Nature & Wildlife Viewing
Windsurfing/Surfing
Family Programs

ABOUT GARRAPATA STATE PARK
Garrapata State Park has two miles of beach front, with coastal hiking and a 50-foot climb to a beautiful view of the Monterey Bay National Marine Sanctuary, a federal marine protected area. The park offers diverse coastal vegetation with trails running from ocean beaches into dense redwood groves. The park also features outstanding coastal headlands at Soberanes Point. Sea lions, harbor seals and sea otters frequent the coastal waters and California gray whales pass close by during their yearly migration.

Location-Directions
The park is located on Highway 1, 6.7 miles south of Rio Road in Carmel (18 miles north of Big Sur).

Seasons/Climate/Recommended Clothing
The weather can be changeable. Layered clothing is advised.
SOBERANES CANYON TRAIL
The popular Soberanes Canyon Trail partially reopened on Saturday, April 14, 2018, following previoius fire damage and closures.
It is now open exclusively from the main, gated trailhead on the east side of Highway 1, across from Gate 8 of the Garrapata Coastal Trail.
Visitors are able to hike to the back of the canyon along the 1.25 mile length of the trail.
Plan on an out and back hike as the Rocky Ridge portion of the trail is closed due to hazardous conditions.
BIG SUR AREA - WHAT'S OPEN UPDATE 08-02-2021
For all Big Sur Area State Parks, please visit the individual park unit websites for detailed information aout what is open, camping reservations and more!
Find links for park units here: http://cm.parks.ca.gov/Page/Edit/21284
DOGS
There is limited access for dogs on leash at the Garrapata State Park beach area:
Dogs on leash are ONLY are allowed on the beach at Gate 19 (south end of park) and on the trails leading to it.
Dogs are NOT allowed in all other areas, including across Hwy 1 in the Soberanes Canyon Trail area.
Marine Protected Area Coloring Book - Area Marina Protegida - Libro Para Colorear
Embark on a journey of discovery about Marine protection in a fun and easy way!!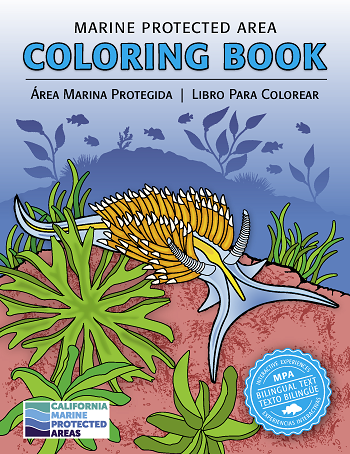 The Marine Protected Areas Coloring Book - Area Marina Protegida - Libro Para Colorear - helps students of all ages learn about the rich diversity of plant and animal life found in California's Marine Protected Areas (MPAs). The book includes three new 3D augmented reality coloring pages that will allow students to interact with their colorings using a smartphone or tablet while learning about marine life and California's marine protected areas.
Download the new marine protected area (MPA) coloring book along with the California Coastal Explorer Guide at: https://www.mpacollaborative.org/kids/