Phone Number
(831) 667-2997
Max. Trailer Lengths
Trailer: Up to 15 Feet
Camper/Motorhome: Up to 24 Feet
Park Hours
8:00 am to sunset
Limekiln SP entrance gate closes at sunset. Campers arriving late should contact Limekiln kiosk.
Dogs Allowed?
No
Dogs not allowed beyond day-use parking lot.
Driving Directions to Limekiln SP
The park is 56 miles south of Carmel at Hwy 1 mile marker 20.95, 2 miles south of Lucia. The park entrance road is at the south end of the bridge over Limekiln Creek.


Visitors will be able to reserve campsites and lodging six months in advance from the current date. Bookings may extend from the arrival date to the desired departure date – based on availability and the park's maximum stay rules.
Upcoming Park Events
No events scheduled at this moment.
OVERNIGHT FACILITIES
Family Campsites
Primitive Camping
RV Access

TRAIL USE
Hiking Trails

DAY-USE ACTIVITIES & FACILITIES
Fishing
Beach Area
Geocaching

OTHER FACILITIES & VISITOR INFORMATION
Restrooms / Showers
Restrooms
Outdoor Showers
Drinking Water Available

About Limekiln State Park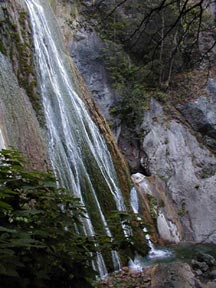 The park features breathtaking views of Monterey Bay National Marine Sanctuary and the rugged Big Sur coastline, in addition to redwood forests and the cultural history of limekilns.
California State Parks contracts with Parks Management Company to operate the park. Please see sidebar information to learn more about camping and day use at Limekiln State Park.

Location-Directions
The park is 56 miles south of Carmel, off Highway One; two miles south of Lucia.

Seasons/Climate/Recommended Clothing
The weather can be changeable. Layered clothing is advised.