Pfeiffer Big Sur State Park
UPDATE ( November 4, 2023)
- Pfeiffer Big Sur State Park is OPEN for DAY USE, and CAMPING. Main Camp, Wayland and South Camp Loops are now open. Camping reservations can be made at
www.reservecalifornia.com
up to 6 months in advance. The footbridge between Day Use Lot #4 and South Camp has been removed for the season.
Pfeiffer Falls trail remains closed due to bridge damage, however the falls can be viewed by hiking up and back on the Valley View trail.
For more information about USFS properties and current closures, please visit
USFS - Los Padres National Forest - Big Sur
For current highway closures and conditions please visit
CalTrans - Road Conditions Map
Follow us on social media @BigSurStateParks for photos and information.
Phone Number
(831) 667-1112
Max. Trailer Lengths
Trailer: Up to 27 Feet
Camper/Motorhome: Up to 32 Feet
Dogs Allowed?
Yes
Dogs allowed on the Warden's Path and River Path, and in day-use lots and campground. Dogs not allowed on all other trails.
Driving Directions to Pfeiffer Big Sur SP
The park is located 26 miles south of Carmel on Highway 1.


Visitors will be able to reserve campsites and lodging six months in advance from the current date. Bookings may extend from the arrival date to the desired departure date – based on availability and the park's maximum stay rules.
Upcoming Park Events
No events scheduled at this moment.
OVERNIGHT FACILITIES
En route Campsites
Family Campsites
Group Campsites
Hike or Bike Campsites
Lodging
RV Dump Station
RV Access

TRAIL USE
Hiking Trails

DAY-USE ACTIVITIES & FACILITIES
Historical/Cultural Site
Picnic Areas
Exhibits and Programs
Guided Tours
Interpretive Exhibits
Swimming
Nature & Wildlife Viewing
Family Programs

OTHER FACILITIES & VISITOR INFORMATION
Food Service
Camp Store
Parking
Restrooms / Showers
Restrooms
Drinking Water Available

HIGHWAY 1 CLOSURES
Northbound / Southbound 1 Full Closure

From South end of Limekiln Creek Bridge to Lucia

Due to Slide Removal
No estimated time for reopening of closure.
Information courtesy of
Last updated: 11/16/2023 5:08pm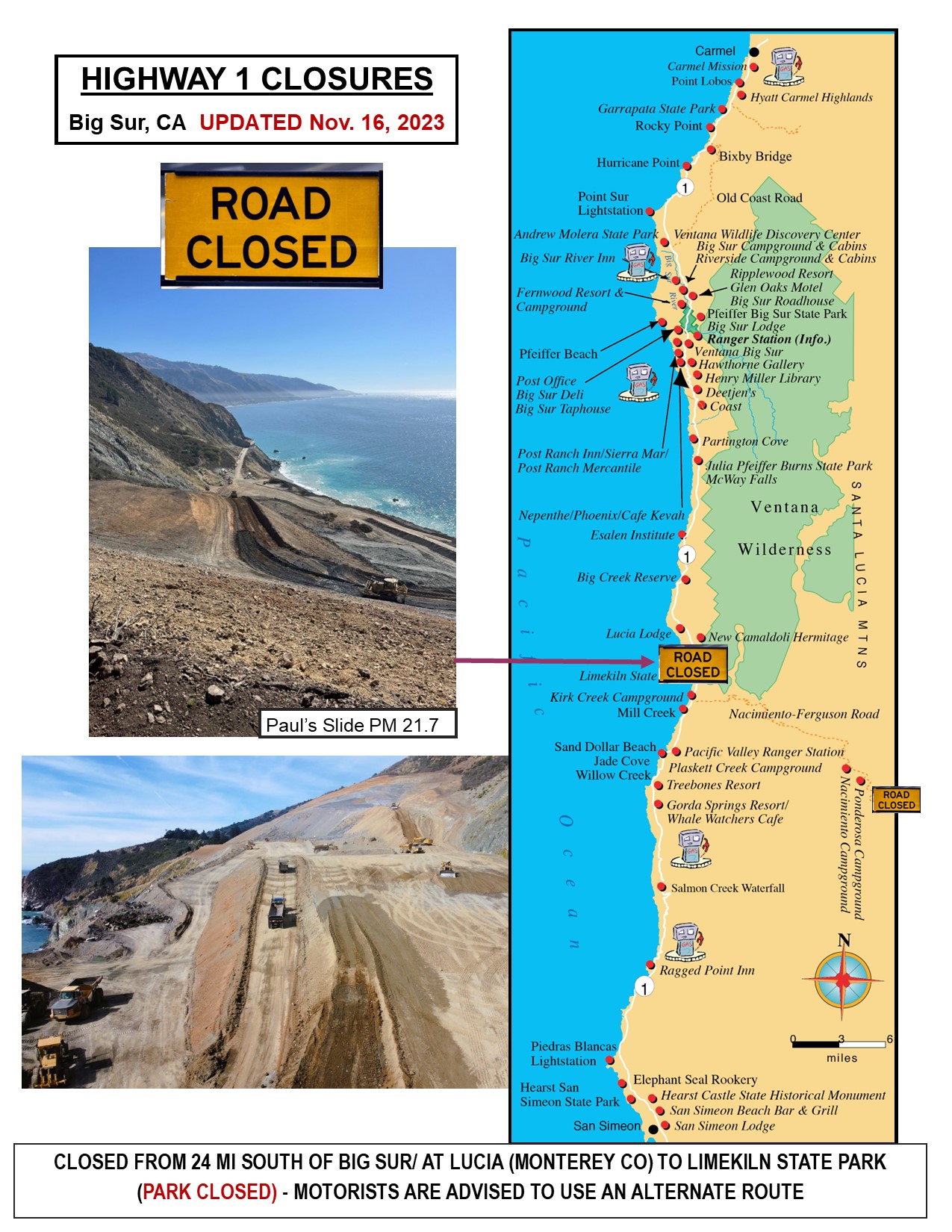 About Pfeiffer Big Sur State Park
THERE IS NO BEACH OR OCEAN ACCESS IN THIS PARK
The turn-off for popular Pfeiffer Beach is located on Highway 1, approximately one mile south of Pfeiffer Big Sur State Park's entrance. Heading south from the State Park entrance, it is the second right turn. Pfeiffer Beach is not a California State Park and charges a separate entrance fee.
On the western slope of the Santa Lucia Mountains, the peaks of Pfeiffer Big Sur State Park tower high above the Big Sur River Gorge, where the Big Sur River enters this popular park. Walk along the banks of the river and among the redwoods, conifers, oaks, sycamores, cottonwoods, maples, alders and willows. A large campground accommodates hikers, bikers, car campers and RVers. Many campsites are located along the Big Sur River. Wildlife includes bobcats, black-tail deer, gray squirrels, raccoons, skunks, and birds, such as dippers and belted kingfishers. Hikers can enjoy many scenic trails, including a self-guided nature trail. Big Sur Lodge is located in the park. The lodge has 61 guest rooms, a conference center, cafe, and a grocery store.

Weather
CHECK CURRENT WEATHER
The weather can be changeable. Layered clothing is advised. In winter, overnight temperatures can range in the 30s-50s (Fahrenheit). Winter daytime temperatures can be low 50s-mid 70s. In summer, overnight temperatures can range in the 50s-70s, with daytime temperatures typically in the 70s-80s. Summer mornings bring fog, which usually burns off by midday.

Location
Near mile marker 47.2 on Highway 1, the park is located 26 miles south of Carmel.
GOOGLE MAP

Ewoldsen Nature Center Now Open Friday through Tuesday
The Ewoldsen Nature Center is now open for all visitors to enjoy on
Friday, Saturday, Sunday, Monday and Tuesday from 10:00 a.m. to 2:00 p.m.
Set amidst life-size murals of Big Sur's natural habitat areas, visitors are encouraged to learn about the flora and fauna of Pfeiffer State Park and beyond. Adults and children alike can experience what it's like to "Fly like a Condor" at our digital condor flight station designed with actual Big Sur condor flight patterns. Hosted by State Parks staff and volunteers, the Ewoldsen Nature Center is a place of wonder and delight for all who stop by.
We'd love to see you here!!