Pfeiffer Big Sur State Park : CAMPING
CAMPING RULES
Maximum 2 vehicles per site
(including trailers and towed vehicles)
All vehicles must fit within campsite parking boundary
(no overflow parking)
Maximum 6 people per campsite
No wood collecting
Do not feed wildlife
Store food/trash properly
No nails in trees
Bicycles are not allowed on hiking trails
Quiet hours: 10 p.m. to 6 a.m.
Generator hours: 10 a.m. to 8 p.m.
No amplified music. Noise from radios and other devices must not be audible beyond your immediate campsite, regardless of the time of day or night
Dogs must be on a leash at all times
No dogs on trails
All vehicles must be registered and display a valid parking pass
Speed limit is 10 mph
Check-out time is 12 noon
189 RV and tent sites are situated on or near the Big Sur River. There is a Campfire Center that offers evening programs on the weekends during peak season.

Pfeiffer Big Sur is an extremely popular campground. Reservations fill up six months in advance, even in the winter. Online reservations are available 24 hours a day, seven days a week at ReserveCalifornia. You may also call toll free 1-800-444-7275. Due to seasonal volume, access to the ReserveCalifornia website and telephone line may be limited at times.
Campsites cannot be reserved online or by phone within a 48-hour arrival window.

TENT/RV CAMPING FEES
Standard site: $35/night
Premium Riverfront site: $50/night
En Route overnight parking: $45 (One night only, parking in Day Use Lots 3 and 4 for self-contained RVs with onboard flush toilets only, 5:00 pm - 9:00 am)
Hike and Bike site: $5/night (hikers and bikers must arrive on foot or by bike, they cannot have a vehicle. Hike and Bike stay is limited to two consecutive nights)
Senior Citizen Discount: Age 62 or older, $2.00 off all campsites except Hike/Bike.
Disabled Discount Pass Holders: 50% off regular Standard or Premium site rate
Distinguished Veterans Pass Holders: no charge
State Parks Pass holders must present pass at kiosk upon entry to park.
Vehicles: The camping fee includes entry for two vehicles. Towed vehicles or trailers are counted as a vehicle. No additional vehicles are permitted, and there is no overflow parking. All equipment, including vehicles, trailers, awnings, pop-outs and slideouts must fit within the parking boundary.
During peak season, this park has a maximum stay limit of seven consecutive nights. Once the stay limit has been reached, the persons, equipment, and/or vehicles must vacate the campground for at least 48 hours before returning for another stay. Maximum length of stay per calendar year is 30 days.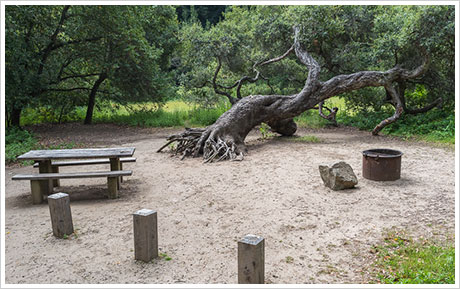 Each campsite includes a parking area for at least one car, a fire pit and a picnic table. No hookups are provided at any site. Fresh water, hot showers and toilets are located throughout the campground.

All incoming campers must check in at the entrance kiosk. Camper vehicles must display vehicle tag (proof of registration) in the windshield. Vehicle tags are also valid for day use entrance into other area state parks.

Check-in is 2 pm. Check-out is 12 noon.
LATE ARRIVALS: Campers with a reservation who arrive after the kiosk has closed may proceed to their campsite. A board will be posted at the kiosk with names and campsite numbers. There will also be printed campground maps available. Please check in with the kiosk by 10 a.m. the following morning to complete your registration.
Contact us about your late arrival at BigSur@parks.ca.gov

Accessible Sites
Any discount pass must be presented at the time of check in. Visitors reserving accessible campsites must possess a DMV Disabled Placard or license plates issued by DMV (or similar agency of another state). A Disabled Veterans license plate will also be accepted when reserving or occupying an accessible campsite. At the time of check-in, visitors must show the DMV placard. The disabled visitor must be an occupant of the site for the entire reservation period. No refunds will be issued for invalid reservations.

Walk-up Campsites ** RESERVATIONS ARE ADVISED **
All campsites at Pfeiffer Big Sur are on a reservation system. During peak season, the entire campground is usually reserved (booked 6 months in advance). Occasionally, there may be cancellations that allow some day-of sites to be available. To get a day-of campsite (also known as a walk-up campsite), you must be physically present at the park's entrance kiosk. Day-of sites cannot be reserved over the phone, nor can information about site availability be obtained by calling. If you would like to try to acquire a walk-up site, check with the entrance kiosk after 3 p.m. on the day you wish to camp. This is not recommended. It is always better to come prepared with a reservation due to the popularity of Big Sur.
Cabin Reservation
Pfeiffer Big Sur State Park has one cabin available for reservation at $75/night. Nestled among the redwood trees, it sleeps four (twin bunk bed, one full bed). The cabin site has a maximum occupancy of six. Occupants not sleeping in the cabin are permitted to tent camp at the site. There is also an adjoining campsite (#144), which is only available to the cabin occupants and can be reserved at the time of arrival. This site allows an additional six people to camp. Both the cabin and adjoining campsite are ADA accessible. The cabin does not include electricity, heat, running water, bathroom or kitchen. Bathrooms and hot showers are nearby. The cabin is locked with a keypad. The cabin site includes a picnic table and fire ring.

Showers
Hot showers are token-operated. Campers may purchase tokens at the entrance kiosk or at select bathroom locations throughout the campground. 1 token = $1.00 = 5 minutes of shower time. Showers are available to registered campers only.

Dump Station
Pfeiffer Big Sur State Park has a dump station that includes potable water for freshwater tank fills. Campers with reservations and en route campers may use the dump station at no additional charge. Non-campers wishing to use the dump station may do so for a fee of $10.

Group Camp ** CLOSED UNTIL FURTHER NOTICE **
$150/night.
Two Group Campsites are available from mid-June through mid-October by reservation.These walk-in sites are for larger groups with tents only. Group campsites feature a large camping area, fire ring, potable water, picnic tables, flush toilets, and access to one small amphitheater (seats 50 people). There are no showers. Campers may use the pay showers in the main campground of the park. Minimum number of people is 9, maximum number of people is 35. There is no vehicle access to the group campsites. Campers park on the west side of Highway 1 and walk in to the campground (approximately 1/4 mile) across the Big Sur River on a seasonal wooden footbridge. No trailers or motorhomes can be used at this site. There are no dogs allowed at the campsite.

Check in is at the Pfeiffer Big Sur State Park entrance kiosk. Both group camps are 1/4 mile north of the entrance of the park, west of Highway 1 and southwest of the Big Sur River. Parking is on the side of Highway 1. Each reservation includes parking passes for 10 vehicles. Additional vehicles are charged per night at the park.

All weddings, receptions, welcome dinners, etc. at Group Camp must have a Special Event Permit. Visit the park's Special Event page for permit information to hold an event at this location.

Fires are allowed only in the provided metal fire rings. Wood must be small enough to fit inside the ring and be completely contained. Do not gather firewood in the park. You may purchase firewood at the entrance kiosk. All fireworks are prohibited.

Firearms, weapons or hunting are not allowed. Possession of loaded firearms and air rifles is prohibited. This includes anything that shoots a projectile, including, but not limited to, arrows, pellets, BBs and paint balls.

Park plants, artifacts and animals are protected and should not be touched or harassed. It is important that you use the provided metal storage bins for all food and scented items to avoid accidentally feeding or having any negative interactions with native park wildlife.
LOST AND FOUND: bigsur.lostandfound@parks.ca.gov


Photograph courtesy of Sharon Pieniak