Julia Pfeiffer Burns State Park
PARK CLOSURE ALERT - On TUESDAY, MAY 30TH, 2023, Julia Pfeiffer Burns State Park will be CLOSED to both vehicles and pedestrian traffic. There will be no access to the park. Julia Pfeiffer Burns will reopen on Wednesday, May 31st.
Due to hazards from winter storms
, the southern parking lot at Julia Pfeiffer Burns State Park will be closed until further notice. When the park is open, there is limited parking in the northern parking lot.
For more information about USFS properties, please visit
USFS - Los Padres National Forest - Big Sur
. For current highway closures and conditions please visit
CalTrans - Road Conditions Map
. Follow us on social media #BigSurStateParks for photos and information.
Phone Number
(831) 667-1112
Dogs Allowed?
No
Dogs not allowed beyond day-use parking lot.
Driving Directions to Julia Pfeiffer Burns SP
The park is 37 miles south of Carmel on Hwy 1, and 12 miles south of Pfeiffer Big Sur SP on Hwy 1.


Visitors will be able to reserve campsites and lodging six months in advance from the current date. Bookings may extend from the arrival date to the desired departure date – based on availability and the park's maximum stay rules.
Upcoming Park Events
No events scheduled at this moment.
OVERNIGHT FACILITIES
Environmental Campsites

TRAIL USE
Hiking Trails

DAY-USE ACTIVITIES & FACILITIES
Picnic Areas
Exhibits and Programs
Interpretive Exhibits
Nature & Wildlife Viewing

OTHER FACILITIES & VISITOR INFORMATION
Parking
Restrooms
Drinking Water Available

HIGHWAY 1 CLOSURES
Northbound / Southbound 1 Full Closure

From Ragged Point Viaduct to BIG CREEK VISTA POINT

Due to Slide Removal
No estimated time for reopening of closure.
Information courtesy of
Last updated: 05/04/2023 1:41pm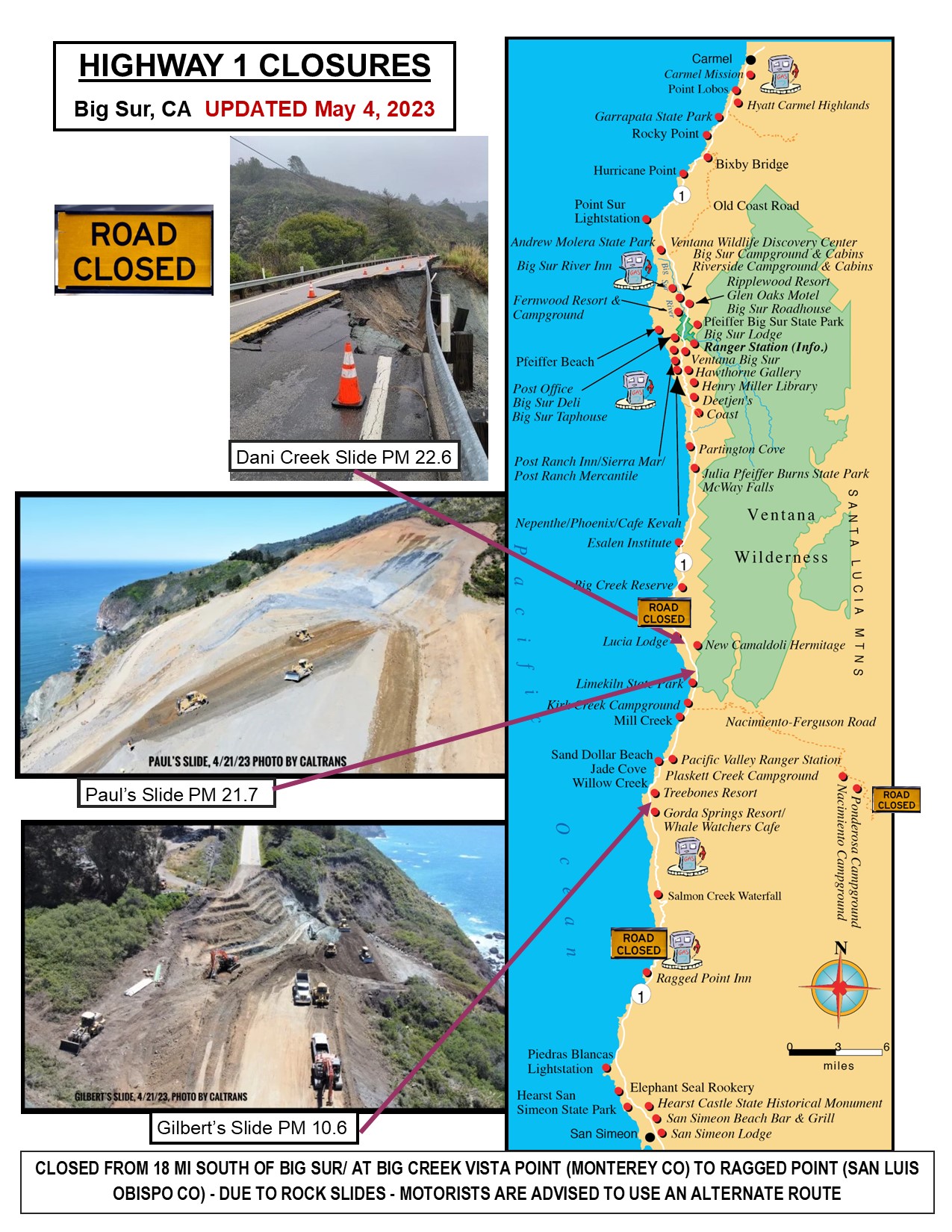 About Julia Pfeiffer Burns State Park
* * * CLOSED AREAS ***
THERE IS NO BEACH OR OCEAN ACCESS at McWAY FALLS
Cliff areas beyond the fenced boundaries, including the BEACH, SADDLE ROCK and MCWAY FALLS area are completely off limits. Trespassing into these closed areas is a serious offense, resulting in a citation and arrest. The areas are extremely hazardous. Failure to respect the boundaries has resulted in complex rescue operations and tragic loss of lives. Please stay on the trail and out of these closed areas.
This state park is named after Julia Pfeiffer Burns, a well-respected pioneer woman in the Big Sur country. The park stretches from the Big Sur coastline into nearby 3,000-foot ridges. It features redwood, tan oak, madrone, chaparral, and an 80-foot waterfall that drops from granite cliffs into the ocean waters of Monterey Bay National Marine Sanctuary. The higher elevation trails east of Highway 1 (currently closed) offer panoramic views of the sanctuary and miles of rugged coastline.

Weather

CHECK CURRENT WEATHER
The weather can be changeable. Layered clothing is advised. In winter, overnight temperatures can range in the 30s-5os (Fahrenheit). Winter daytime temperatures can be low 50s-70s. In summer, overnight temperatures can range in the 50s-70s, with daytime temperatures typicallys in the 70s-80s. Summer mornings bring fog, which usually burns off by midday.

Location
Near mile marker 35.8 on Highway 1, the park is 37 miles south of Carmel.

GOOGLE MAP
---