Limited Use Golden Bear Pass
All online and mail-in applications for a Golden Bear or Limited Use Golden Bear received before Thanksgiving will be issued a 2023 Pass. All applications received after Thanksgiving will be issued a 2024 pass in the first week of January.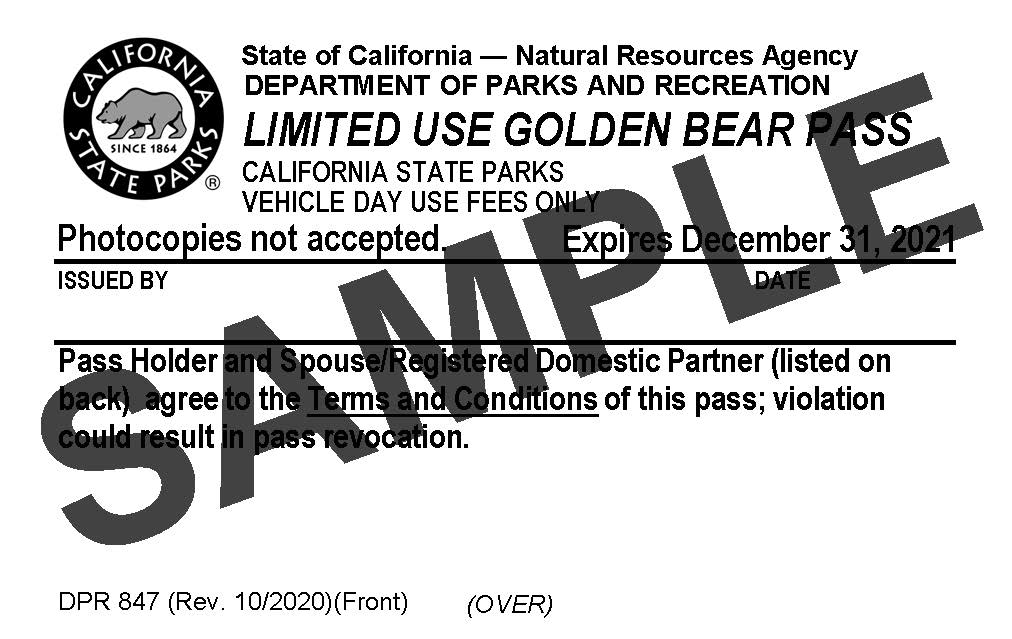 This $20 pass entitles the pass holder and spouse or registered domestic partner free vehicle day-use access at over 200 California State Parks-operated units during the nonpeak season of the year in which it was issued.
WHO QUALIFIES
HOW TO OBTAIN THE LIMITED USE GOLDEN BEAR PASS
Apply and submit your documents

, including payment

.

Get approved.

Receive your pass.

Enjoy

free day-use

entry to the parks.
Prepare for the application process by reviewing the Limited Use Golden Bear Pass Application Requirements.
Online: For the fastest processing, as well as secure transfer of information, follow the Online Application Steps.
By mail: Download the Limited Use Golden Bear Pass Application and mail with required documents.
In person: Apply in person at designated Pass Sales Locations of the California State Park System.
USING THIS PASS
Passes are valid fr

o

m

issuance until

December 31

of the

year in which the pass was issued

.

Pass

es

are

not valid for use during the peak season

, which is

the Friday before Memorial Day through

Labor Day at most state parks

.

Information on extensions of validity periods will be posted to the

Pass Renewal

and

Extension

Information

webpage.

Review the

Terms

and

Conditions

for full details on the use of your pass and pass benefits

:

Once your pass is received, you may use the pass card for applicable benefits.

Use the

resources below

to find the names of the locations that accept this pass

:
LOST OR STOLEN PASSES
A lost or damaged pass may be replaced only by reapplying for the pass. No refunds can be issued. Prior to reapplying, pass applicants must email passinfo@parks.ca.gov to report the pass as lost or stolen.
For questions or more information, please contact the Park Pass Sales Office via email at parkpassinfo@parks.ca.gov.