California State Parks Distinguished Veteran Pass
For the quickest service, apply online through your ReserveCalifornia.com account!
---
All distinguished veteran passes that were set to expire have been renewed for an additional five years. If your pass has expired or is due to expire, you do not need to reapply. Please enjoy the continued benefits of your pass!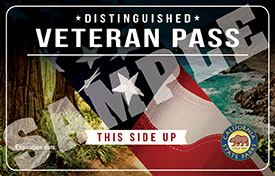 Honorably discharged war veterans who are residents of California with an overall / combined rating at 50% or greater service-connected disability, or were held as prisoners of war by forces hostile to the United States, or recipients of the Medal of Honor are eligible to receive the Distinguished Veteran Pass (formerly Disabled War Veteran/Prisoner of War Pass).
Entitles the holder to the use of all basic facilities (including day use, camping and boating) in California State Parks at no charge. The pass is not valid for group use or sites, special events, commercial use, additional/extra vehicle fees, or for supplemental fees and cannot be used in conjunction with any other pass and/or discount. Admittance and use subject to available space. This is a lifetime pass and is valid for use of the pass holder only. Although the benefits are lifetime, the pass holder's passcard will need to be renewed every five years. For all passes issued between 2017 and 2022, the 2022 renewal period process will occur automatically, without any need for action by passholders. Passes will be valid for five years from original date of purchase. View the complete Distinguished Veteran Pass Program Terms and Conditions.

---
As of 2022, applicants can apply for the Distinguished Veteran Pass online via ReserveCalifornia.com. This will ensure quickest service.
Applications may also be made by mailing completed application with required documentation including copy of valid California Driver License or California Identification Card to:
California State Parks
ATTN: Distinguished Veteran Pass Program
P.O. Box 942896
Sacramento, CA 94296-0001
Download the Distinguished Veteran Pass Application

View a detailed list of required documents pertaining to the Distinguished Veteran Pass Application.
Where is my Distinguished Veteran Pass accepted?
Once pass is received, you may use passcard for reservations and applicable benefits. The pass holder is required to present the Distinguished Veteran Pass and a valid California Driver License or California Identification Card, along with any campsite reservation or tour ticket, and to pay any supplemental fees at the park.
---
For questions or more information, please contact the Park Pass Sales Office via email at passinfo@parks.ca.gov.

Note:
A lost or damaged pass may be replaced only through reapplication and no refunds can be issued.
Lifetime pass holders are not permitted to have more than one lifetime pass.
The Distinguished Veteran Pass can only be acquired by applying online or by mail. No in-person locations offer this pass at this time.