Julia Pfeiffer Burns State Park: DAY USE
UPDATE (April 9, 2023)
- Large portions
of this park remain closed due hazardous conditions caused by the Dolan Fire and subsequent debris flows.
The Waterfall Overlook Trail, Tan Bark Trail, and Tin House Trail. Ewoldsen and Canyon trails will remain closed until further notice. These areas contain numerous compromised trees and trail hazards. Please adhere to closure notices. A portion of the parking is closed due to damages from recent storms. Parking is limited.
PLEASE REMEMBER!
There is
no beach access
. Cliff areas beyond the fenced boundaries, including the BEACH, SADDLE ROCK and MCWAY FALLS are completely off limits. Failure to respect these boundaries has resulted in complex rescue operations and tragic loss of lives
All park features are protected by law and may not be disturbed.
Stay on trails to avoid poison oak throughout the park.
Please do not feed wildlife.
Except for service animals, pets may not use trails. Dogs must be on a six-foot leash at all times.
Fee
$10 per car, per day. Your entrance fee allows you access to all California state parks until sundown.
Senior Citizen Discount: Age 62 or older, $1.00 off, except vehicles over 9 passenger capacity.*
Disabled Discount Pass Holders: $5
Distinguished Veterans Pass Holders: no charge
Golden Bear Pass Holders: no charge
Limited Use Golden Bear Pass Holders: no charge during off-season (Labor Day through Memorial Day)
State Parks Pass holders must present pass at kiosk upon entry to park. Most State Park passes can be purchased at the Monterey District office at 2211 Garden Road, Monterey, CA 93940. California Explorer and Golden Poppy annual passes may be purchased at the Pfeiffer Big Sur entrance kiosk.
*NOTE: Vehicles over 22 feet in length are not permitted in the parking lot at this park.


Hours
The park is open to day use visitors from 8 a.m. to sunset. Kiosk opening and closing times are variable. Visitors are required to pay fees at the self-registration station when the kiosk is closed.

Parking
There are a limited number of parking spots available in Julia Pfeiffer Burns State Park. Maximum vehicle length is 22'. Parking fills up quickly. If the lot is full, you may park on the side of Highway 1 provided your vehicle is entirely off the road with no part of it on or over the white line. Use extreme caution if entering or exiting your vehicle on the highway.

Picnics
There are two established picnic areas in the park with picnic tables and charcoal grills. One is in the parking area near the Ewoldsen Trailhead. The other is on the Ewoldsen trail, in the redwoods, a short walk in.

Dogs
Dogs are not allowed on any State Park trails, but they are allowed in the paved parking area. Dogs must be on a leash at all times. Do not leave your dog unattended at any time. See DOGS IN BIG SUR for more information on where to take your dog.
Service Dogs: California State Parks promotes and supports equal access for park visitors of all abilities. Download the publication Service Animals in State Parks for more information.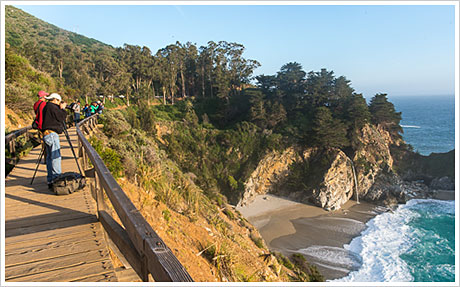 Hiking
There are a number of trails in the park. See the Trails section for more information.

Marine Wildlife Viewing
In December and January the Overlook Trail is an excellent place to watch for gray whales migrating southward to their breeding and calving grounds off the Baja California coast. Many whales pass close to shore at this point, and occasionally one will come into the mouth of the cove. In March and April, they can be seen returning north to their summer feeding grounds in the North Pacific.

Sea otters can sometimes be seen in the cove, and harbor seals and California sea lions are occasional visitors. Many sea and shore birds - sleek black cormorants, seagulls, brown pelicans, and black oystercatchers also make an appearance.

Pelton Wheel ** CLOSED **
The Pelton Wheel supplied power needs to residences, a blacksmith shop and a mining car tram that ran between the main house and Highway One. Hans Ewoldsen built the paddle wheel in 1932 using hand-split redwood from the canyon and other materials that he bought, working in the machine shop of the construction crew which was building Highway One. The undershot wheel ran a 32-volt generator and was the first electric power in the Big Sur area.

Underwater Area/SCUBA Diving
Between Partington Point and McWay Creek is the Julia Pfeiffer Burns Underwater Area, which was established in 1970 and is now a scuba diving area. This is an advanced dive site. Water entry and exit are hazardous. A valid dive registration permit must be obtained in advance and can be requested by contacting Supervising Ranger Kraft at (831) 667-0193. A valid scuba certification card from a nationally or internationally recognized dive training organization and a government issued identification are required to obtain a permit. Diving permits will be issued to a minimum of two divers. Diving alone is not permitted.

McWay Waterfall House
The terrace is all that remains of Waterfall House, the residence of Lathrop and Helen Hooper Brown. When the Browns began to acquire their Big Sur acreage in 1924, Mrs. Brown became acquainted with Julia Pfeiffer Burns, the daughter of a Big Sur pioneer family. In 1962, Mrs. Brown gave the ranch to the state for use as a state park dedicated to the memory of Julia Pfeiffer Burns.
Lost and Found: BigSur.LostandFound@parks.ca.gov

Photograph courtesy of Sharon Pieniak