California State Parks Golden Bear Pass
For the quickest service, apply online through your ReserveCalifornia.com account!
---
The 2022 Golden Bear Pass will automatically extend through 2023, with no action required by passholders.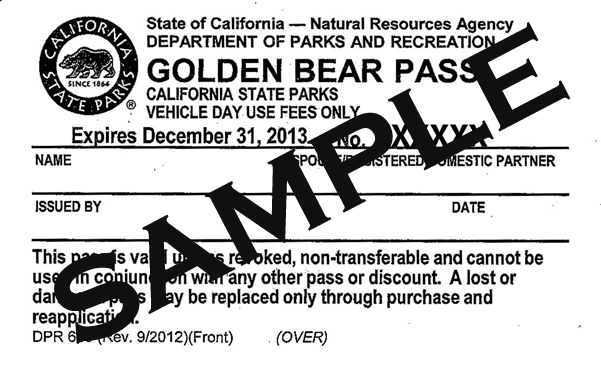 Thanks to legislation passed by the Legislature in 2021 and in support of the Newsom Administration's commitment to equitable access to California's state parks, the Golden Bear Pass is now FREE!
The Golden Bear Pass provides day-use vehicle access to 100+ selected state park units for disadvantaged families. Under state law, any qualifying person receiving SSI, any person receiving aid under the CalWORKs Program, or any person 62 years of age or older with income limitations specified on the current application form is eligible to receive the Golden Bear Annual Pass. This pass must be renewed each calendar year. View the Complete Terms and Conditions -- Vea los Términos y Condiciones de la Solicitud
---
*2022 Golden Bear Pass - The 2022 Golden Bear pass was extended through the end of 2023, with no action required by passholders. It is valid January 1, 2022-December 31, 2023.
Below you will find several options to apply:
CalWORKs: In partnership with the California Department of Social Services (CDSS), the process for CalWORKs families moved to an online system. Families can now complete the application on their smartphone in minutes. For more information, please visit cdss.ca.gov/goldenbearpass.
SSI and Low-Income Families:

Applicants can apply for the Golden Bear Pass online via

ReserveCalifornia.com

. This will ensure quickest service.
Applications may also be made in person at designated locations within the State Park System – View List. Please contact the sites in advance to ensure availability. Completed applications may also be mailied, with required documentation including copy of photo ID, to:
California State Parks
ATTN: Golden Bear Pass Program
P.O. Box 942896
Sacramento, CA 94296-0001
View a detailed list of required documents pertaining to the Golden Bear Pass Application.
Download the 2023 Golden Bear Pass Application -- Descargue la Solicitud de "Golden Bear Pass" Anio Calendario 2023 en español
Once pass is received, you may use passcard for applicable benefits. The pass holder is required to present the Golden Bear Pass and a valid California Driver License or other suitable photo identification and to pay any supplemental fees at the park.
Where is the Golden Bear Pass Accepted?
---
For questions or more information, please contact the Park Pass Sales Office via email at passinfo@parks.ca.gov.
Note: A lost or damaged pass may be replaced only through reapplication and no refunds can be issued.