WELCOME TO MONTEREY DISTRICT HEADQUARTERS
Welcome to the California State Parks - Monterey District website!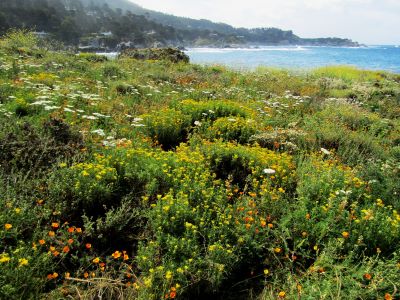 We hope to provide information on this site to welcome and prepare our visitors to the beautiful Monterey District State Parks!

For your safety, appointments for State Parks Pass purchases, or other business, are recommended. Please call (831) 649-2836. If you reach our voicemail, please leave a message and we will return your call. Thank you for your patience!
HOW TO REACH US:
Monterey District Front Office Hours of Operation:
Monday - Friday: 8:00 a.m. - 4:00 p.m.
Please note: our office is closed on all recognized California State holidays.
NO Public Restrooms Available.
TELEPHONE: (831) 649-2836
FAX: (831) 647-6239
MAILING ADDRESS: 2211 Garden Road, Monterey, CA 93940
Brent Marshall - Monterey District Superintendent: (831) 649-2836


CA State Park 4th Grade Adventurer Pass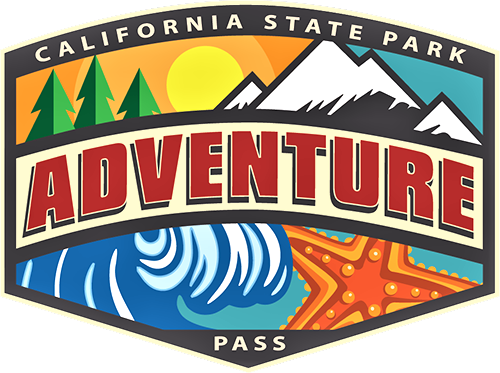 The CA State Parks Adventurer Pass is available for the free, one-year period during which your child is a 4th grader/4th grade equivalent, from September 1 through August 31 of that grade school year.
For more information please visit: Adventure Pass (ca.gov)
NOTE: Passes are acquired via online registration and are not available at the Monterey District Office. Point Lobos and the Big Sur State Parks are not included in this pass.
California State Parks Pass Price List
Please Note:
Appointments are recommended for State Parks Pass sales. To schedule an appointment please call: (831)649-2836
Full Price Annual Passes

California Explorer $195.00
Golden Poppy Pass $125.00

Discount Annual Passes
Please Note: The Golden Bear Pass from 2021 will automatically extend through 2022, with no action required by pass holders. There is no cost for Golden Bear Passes acquired for 2022. This extension does NOT apply to Limited Use Golden Bear Passes.
Golden Bear $0.00
(2022 only)
Limited Use Golden Bear $20.00
Disabled Discount Pass $3.50
Link for More Information
Link for More Information
California State Parks Pass Sales
2022 Passes are now available for purchase from the Monterey District Office.
Note: for your safety, appointments are recommended for State Parks Pass purchases.
The pass price list is above.
The California State Parks Monterey District Front Office conducts CA State Parks Pass sales and renewals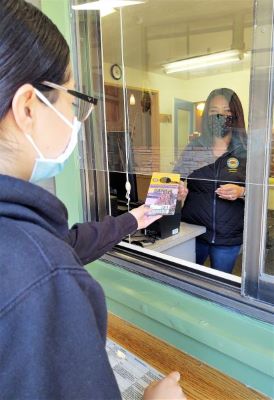 at our customer service window located adjacent to the District Office front entrance.

We are selling the California Explorer, Golden Poppy, Golden Bear, Limited Use Golden Bear, and Disabled Discount passes
Monday through Friday, between the hours of 8:00 a.m. and 4:00 p.m.

At this time the Monterey District Office is accepting payment for pass sales and renewals by cash*, credit card, or check.
*When paying in cash exact change is required.
For more information, please contact the Monterey District Front Office at (831) 649-2836,



BIG SUR AREA - WHAT'S OPEN??
PLEASE CHECK individual park unit webpages for the most current updates at the top of each park unit page regarding access, camping, weather-related closures, etc. Camping Information is located on the Right Side of this Page.

Please refer to current road conditions at https://roads.dot.ca.gov before making travel plans. Travelers to Big Sur are encouraged to visit the CalTrans website to get updates on current road conditions for the Big Sur region.
Andrew Molera State Park: https://www.parks.ca.gov/?page_id=582
Julia Pfeiffer Burns State Park: https://www.parks.ca.gov/?page_id=578
Pfeiffer Big Sur State Park: https://www.parks.ca.gov/?page_id=570
Point Sur State Historic Park: https://www.parks.ca.gov/?page_id=565
Big Sur Station/Multi-Agency Facility: Telephone: (831) 667-2315; Fax: (831) 667-2886


MONTEREY DISTRICT STATE PARKS
Please visit the individual webpage for the State Park you are interested in learning about:
ANDREW MOLERA SP
ASILOMAR SB AND CONFERENCE GROUNDS
ASILOMAR DUNES NATURAL PRESERVE
CARMEL RIVER SB
CARMEL RIVER LAGOON & WETLANDS NATURAL PRESERVE
GARRAPATA SP
HATTON CANYON
JOHN LITTLE SR
FORT ORD DUNES SP
JULIA PFEIFFER BURNS SP
MARINA DUNES NATURAL PRESERVE
MARINA SB
MONTEREY SB
MONTEREY SHP
MOSS LANDING SB
OHLONE COASTAL CULTURAL PRESERVE
PAJARO RIVER MOUTH NATURAL PRESERVE
PFEIFFER BIG SUR SP
POINT LOBOS SR
POINT LOBOS RANCH
POINT SUR SHP
POINT SUR DUNES NATURAL PRESERVE
SALINAS RIVER DUNES NATURAL PRESERVE
SALINAS RIVER MOUTH NATURAL PRESERVE
SALINAS RIVER SB
ZMUDOWSKI SB


Be "In The Know": Alcohol, Bonfires and Pets at Monterey State Beaches
NOTE: DUE TO COVID-19 PROPER SOCIAL DISTANCING AT BEACHES IS REQUESTED.
IS ALCOHOL ALLOWED AT STATE BEACHES?
Alcohol consumption is not allowed at Monterey District State Beaches. Please check with local municipalities regarding alcohol consumption at other Monterey Peninsula beaches.
ARE BONFIRES ALLOWED AT STATE BEACHES?
Bonfires are NOT allowed on State Beaches due to environmental and safety concerns. Portable camp stoves, such as Hibachi or Weber, are permitted for food preparation and consumption on site. Persons using approved devices for cooking must remove all unexpected fuel (coals, briquettes, etc.) from the beach. Dumping hot coals and ash, and burying in the sand not only harms the environment, but can potentially harm other beach goers.
YOUR HELP is needed to keep our beautiful beaches CLEAN and SAFE by packing out trash. Trash receptacles are located at beach entries for your convenience.
CAN I BRING PETS TO STATE BEACHES?
Dogs are allowed ON leash at Asilomar State Beach, Carmel River State Beach, and on paved trails at Fort Ord Dunes State Park.
Please consider families with infants and young children who frequent the beach when walking dogs. You are required to keep your dog under control and we ask that you pick up after your pet.
THANK YOU for keeping out beautiful beaches CLEAN and SAFE for ALL!! To learn more about CA State Parks' policy regarding dogs at State Parks visit or Dog at Parks page.
NOTE: Dogs are NOT allowed on the beaches at Zmudowski, Moss Landing, Salinas River, Marina, Fort Ord Dunes, Seaside, Point Lobos State Natural Reserve, and Garrapata park units. Many of these beaches are home to nesting sites for the Western Snowy Plover. Point Lobos is a State Reserve with highly protected habitat areas that do not allow for visitation with pets.


Marine Protected Area Coloring Book - Area Marina Protegida - Libro Para Colorear
Embark on a journey of discovery about Marine protection in a fun and easy way!!
The Marine Protected Areas Coloring Book - Area Marina Protegida - Libro Para Colorear - helps students of all ages learn about the rich diversity of plant and animal life found in California's Marine Protected Areas (MPAs). The book includes three new 3D augmented reality coloring pages that will allow students to interact with their colorings using a smartphone or tablet while learning about marine life and California's marine protected areas.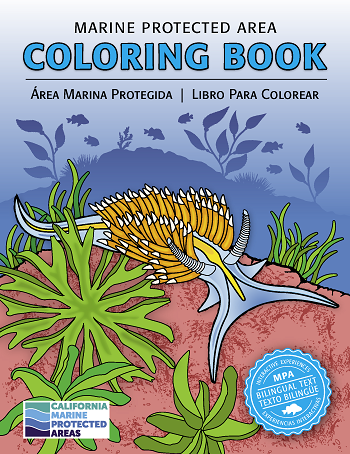 Download the new marine protected area (MPA) coloring book along with the California Coastal Explorer Guide at:
https://www.mpacollaborative.org/kids/