This park unit is partially open.
Please take the time to read the information contained on this webpage to find out what is open and closed, and what COVID-19 guidelines are in place. - (June 1, 2021)
What is open now?
The beach is open for day use.
Parking is available to vehicles on a limited basis.
Restrooms.
What is currently closed?
Dogs are not allowed on Moss Landing State Beach.
There is no campground at Moss Landing State Beach.
---
COVID-19 Guidelines - (February 16, 2022)
Recreate Responsibly
Protect yourself, family, friends and your community by following these prevention measures:
Know Before You Go – Prior to leaving home, check the status of the park unit you want to visit to find out what restrictions and guidelines are in place. Have a back-up plan in case your destination is crowded. Stay home if you are sick
Plan Ahead – Some restrooms will be temporarily closed to keep up with cleaning schedules. Bring soap/hand sanitizer.
Play It Safe – Find out what precautions you should take when exploring the outdoors, especially if this is your first time visiting the State Park System. Learn more at parks.ca.gov/SafetyTips.
Be COVID-19 Safe – State Parks continues to meet guidance from local and state public officials as COVID-19 is still present and still deadly. Effective March 1, 2022, state guidance recommends that all individuals, regardless of vaccine status, continue masking in indoor settings, such as museums and visitor centers. Universal masking remains required in specified high-risk settings. Please plan ahead as local county guidelines may differ from state guidance and visitors are urged to follow county guidelines when required. Read the latest COVID-19 guidance at COVID19.ca.gov.
Leave No Trace – Leave areas better than how you found them by staying on designated trails and packing out all trash. Do not disturb wildlife or plants.
Phone Number
(831) 649-2836
Park Hours
8 AM – ½ Hour After Sunset
Dogs Allowed?
No
Dogs not allowed beyond day-use parking lot.
Driving Directions to Moss Landing SB
The beach is located on Jetty Road in Moss Landing and 16 miles north of Monterey via Highway 1.


Online reservations are not available for this park.
Upcoming Park Events
No events scheduled at this moment.
TRAIL USE
Hiking Trails
Horseback Riding

DAY-USE ACTIVITIES & FACILITIES
Picnic Areas
Fishing
Beach Area
Swimming
Nature & Wildlife Viewing
Windsurfing/Surfing
Geocaching

OTHER FACILITIES & VISITOR INFORMATION
Parking
Drinking Water Available
Wheelchair Accessible

About Moss Landing State Beach
Offshore fishing, surfing, windsurfing and horseback riding are popular activities. The beach is a favorite place for picnics because the dunes protect it from afternoon winds and provides scenic panoramic views of the Monterey Bay National Marine Sanctuary, a federal marine protected area. This area is an important stop along the Pacific Flyway so birdwatching is popular.

Water recreation is dangerous because of strong rip currents.

Vehicles and trailers over 21 feet are not allowed at Moss Landing State Beach due to limited turn around areas. Parking for large vehicles is very limited. Visitors with large vehicles and/or trailer are encouraged to visit Salinas River State Beach, which is just 2 miles south on Highway 1.
PARK HOURS – 8 a.m. to ½ hour after sunset.
FEES – there is no fee to visit this park.
OCEAN SAFETY – dangerous rip currents, frigid water, and deep offshore drop-offs make surfing and swimming hazardous for all but the most experienced surfers.
DOGS are not permitted on the beach or dunes. On-leash dogs are allowed on Jetty Road.
HORSES are permitted to access the beach only by the designated routes and to ride only on the wet sand, below the high tide line to protect wildlife and vegetation. In the parking areas, owners are required to clean up after their horses, including removing horse manure. Manure and straw should be shoveled into the horse trailer. Manure and straw shall not be thrown into the dunes.
FIRES are allowed only in the park fire ring located at the south beach access trail.
DRONES are not allowed in the park. To protect wildlife and for the safety and welfare of visitors and staff, the park is closed to the use of Model Aircraft and Unmanned Aircraft Systems (UAS).
WESTERN SNOWY PLOVERS use Moss Landing State Beach, including the beach and foredune areas for nesting, rearing of young, and for winter habitat. This bird nests directly on the beach sand. Entering or disturbing a posted plover nesting area is a violation of state and federal law. Click this link to view a video of a hatching snowy plover nest.
Location-Directions
The beach is located on Jetty Road in Moss Landing and 16 miles north of Monterey via Highway 1.

Seasons/Climate/Recommended Clothing
The weather can be changeable. Layered clothing is advised.
PETS
Dogs are not allowed at this location.

Dogs on leash are allowed at Monterey State Beach (South of the Monterey Beach Resort hotel), Asilomar State Beach, Carmel River State Beach, and Garrapata State Park.
CAMPING
There is NO campground at this State Beach.
Marine Protected Area Coloring Book - Area Marina Protegida - Libro Para Colorear
Embark on a journey of discovery about Marine protection in a fun and easy way!!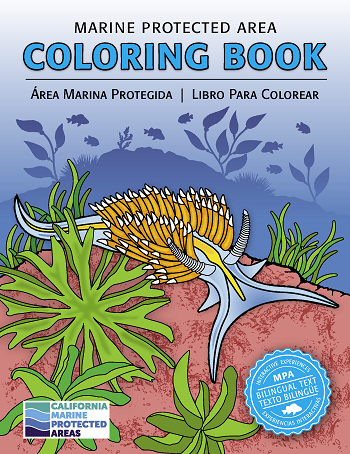 The Marine Protected Areas Coloring Book - Area Marina Protegida - Libro Para Colorear - helps students of all ages learn about the rich diversity of plant and animal life found in California's Marine Protected Areas (MPAs). The book includes three new 3D augmented reality coloring pages that will allow students to interact with their colorings using a smartphone or tablet while learning about marine life and California's marine protected areas.
Download the new marine protected area (MPA) coloring book along with the California Coastal Explorer Guide at: https://www.mpacollaborative.org/kids/ .