Salinas River State Beach
UPDATE (May 22, 2020) - As California State Parks begins working with locals on a phased and regionally-driven approach to increase access to state park units where compliance with state and local public health ordinances can be achieved, it is important for visitors to continue to practice physical distancing and avoid congregating with people outside their immediate household. Everyone has the responsibility to mitigate the spread of COVID-19.
Here are some guidelines for people visiting Salinas River State Beach:
What is open now?

Limited parking is now available to the public.
Beach– Beach access is open for active recreation with safe social distancing.
Select chemical toilets will be available.
What is currently closed at this park and throughout the State Park System?
Statewide:
Campgrounds.
High public-use indoor facilities, including museums and visitor centers.
Special events and tours continue to be canceled until further notice.
Are there any new visitor guidelines?
Yes, please see below:
Stay Local: Stay close to home. Walk or bike into the park. Parking is very limited. Do not take road trips to parks and beaches or to neighboring states.
Stay Active: Keep walking, jogging, hiking and biking. Watch for one-way trails.
Stay Safer at 6 Feet: Maintain a physical distance of 6 feet or more. Gatherings, picnics and parties are not allowed. Visitors will be asked to leave if there are too many people at the park, beach or on trails to allow for the required physical distance.
Stay Clean: Be prepared. Bring soap/sanitizer and pack out all trash.
Stay Covered: Please be sure to wear face coverings when you cannot maintain a safe 6-foot distance from others.
Thank you for your patience and continued support of California State Parks as we work to limit your risk for exposure to COVID-19 in the outdoors. For more information, please visit
parks.ca.gov/FlattenTheCurve
.
Phone Number
(831) 649-2836
Dogs Allowed?
No
Dogs not allowed beyond day-use parking lot.
Driving Directions to Salinas River SB
The beach is located one mile south of Moss Landing. Take Potrero from Highway 1.


Online reservations are not available for this park.
Upcoming Park Events
No events scheduled at this moment.
TRAIL USE
Horseback Riding

DAY-USE ACTIVITIES & FACILITIES
Picnic Areas
Fishing
Interpretive Exhibits
Beach Area
Swimming
Nature & Wildlife Viewing
Windsurfing/Surfing
Geocaching

OTHER FACILITIES & VISITOR INFORMATION
Parking
Wheelchair Accessible

About Salinas River State Beach
The beach and dunes at Salinas River State Beach are part of Monterey Bay's unique coastal dune system and it is home to many species of birds, including the California brown pelican, red-tailed hawk, American kestrel, western snowy plover, western gull, black phoebe, western scrub-jay, California towhee, white-crowned sparrow, and more. The beach is a popular fishing site.
PARK HOURS – 8 a.m. to ½ hour after sunset.
FEES – there is no fee to visit this park.
OCEAN SAFETY – dangerous rip currents, frigid water, and deep offshore drop-offs make surfing and swimming hazardous for all but the most experienced surfers.
DOGS are not permitted on the beach or dunes. On-leash dogs are allowed on the trail adjacent to the wetland that runs between the Potrero Road and Sandholdt Road parking lots.
HORSES are permitted to access the beach only by the designated routes and to ride only on the wet sand, below the high tide line to protect wildlife and vegetation. Horses are also permitted on the designated equestrian trail. In the parking lots, owners are required to clean up after their horses, including removing horse manure. Manure and straw should be shoveled into the horse trailer. Manure and straw shall not be thrown into the dunes.
FIRES are not allowed.
DRONES are not allowed in the park. To protect wildlife and for the safety and welfare of visitors and staff, the park is closed to the use of Model Aircraft and Unmanned Aircraft Systems (UAS).
WESTERN SNOWY PLOVERS use Salinas River State Beach, including the beach and foredune areas for nesting, rearing of young, and for winter habitat. This bird nests directly on the beach sand. Entering or disturbing a posted plover nesting area is a violation of state and federal law. Click this link to view a video of a hatching snowy plover nest.
Location-Directions
The beach is located one mile south of Moss Landing. Take Potrero Road from Highway 1.

Seasons/Climate/Recommended Clothing
The weather can be changeable. Layered clothing is advised.
Pets
Dogs are not allowed at this location.

Dogs on leash are allowed at Monterey State Beach (South of the Monterey Beach Resort hotel), Asilomar State Beach, Carmel River State Beach, and Garrapata State Park.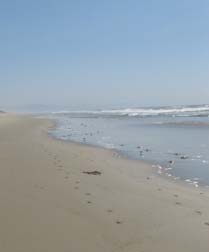 Social Feed