Monterey State Historic Park
UPDATE (May 1, 2020): This park is temporarily closed to vehicular access, meaning there are no parking facilities and parking on roadways is prohibited to protect public health from the COVID-19 pandemic. Although this park is open to local residents, they must abide by the following guidelines:
Stay Local: Walk or bike into the park. Do not drive to the park.
Stay Active: Keep walking, jogging, hiking and biking. Watch for one-way trails.
Stay Safer at 6 Feet: Maintain a physical distance of 6 feet or more. Gatherings, picnics and parties are not allowed. Visitors are being asked to leave if there are too many people at the park or on trails to allow for the required physical distance.
Stay Clean: Be prepared. Bring soap/sanitizer and pack out all trash.
Statewide, many parks and beaches are temporarily closed or have very limited access to ensure Californians are abiding and practicing physical distancing. The goals are to make sure people are safe and to mitigate the spread of COVID-19 as much as possible. To view the list of closures and what they mean to the public, please visit
www.parks.ca.gov/FlattenTheCurve
.
Phone Number
(831) 649-2907
Park Hours
No hours listed.
Dogs Allowed?
Yes
Dogs not allowed inside park buildings.
Driving Directions to Monterey SHP
Monterey State Historic Park consists of over 10 historic structures and places within a half mile of the Custom House Plaza, in downtown Monterey, near Fisherman's Wharf.
From San Francisco, Sacramento and points north: take the Pacific Grove/Del Monte Avenue exit off of southbound Highway 1. There are two other Del Monte exits prior to this one that are incorrect. Follow Del Monte for approximately one and a half miles. Turn right into the Fisherman's Wharf and the Historic Park parking lot.
From Carmel and points south: take the Munras Street exit off of northbound Highway 1. Continue south on Munras which eventually becomes Abrego Street. Continue on Abrego which eventually becomes Washington Street. Follow Washington Street until it ends at the Fisherman's Wharf parking lot.
From Los Angeles and points east: take Highway 68 westbound from Salinas to Highway 1. Merge into the left lane to head toward Monterey. Take the Fremont Street exit and proceed to the third signal. Turn right onto Abrego Street which shortly becomes Washington Street. Follow Washington Street to the Fisherman's Wharf parking lot.


Online reservations are not available for this park.
Upcoming Park Events
No events scheduled at this moment.
DAY-USE ACTIVITIES & FACILITIES
Historical/Cultural Site
Picnic Areas
Env. Learning/Visitor Center
Exhibits and Programs
Guided Tours
Interpretive Exhibits
Museums
Family Programs

OTHER FACILITIES & VISITOR INFORMATION
Drinking Water Available

MONTEREY STATE HISTORIC PARK UPDATE
Monterey State Historic Park has reduced services until further notice. Please see below for information. Visitor guidelines can be accessed at this link: https://www.parks.ca.gov/?page_id=30350
Custom House Museum - Closed

Custom House Store – Closed

Pacific House Museum – Closed

Guided Tours – Cancelled

State Park Gardens - Open




SPECIAL EVENTS AT Monterey State Historic Park:

In an effort to protect public health and safety as the state responds to COVID-19, and following guidelines under the direction of the Governor of California, State Parks will be halting the acceptance of any special event application for a minimum of 30 days effective immediately. Please continue to check this website for updates - thank you.
(Last updated on 05/29/2020)


LEARN AT HOME During COVID-19
Explore California State Parks PORTS Home Learning Programs!
In response to the COVID-19 disruption in school instruction, California State Parks is now broadcasting our PORTS Home Learning Programs from locations across California. Students learning from home will be able to access our precious natural resources and cultural heritage from the comfort of their own home.
Programs for all ages covering a wide variety of topics are available. See our program calendar below to register for these FREE K-12 programs. Space is limited, so sign up today! Visit: https://www.ports-ca.us/
About Monterey State Historic Park
One of California's most historic cities, Monterey served as California's capital under Spanish, Mexican and U.S. military rule.
The U.S. flag was first officially raised in California here on July 7, 1846, bringing 600,000 square miles of land to the United States.
Monterey State Historic Park is a collection of significant historic houses and buildings interspersed throughout Old Monterey. Hour long guided history tours are led regularly; tour information and tour tickets may be obtained at the Custom House (adjacent to Old Fisherman's Wharf). Our history tours are a great way to start your discovery of Monterey. See Tour Information for the current schedule.

Step into the past on the "Monterey Walking Path of History" and view the site where Spanish explorers first landed in Monterey in 1602. See one of the nation's last remaining whalebone sidewalks. Walk the same streets that famed author Robert Louis Stevenson walked in 1879. Explore this two-mile path and discover some of California's most historic homes, buildings and beautiful gardens along the way. A self-guided mobile phone tour is available for this more "in-depth" experience. Tour is free, but does use phone minutes. Brochures are available at the Custom House or Pacific House musems.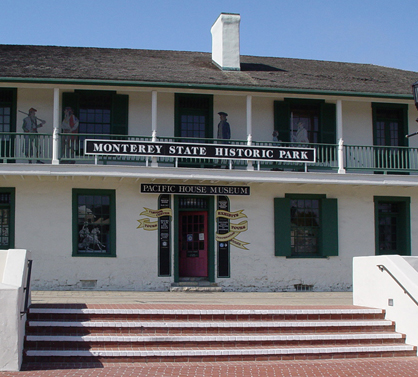 Monterey's Path of History can be entered at any point. Just follow the yellow-tiled markers and discover Monterey State Historic Park, an area that preserves and interprets places and objects of statewide historic significance. Twelve buildings, including the Custom House, the oldest government building in California, and several residences, are all part of Monterey's 55 Path of History sites.

For more information, call the Pacific House Museum at (831) 649-2907, located at 20 Custom House Plaza, adjacent to the Fisherman's Wharf.


Please visit our non-profit Cooperating Association's (Friends Group) Website: Monterey State Historic Park Association .
Your membership helps suppors educational programs and preservation efforts throughout the park. All profits from Cooperating Association Museum Stores stay in Monterey!


---
Additional Visitor Services
Junior League of Monterey Co Junior League of Monterey County operates the Old Whaling Station and maintains its garden. This site is available for weddings and other events-visit website for more information.

H

i

storic Garden League Historic Garden League operates the Joseph Boston Store (Casa del Oro) and maintains the Casa del Oro garden.Visit website for more information.
Social Media
Follow Monterey State Historic Park on Instagram, Facebook, YouTube, and Roundme
Professional Photography
Professional photographers wishing to use park settings for publication for either film or still photographs need to obtain a permit from the California Film Commission. www.film.ca.gov
Social Feed