Custom House

Today, the Custom House is regularly open to the public and is set up up to resemble what could have been found in the Custom House during Monterey's Mexican era (1821-1846).
The Custom House is also home to the Monterey State Historic Park Association gift shop, a 501(C)(3) non-profit supporting the interpretation, education and special events at Monterey State Historic Park. https://www.mshpa.org/
Check out our Mobile Phone Tour or Adventure Lab Junior Ranger Program, to learn about the Custom House's history.
Pacific House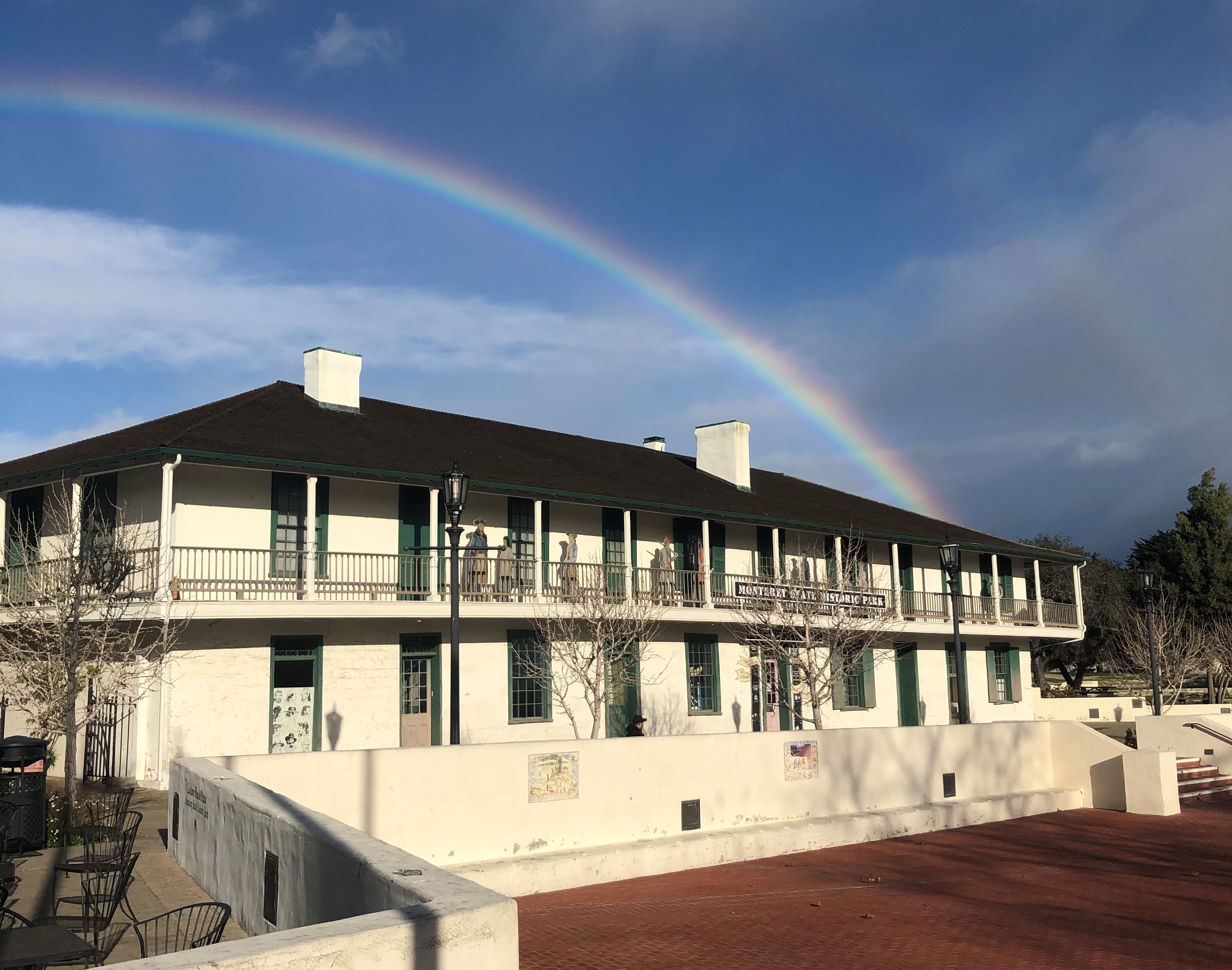 The Pacific House was constructed in 1847 to be used as storage for the U.S. Navy during their occupation of Monterey. Since then, the two story adobe building has been a courthouse, a pub, the office of a local newspaper, a church, and more. Now it is home to a California State Parks museum, interpreting the different eras of Monterey history. The second floor hosts a fine collection of Native American artifacts.
In back, through stucco arches, one can find a little fountain bubbling in a quiet pool. Flowers and lush green plants accentuate the stark whiteness of the garden walls. The lovely Memory Garden was once the site of bear and bull fights staged by the townsfolk on Sundays.
First Brick House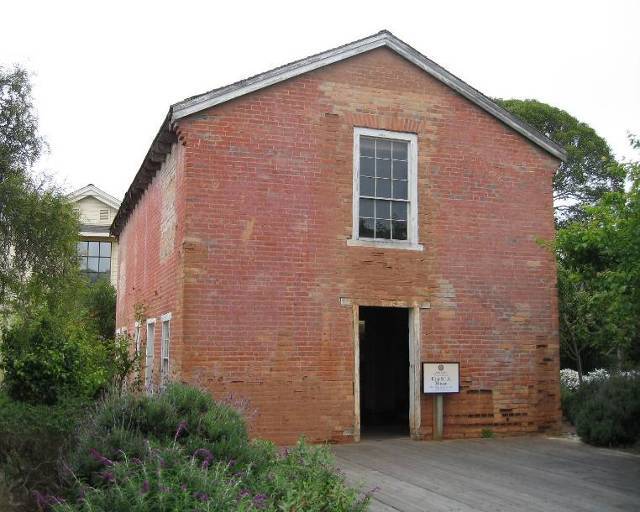 Early structures in Monterey were built of sun-dried mud blocks. Walls as thick as three feet were needed to support second story floors. Adobe buildings required plastering on exterior surfaces to keep out damaging winter rains. The life of an adobe building was limited due to the lack of permanence in building materials.
The arrival of the American Period brought Gallant Dickinson who, in 1847, introduced a new building technique to California, the art of fired clay brick making (Fired clay bricks were in use throughout Europe. Much of Imperial Rome had been constructed with this technique). Dickinson fired thousands of clay blocks into rock-hard bricks. His efforts led to the construction of one of the first fired brick buildings in California. This form of brick making provided increased strength for multiple-storied buildings while maintaining standard wall widths. Fired brick was also water resistant and required little or no surface treatment.

Gallant had finished the portion of the building that exists today when the call of "Gold" took him and his family to the Sierra foothills. He never finished his Monterey home. Since that time, this historic building has been home to the head of Monterey's first whale hunting operation, Captain John Davenport, and later, a Spanish restaurant run by the beloved Monterey matriarch "Mama" Garcia. Located in the main room are displays of Monterey history. The kitchen has been restored as it looked when the building was used as Mama Garcia's restaurant.
Old Whaling Station
The old adobe was built in 1847 by David Wight as a home for his wife and daughter. The residence was based on Wight's ancestral home in Ayton, Scotland. Later, in 1855, the Old Monterey Whaling Company began shore-whaling operations and used the adobe as a headquarters and employee residence. The front walkway is made entirely of whale vertebrae. The building was operated as an Inn for several decades in the early 1900s. Today the property is operated by the Junior League of Monterey County.
Joseph Boston Store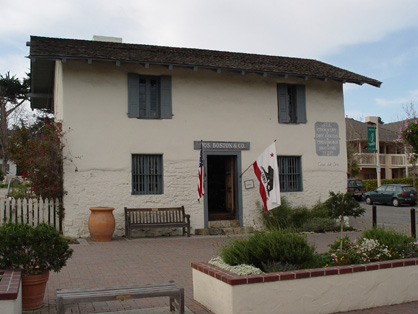 This two-story adobe and chalk rock building was constructed for prominent Monterey businessman Thomas Larkin around 1845. Larkin rented the structure to different individuals including Joseph Boston, who opened a general merchandise store in the site at the start of the California Gold Rush. Miners passing through Monterey would come to the building to purchase goods and store their gold in the town's only safe, which still resides in the structure. The storage of gold inside caused the Boston Store to have the nickname "Casa del Oro," which means "house of gold" in Spanish.
California's First Theater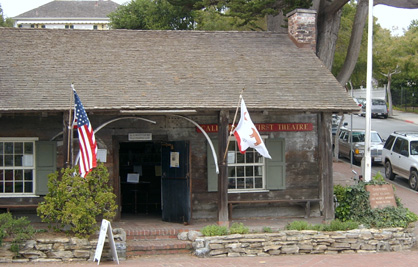 Located in Monterey State Historic Park, this adobe theater was built by Jack Swan in 1846-47 as a lodging house and tavern for sailors. It was used as a theatre in 1850 when U.S. Army officers from Colonel Stevenson's 1st New York Volunteers produced plays as a money-making venture. Swan built a small stage and provided benches, whale-oil lamps, candles for footlights, and curtains made of red and blue blankets. Tickets sold for $5 each. First night receipts totaled $500.
In later years, the First Theatre was used as a lodging house for whalers but fell into disrepair after Swan's death in 1896. It was purchased in 1906 by California Historic Landmarks League and donated to the State of California. In 1937 and until recently, the Troupers of the Gold Coast staged the first melodramas since the 1850s.

Due to structural deficiencies, California's First Theatre will be closed until further notice. For more information, please call Sector Superintendent Eric Abma at (831) 646-6441. Visit the Pacific House Museum or Custom House (located in the Custom House Plaza, near Fisherman's Wharf) to learn more about this historic building.
Casa Soberanes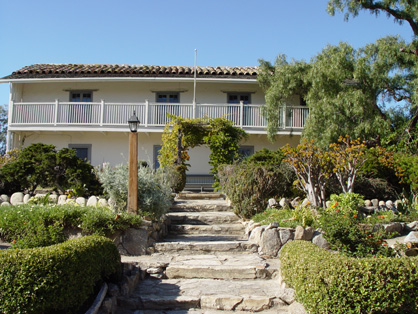 House of the Blue Gate
During the 1840s, Rafael Estrada built this home from sun-dried mud (adobe). Generations of families have called this home. The Soberanes family lived here from 1860 to 1922. The Serranos later purchased and restored the house in the 1920s and 30s. Inside, one will discover beautiful furnishings that are a blend of early New England and China trade pieces mixed in with modern Mexican folk art. This collection reflects the building's final resident, local historian Mayo Hayes O'Donnell, who lived in the building until her death in 1978

The home received its nickname from the blue gated entrance. Wine bottles, whale bones, and abalone shells border paths meandering through the sheltered garden.
Larkin House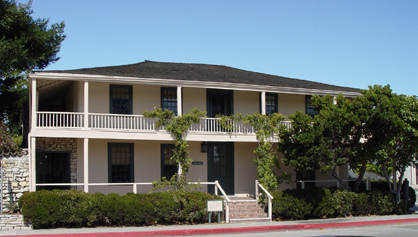 This two-story mud adobe brick home was built during Monterey's Mexican Period by Thomas Oliver Larkin. It is known as the "prototype" for Monterey Colonial architecture. Larkin was an American merchant who operated a store out of his home.; He was the first and only United States Consul to Alta California under Mexican rule, serving during President Polk's administration. Acquired by Larkin's granddaughter, Alice Larkin Toulmin, in 1922, the home is filled with early 19th century antiques from many parts of the world. Today, visitors can schedule a tour of this beautiful house with a State Parks Guide.
The Larkin House can be viewed on guided tours every Friday and Saturday at 2:00PM. Tours limited to 8 individuals per tour. Tickets can be purchased on-site at the time of the tour, no advanced registration required.
Sherman Quarters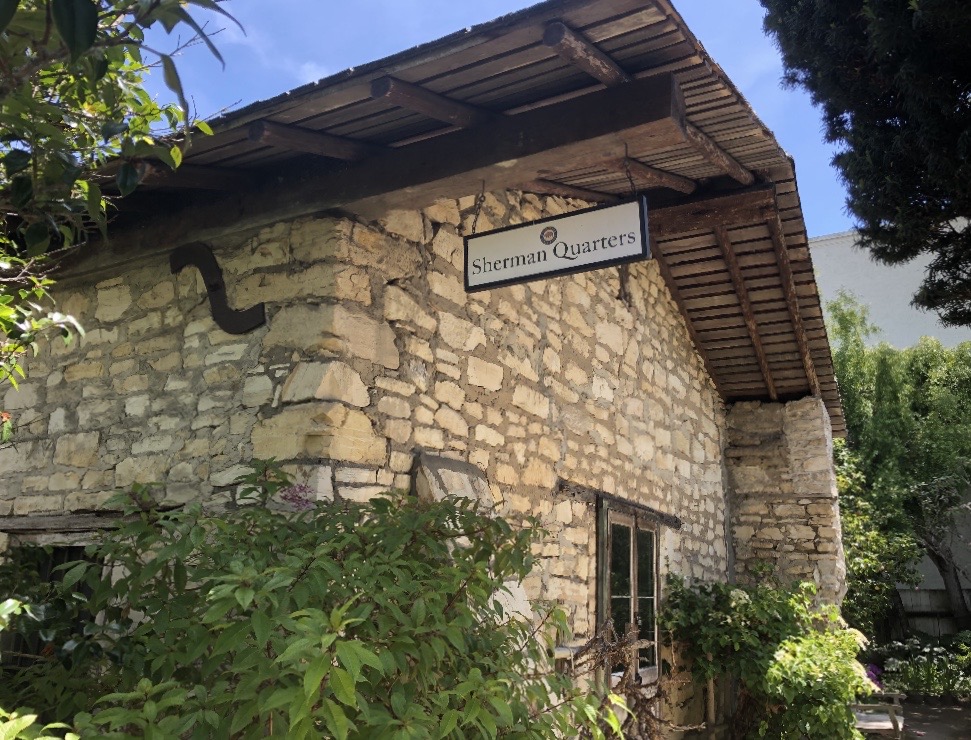 This attractive, small adobe, a favorite for photographers, was built in 1834 by Thomas Oliver Larkin and has changed little from its construction. Larkin made this adobe available as a service to U.S. troops during the U.S. occupation of California. In 1847, it was the quarters of Lieutenant William T. Sherman who was in charge of troops constructing a fort on the site of today's Presidio Military Reservation. Sherman would eventually achieve the rank of General in the American Civil War. The Sherman Quarters building is situated in the gardens of Larkin House. In the 1920s, Thomas Larkin's granddaughter, Alice, used the building as a tea room.The building itself is closed, but can be seen by visiting the Larkin House garden.
Stevenson House
This two-story adobe has sheltered families, government officials, artists, writers and fishermen, beginning in the Mexican era. During its time as a boarding house, known as the French Hotel, a young writer, Robert Louis Stevenson, stayed a few months in the autumn of 1879. Poor, in frail health and unknown, Stevenson wascared for by friends while he courted his future wife, Fanny Osbourne. It was in Monterey that Stevenson penned the "Old Pacific Capital." Today, the Stevenson House has been restored with several rooms devoted to "Stevensonia."
The Stevenson House can be viewed on guided tours every Friday and Saturday at 10:00AM. Tours limited to 8 individuals per tour. Tickets can be purchased on-site at the time of the tour, no advanced registration required.
Robert Louis Stevenson Club of Monterey
Monterey State Historic Park is proud to partner with the Robert Louis Stevenson Club of Monterey, many of whom are long-term volunteers for Monterey State Historic Park. For more information about the club, visit their website: RLS Club.