---
You can register your boat/vessel at any DMV field office, or mail your registration application.
CA DIVISION OF BOATING & WATERWAYS - ABCs of California Boating
Vessels having valid registration in the state of principal use
and not remaining in California over 90 consecutive days do not require CA registration.
Boats and vessels from out of state are required to have
Certificate of Ownership: this is your evidence of title to the vessel.
Certificates issued will also contain the boat's identifying number (known as the hull identification number),
which is the number permanently marked on the transom by the manufacturer or builder,
or the number assigned by the state of issue, and marked on the transom by the owner.
Attention Boaters!
Lake Perris wishes to remind everyone of California's new law requiring boat operators to have a California Boating Card. The card is required for all persons age 45 and under to operate a boat in California's waters, which includes Silverwood Lake, Lake Perris, and all other inland waterways as well.
January 1, 2025 All persons regardless of age
California Boater Card
The Marina

07-05-2022
Rec-Out So Cal Marina Store
Marina Under Construction / No rental boats, slips
The Marina has been removed and we are in the process of having a private business concessionaire to establish a new Marina operation. Our new operator is Rec-Out So Cal. We do not rent boats at this time.
RV, BOAT & JET SKI DRY STORAGE is available.
please contact the Rec-Out So Cal crew with any questions
CALL US
(877) 754- 1148
---
Boating Hours
Summer: 6:00 am - 7:30 pm
Winter: 7:00 am - 5:30 pm
Watercraft without running lights must be off the water by sunset.
Park hours change with Daylight Savings Time.
Last launch is 2 hours before lake closing time.
---
Lake Perris allows power boats, personal watercraft (jet skis), and non-powered vessels (sail boat, canoe, kayak, stand up paddle boards, etc.) on the water. We accept both 2 and 4 stroke engines.
---
Be a Safe Boater!
Being a strong swimmer doesn't make you drown proof! We recommend that everyone (even if you're an Olympic gold medal champion) wear a life jacket! Every person being towed behind the vessel must wear a lifejacket, at all times.
California law requires that every child under age 13 must wear a life jacket at all times while on a moving vessel of any length. (There are three exceptions: Children are not required to wear a life jacket when they are wearing a harness on a sailboat, when they are in an enclosed cabin, and when they are on a vessel during an emergency rescue.)
For more information, following this LINK and SAVE THE ONES YOU LOVE!
---
Quagga Mussel Inspection

BOAT & VESSEL OWNERS
California Department of Motor Vehicles online system allows you to purchase a Quagga sticker. Vessels used in fresh waters are required to display a current Quagga sticker, unless the vessel is used only in marine waters, or exempt by law.
QUAGGA STICKER APPLICATION
www.dmva.ca.gov - QUAGGA STICKER
Mussel Fee: California registered recreational vessels using fresh water bodies within the state are required to display a "Mussel Fee Paid" sticker on the hull next to the current registration sticker.
Paying the Mussel Fee does not entitle vessels to bypass inspections or fees for inspections conducted by individual reservoir owners or managers.
How to Pass the Quagga and Zebra Mussel Inspection
All vessels entering Lake Perris will be inspected for Quagga and Zebra Mussels. This includes all canoes, kayaks, sail boats, rubber rafts, fishing waders, scuba gear, etc.
Only boats and equipment which are clean, drained, and completely dry, will pass inspection. If you are coming from a known quagga-infected body of water, you must wait 8 calendar days before bringing it to Lake Perris or Silverwood Lake.
Information about Quagga infested lakes, as well as the effects of Quagga Mussels and Inspections.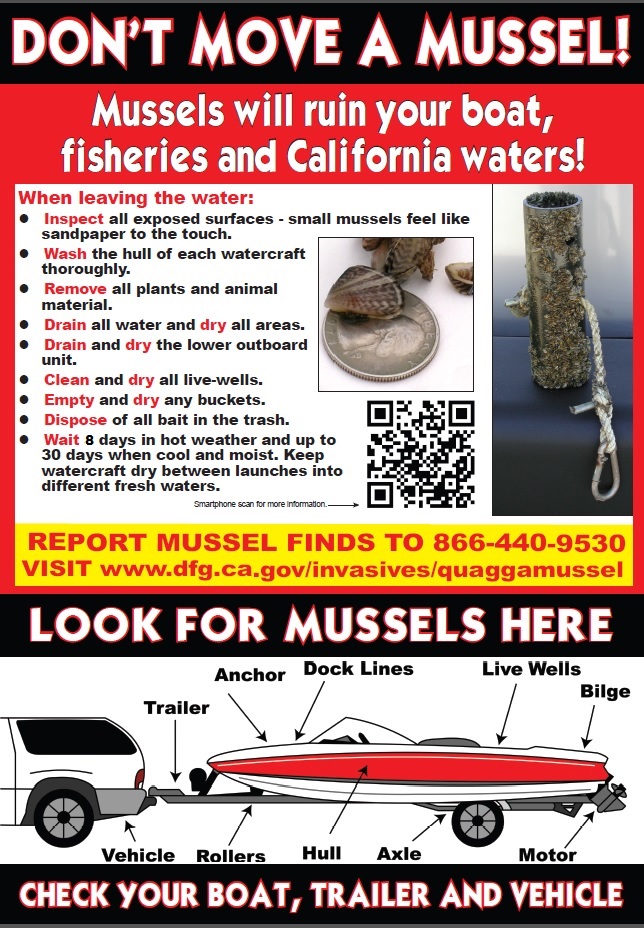 If your boat or equipment, including but not limited to sails, life vests, and skis, are wet, damp, or moist, you will not pass inspection. Failure to pass inspection will result in a full 8 calendar day dry-out period before that failed vessel is allowed to launch at a State Park Reservoir.

Multiple watercraft: All vessels on a trailer will be automatically failed if one of the vessels fails inspection. For example, if there are two jet skis on the trailer, and one fails inspection, then the other vessel will be failed as well.

Do not wash, rinse, or hose your boat right before coming to Lake Perris. Your watercraft WILL NOT BE ALLOWED IN THE PARK. Let the boat dry for 8 days minimum after washing. The mussel lives in fresh water, so tap water will not remove the mussel from your vessel. These animals are like barnacles, clams, and oysters and they attach themselves to any solid material and thrive in dark, stagnant environments. Rinsing with fresh water will not remove them. To KILL the animal, you must let your boat and equipment in or on the boat be completely dry.
Unfortunately there is no easy way for anyone to identify if a damp boat is infested with the mussels. All watercraft must go through inspection before they are allowed to enter the park.

We want you to pass inspection, but we all have a responsibility to protect California's waterways, drinking water supplies, and your watercraft from these destructive, invasive mussels.
---