Picnicking, Swimming, Group Picnic and Group Beach Picnic
---
Picnicking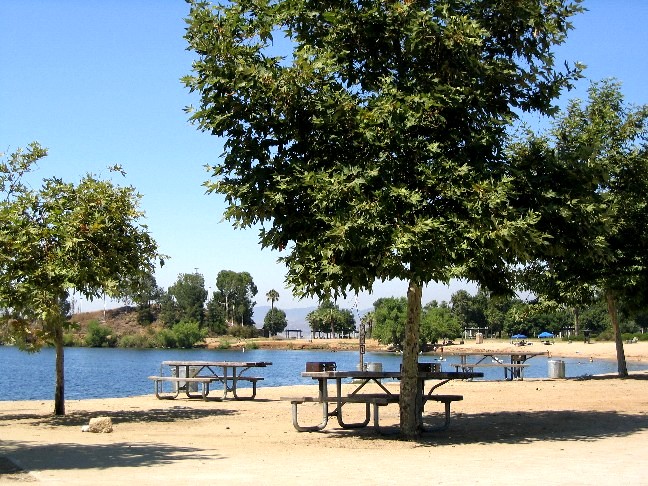 The day use areas of Lake Perris offer almost 300 picnic sites with tables and grilling features. Many of the tables are sheltered from the heat of the summer with shade ramadas, and almost all have a beautiful view of the lake. The most popular areas are near our two swim areas at Moreno and Perris Beach. Both beaches have large grass areas (no longer watered) adjacent to the sand for playing games, sunbathing, and picnicking. All of our tables are wheelchair accessible, as well as our bathroom facilities.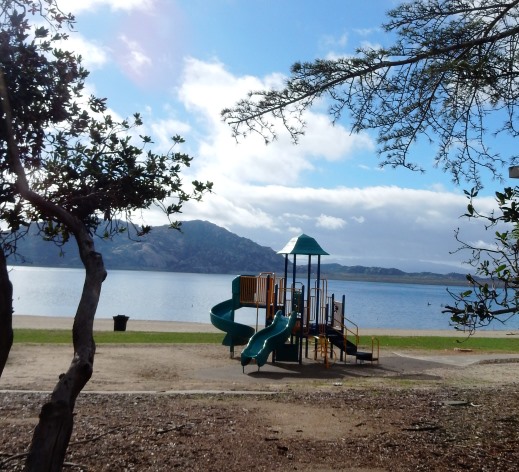 Beach Picnic: Groups that want to reserve several tables nearby are invited to reserve one of our Beach Picnic areas. There are two units at Perris Beach for groups of up to 50 people, and one at Moreno Palm Beach for groups up to 75. These Beach Picnic areas have easy lake access for swimming.

Group Day Use (Picnic): Larger groups of up to 200 people may want to look into reserving one of our Group Day Use areas. Under each large ramada we supply tables, grills, running water, and large sinks. There is no swimming off of the shores nearest to the Group Day Use areas, but Moreno Palm Beach isn't far away.


Remember Lake Perris does not allow the possession or the consumption of alcohol in any of its day use facilities.

Bernasconi Beach area also has one group picnic area that can accommodate 25-100 people and has tables, grills, water and chemical toilets. Swimming is not permitted at Bernasconi Beach, but it is accessible to vessels that wish to come on shore.
---
Swimming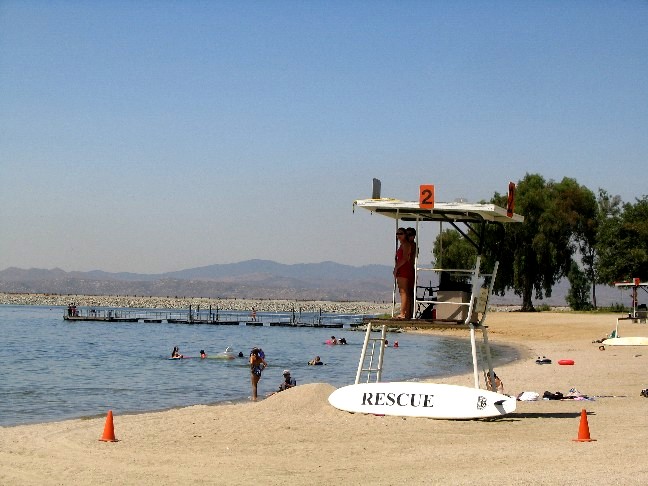 BE A SAFE SWIMMER! Drowning is one of the leading causes of accidental death for all ages nationally, and is the SECOND leading cause of accidental death for children. Before you swim, follow a few tips.

Lake Perris has two designated swim areas Moreno Beach accessed through lots 9 &10 and Perris Beach that is accessed through lots 1 through 4. Lifeguards are on duty in those areas daily during the summer and on weekends in spring and fall. We encourage all swimmers to swim in front of the Lifeguard and to swim parallel to the shoreline. There are changing rooms, showers and restrooms located behind towers 2 and 4. There are picnic areas that are also near the beach.
Lake Perris does not allow the use of non-U.S. Coast Guard approved flotation devices such as pool toys, rafts and floats. For further information, see the posted order in our Laws, Regulations, and Public safety page.

SCUBA Diving is allowed at the swim beach at Lots 1-4. Lake Perris does not rent SCUBA gear.