---

Park Laws, Regulations, and Public Safety and Pet Safety in the Park (Yes, your pets are welcome!).

Follow this link and Be a safe swimmer!
Travel Advisory
No priority can be given to pass holders or to reservations.
State Park admittance and use are subject to available space.
If you'll be traveling to the park on a weekend, it is recommended that all of your group come to the park at the check-in hour for the group area.
Check-in time is 8:00 a.m.
The park goes into closure to all vehicle traffic when the lake is at boat capacity, 450 vessels, or when all the parking areas are full.
All vehicles must wait in line for park entry.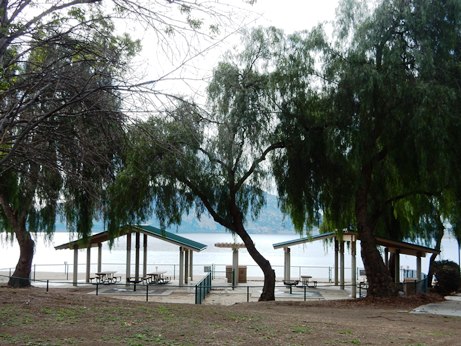 Perris Beach Picnic area. Moreno Beach Picnic is similar, but a single, larger unit.
---
Lake Perris has 2 small and 1 medium sized group picnic units available for reservation in the day use swim beach areas. The areas are fenced and have shade ramadas, picnic tables, and a larger BBQ grill. These units are available by reservation. Same day reservations are accepted, on a first-come first-served basis. The units are available from 8:00 am until one hour before park closure each day.

Perris Beach (Lot 3): Two smaller group picnic areas near the restrooms in the Day Use area. 50 people maximum.
Price: 50.00 per unit.
Vehicles: All vehicles pay day use fees upon arrival, or present a valid California State Parks pass.


Moreno Beach (Lot 8/9): One medium sized group picnic area available for rent. 75 people maximum.
Price: 100.00 per unit.
Vehicles: All vehicles pay day use fees upon arrival, or present a valid California State Parks pass.


Reserve California
Customer Call Center – (800) 444-PARK (7275)
The center is available 7 days a week, from 8 a.m. to 6 p.m. PST
The best times to call are midday and midweek, when the phone lines are less busy.
Lake Perris Group Picnic areas
#PB 1 - Perris Beach #1 #MBGR – Moreno Beach
#PB 2 - Perris Beach #2
Call the Campground Office 951-940-5603 or the Park Office 951-940-5600 for any questions.
---
Special Events
Unfortunately most Special Event activities are not allowed at the Group Beach Picnic areas due to space limitations and impact on public use of the park. Special Event activities include, but are not limited to:


Jumpers and bounce houses
Catering and food trucks
Contests, tournaments, races, etc.
Item or food sales
PA systems, bands, DJ's, etc.
Tents 20' x 20' or larger
Special Events are allowed in the
Group Picnic
and
Group Camp
areas.


Click here for Special Event Details.
---