---

Park Laws, Regulations, and Public Safety and Pet Safety in the Park (Yes, your pets are welcome!)

Group Picnic Map: This map shows individual picnic area numbers within the park. Check out the map get an idea of what site you want to reserve, and then you can make reservations online or call 1-800-444-7275 (TDD: 1-800-274-7275).
Travel Advisory
No priority can be given to pass holders or to reservations.
State Park admittance and use are subject to available space.
If you'll be traveling to the park on a weekend, it is recommended that all of your group come to the park at the check-in hour for the group area.
Check-in time is 8:00 a.m.
The park goes into closure to all vehicle traffic when the lake is at boat capacity, 450 vessels, or when all the parking areas are full.
All vehicles must wait in line for park entry.
Lake Perris Large Group Picnic reservations are now live Online!
Our visitors can now check online and see what group sites are available, when, and make reservations at their convenience. No more having to wait for staff to call you back or having to drive to the park to make a reservation! Group Picnic sites are listed as "Group Day Use" online.
Reservations can be made between 6 months in advance online or through the call center (800- 444 – 7275).
Reservations through Reserve California are required to be made at least 7-days in advance. The park may accept "walk-in" "same day" booking at the park campground office if any group areas are not reserved.

Reservations made online and through the call center are subject to the reservation cancellation and date change policies.
Lake Perris Group Picnic areas
#GP A – Group Picnic
#GP B – Group Picnic
#GP C – Group Picnic
Call the Campground Office 951-940-5603 or the Park Office 951-940-5600 for any questions.
---
Lake Perris has 3 Group Picnic sites that can accommodate a maximum of 200 people per site. There are picnic tables, shade ramadas, and a kitchen area with a sink and barbeque grill. This site does not have RV hook-ups. There are electrical outlets available in the kitchen area and the restrooms for small household appliances.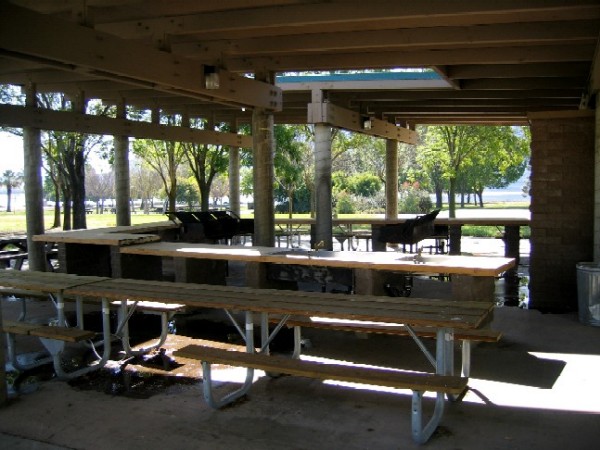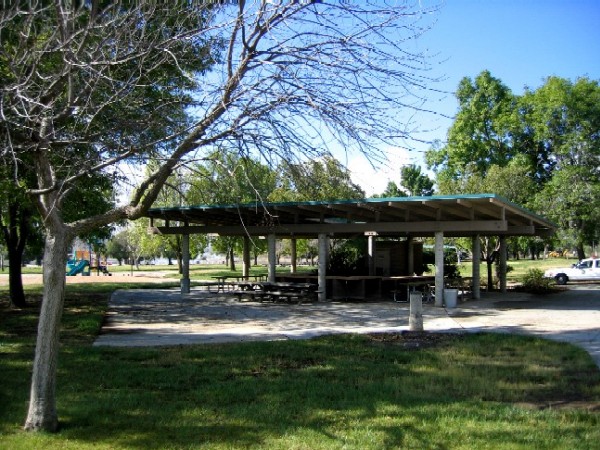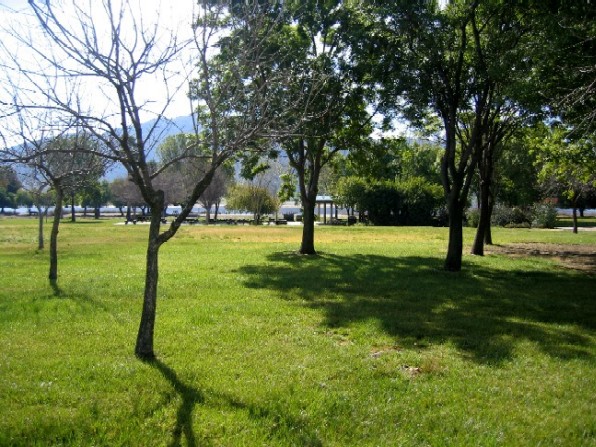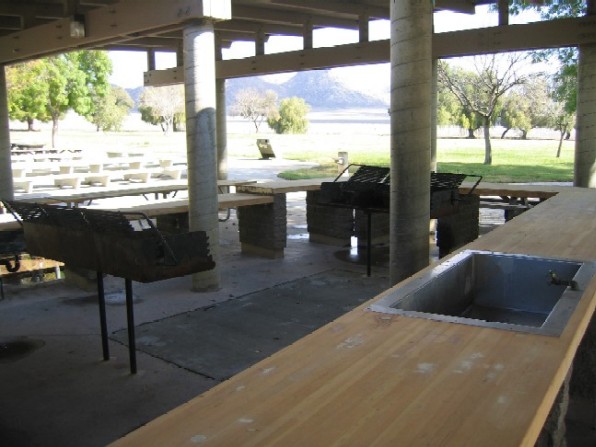 ---
Pricing
$305.00 per unit.
200 people and 38 vehicles maximum are allowed in each group unit.
If you will have more than 200 people or more than 38 vehicles, you will need to reserve another unit.
Reserve California
Customer Call Center – (800) 444-PARK (7275)
The center is available 7 days a week, from 8 a.m. to 6 p.m. PST
The best times to call are midday and midweek, when the phone lines are less busy.
Lake Perris Group Picnic areas
#GP A – Group Picnic
#GP B – Group Picnic
#GP C – Group Picnic
Parking
The group reservation holder, or designee, must check-in at the Luiseno Campground prior to setting up in the group picnic area.
Vehicles with the group picnic reservation will be given a hang tag at the park entrance gates.
Vehicles in the Group Picnic area without a group picnic parking pass are subject to citation. Regular Day Use tags purchased at the gate are valid for Day Use only and must park in designated Day Use areas and walk to Group Picnic. Lot 11 and 12 are the closest Day Use areas to Group Picnic.
---
Check-in and Check-out
Check-in time is 8:00 am. Check-out time is 1 hour before park closure.

There are no early check-ins or late check-outs without renting the units for another night.

The group reservation holder must check-in at the Luiseno Campground office to complete a check-in walkthrough with park staff before the group can set up. All groups must attend walkthroughs.

Group reservation holder shall complete a site walkthrough with State personnel at check-in and check-out to ensure the site and related grounds and structures are in the same condition at check-out as they were at check-in. The permittee is responsible for any damage sustained as a result of the event and will be billed and/or cited.
The group reservation holder is also responsible for final clean-up of the property. This includes trash, cigarette butts, food particles, toys, candy wrappers, and anything else left by anyone related to the event. The State of California is committed to keeping our parks healthy and clean.

NOTE: The group reservation holder will be billed and/or cited for any clean-up/trash removal.

---
Special Events
Special Event permits are required for activities that are different from general park use including, but not limited to:


Jumpers and bounce houses
Catering and food trucks
Contests, tournaments, races, etc.
Item or food sales
PA systems, bands, DJ's, etc.
Tents 20' x 20' or larger

Click here for Special Event Details.
---
CANCELLATION AND REFUNDS:
Current reservation holders who made reservations in-house at the park on or prior to 10/01/2015: To receive a refund, the reservation must be cancelled 60 days before the reservation date.

Refunds are not given for:
Adverse weather conditions
No-shows
Group guests without a valid group tag who pay day use fees at the gates
Reservations canceled less than 60 days before the event
Damage deposit if the site has been vandalized
Eviction from the park by California State Park Rangers and/or police officers.
There will be no courtesy rebooks for cancelled reservations if the reservation was made through the park.

Reservations that are made online or through the call center are subject to the reservation cancellation policy for cancellations, site changes, date changes, early-outs, and no-shows. These are not handled by Lake Perris SRA.
---