Boating laws rules and license requirements
Lake Perris Boating Rules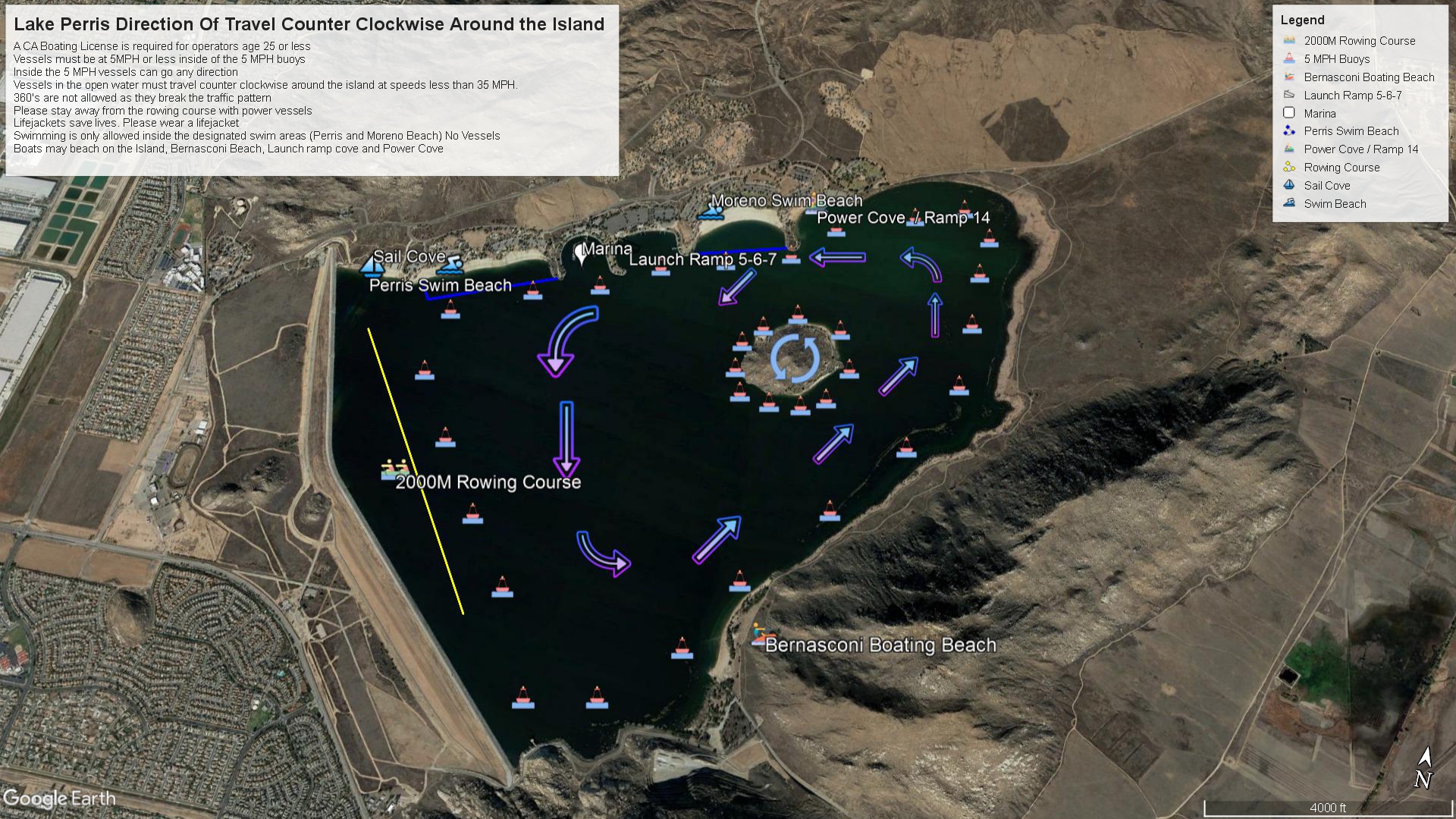 ---

Life jackets are the most important piece of safe boating and watersports equipment. According to the Division of Boating and Waterways, most boating deaths happen when people don't wear life jackets and drown. Today's life jackets are colorful, comfortable and easy to wear.
The Division of Boating and Waterways recommends that boaters always wear a life jacket no matter how well you know how to swim or operate a boat. You never know when an accident might occur. Once in the water, it is very difficult to locate and put on a life jacket while trying to stay afloat.
California law requires that every child under age 13 must wear a life jacket at all times while on a moving vessel of any length. (There are three exceptions: Children are not required to wear a life jacket when they are wearing a harness on a sailboat, when they are in an enclosed cabin, and when they are on a vessel during an emergency rescue.)
For more information about boating and lifejacket safety please visit the Life jacket page.
---
CA Boating License Requirement
Age and Operator Restrictions
California law requires a person to be 16 years of age or older and in possession of his/her California Boater Card to legally operate a vessel powered by a motor of 15 hp or more, including personal watercraft (PWCs).
Exceptions to this law are:
Persons

12 to 15 years of age

may operate a vessel powered by a motor of 15 hp or more, including PWCs, if they are supervised on board by a person at least 18 years of age and in possession of his/her California Boater Card.
There is no age restriction for operating a sailboat under 30 ft. long (with wind as the main source of propulsion) or a dinghy used between a moored vessel and shore or between two moored vessels.
It is illegal to permit a person under the age of 16 to operate a vessel powered by a motor of 15 hp or more, including PWCs, without onboard supervision by a person 18 years of age or older who is in possession of his/her California Boater Card.
Additional Information
Any person convicted of any moving violation in the Harbors and Navigation Code, the Federal Rules of the Road and regulations adopted by the California State Parks Division of Boating and Waterways while operating a vessel must be ordered by the court to complete and pass a boating safety course approved by the California State Parks Division of Boating and Waterways. Proof of completion and passage of the course must be submitted to the court within seven months of the time of the conviction. This boating safety course will satisfy court-ordered mandatory boater education required by California law when a boater is convicted of a moving violation.
Enforcement
Coast Guard or local law enforcement officers patrol the waterways to make your boating experience safe and pleasant. Cooperate with them by following the laws and guidelines.
Carry the Card: Vessel operators who are required to have a Boater Education Card must carry the card on board the vessel and have it available for inspection by an enforcement officer.
Penalty: Not carrying your Boater Education Card when one is required can result in a fine.
Lifejackets and the Law

For a boat less than 16 feet long, or a canoe or a kayak of any length:
Everyone on board a personal watercraft (popularly known as "jet skis") and anyone being towed behind a vessel must wear a Coast Guard-approved life jacket.
A Coast Guard-approved life jacket must be carried for each person on board.
If stored, these life jackets must be readily available (easy to get to), and you must show passengers the location of life jackets and other safety equipment.

For a boat 16 feet or longer, you must carry for each passenger:
The same requirements as above and
One immediately accessible (easy-to-reach) Type IV device designed for throwing – such as a ring, cushion or horseshoe buoy for each boat.

Other Requirements
All Vessels

Whistle or other sound producing device is required on powered vessels, recommended on all others
Other suggested equipment includes a paddle, a 20 foot tow line, and an anchor.
Navigational lights during sunset to sunrise or during limited visibility



Powered Vessels

An adequate muffler to meet state noise level requirements
USCG approved fire extinguisher
Current vessel registration



Non-Powered Vessels:
Canoe, Kayak, Standup Paddle Boards (SUPs)

SUPs are considered vessels and must have a personal floatation device. Leashes are recommended and are your best connection to your floatation.
SUPs are not recommended in high-speed, open water during high vessel traffic.
---
General Boating Regulations
If you own a sailboat over eight feet long or a boat/vessel with a motor (no matter the size, includes Jet Skis), you must register it with DMV in order to legally operate it on California waterways.
Vessels used in fresh waters are required to display a current Quagga sticker, unless the vessel is used only in marine waters, or exempt by law.
California Department of Vehicles BOAT & VESSEL OWNERS
Vessels from out of state must have valid registration in the state of principal use and cannot be remaining in California over 90 consecutive days.
Keep your Certificate of Ownership in a safe place—this is your evidence of title to the vessel. Certificates issued will also contain the boat's identifying number (known as the hull identification number), which is the number permanently marked on the transom by the manufacturer or builder, or the number assigned by DMV and marked on the transom by the owner.
Definition of a Vessel: Any watercraft used or capable of being used as transportation on the water; except a seaplane or a vessel on a fixed track or arm.
Vessel operators must follow all CCR-Title14 and applicable Boating Laws, Lake Perris Posted Orders, Harbors & Navigation Laws and Federal Inland Navigation Rules.


Vessel operators must be 16 years of age (12 yrs. of age when supervised by an adult)


Direction of travel is counterclockwise (except vessels under sail, kayak, or canoes).


Maximum speed limit on the lake is 35 MPH.


5 mph zones are non-directional. 5 mph zones are from shore line to buoys and on the east end (island side) of the lake, due to hidden hazards and shallow water in that portion of the lake.


5 mph max speed and running lights are required during restricted visibility, before sunrise, and after dark.


Vessels are not allowed within 50 feet of posted swim areas.


Free style/Trick riding is not permitted. This includes but is not limited to: 360's, 180's, submarining, jumping boat wakes within 100 feet of a vessel.


All persons, except water-skiers (etc.), must be in the passenger compartment while vessel is under way.



BOW, GUNWHALE OR TRANSOM RIDING IS PROHIBITED!




Dogs are not allowed on the beach, in the water or on the island. Dogs are allowed on vessels but not in the water.


Shoreline refueling is Prohibited, Refuel in parking lots - Protect our water and our beaches.


ALCOHOL possession and consumption is allowed from your vessel only. You may not bring alcohol on shore in day use areas. Alcohol is also permitted in your registered campsite.


Boating Under the Influence (BUI) will be subject to arrest and booking into County Jail.


Boaters are required to know and follow all California State boating laws, even if not listed above.

Waterskiing, Wakeboards, Inflatables, and Other Tows
Inflatables are allowed to be towed behind boats


When a vessel is in a towing operation (skier, wakeboard, inflatable, etc.) the vessel must have an observer, at least 12 years or older, holding an orange flag and in visual contact with the person in tow and in verbal communication with the vessel operator.


Water-skiing, towables (etc.) are allowed only during daylight hours.