Northern California Hiking Opportunities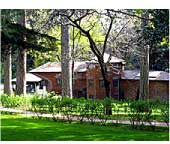 With more than 100 state parks in Northern California, visitors don't have to travel far to enjoy a hike full of history and color.
Emerald Bay State Park is known for leaving a lasting impression. The 1929 Vikingsholm house is nestled in majestic pines right on the shores of Lake Tahoe with a hiking trail covering two miles of remarkable lakeside scenery. Once done with the hike, you can enjoy a chilly 60 degree swim in the lake!
More stunning views and hiking trails can be found not far down the road at Donner Memorial State Park. Named for the ill-fated Donner Party, which became trapped there during the winter of 1846, the park offers a variety of recreational and educational opportunities, including camping and fishing.

Marshall Gold Discovery State Historic Park, located in the Sierra foothills, is where gold was first discovered and started the largest migration in United States history. At the park, you can learn how gold was mined and see the working reconstruction of John Sutter's sawmill.
After discovering that gold was located deep underground, extensive tunnels were created to retrieve it at Empire Mine State Historic Park. Visitors can enjoy a walking tour of the mine's facilities, including the gardens and house of mine owner William Bourn.
Site of the largest hydraulic gold mine in California, Malakoff Diggins State Historic Park, offers an incredible display of the damage that hydraulic mining can cause. Most impressive is the mid-1800s technology that left a lasting impact on California's landscape. The park features easy walking trails, including one that leads to an impressive 600-foot deep mining pit. The mining town is complete with a drug store, livery stable, and general store.

Although Napa Valley doesn't have any gold mines, they do have plenty of estates worth their weight in gold. One such estate is that of Jack London, the most famous and successful author of his time. London left behind some 1,300 acres now known as Jack London State Historic Park. Tour the London residence for a glimpse into the writer's personal life and enjoy hiking trails with oak trees, redwoods, streams, and deep canyons.
Sonoma Coast State Park showcases Northern California's rocky coves, tall bluffs, colorful wildflowers, and abundant waterfowl. Once finished with a hike, relax at a picnic table and watch the soft glow of the sunset.
Richardson Grove State Park, located on California's northern coast, was named after California's 25th governor, Friend Richardson. The park offers hiking through redwoods groves, camping, interpretive programs, educational exhibits, and natural history displays.
Unique and secluded (all in the same breath) help describe Angel Island State Park, a park that has seen many changes from pirating to military occupation. Angel Island is roughly one square mile in size, but offers five miles of hiking trails. The park also provides bicycling and overnight camping. Ferry service to the island makes for a fun arrival with views of the Golden Gate Bridge.
Step into the past on the "Monterey Walking Path of History" and view the site where Spanish explorers first landed in Monterey in 1602. See one of the nation's last remaining whalebone sidewalk. Walk the same streets that famed author Robert Louis Stevenson walked in 1879. Explore this two-mile path and discover some of California's most historic homes, buildings and beautiful gardens along the way. Monterey served as California's capital under Spanish, Mexican and U.S. military rule. The U.S. flag was first officially raised in California here on July 7, 1846, bringing 600,000 square miles of land to the United States. Monterey's Path of History can be entered at any point. Just follow the yellow-tiled markers and discover Monterey State Historic Park, an area that preserves and interprets places and objects of statewide historic significance. Ten buildings, including the Custom House, the oldest government building in California, and several residences (now house museums with guided tours), are all part of the Path of History. The Path of History is part of Monterey State Historic Park. Brochures are available at Monterey SHP office, 20 Custom House Plaza, Monterey CA 93940, and at many of our historic buildings, including the Pacific House Museum and Custom House (near the Monterey SHP office), and Cooper Museum Store (525 Polk Street, Monterey, CA 93940).


Hiking in California state parks reveals the hidden treasures and diversity that lay trapped within the busy state. Each park offers something different for every visitor and surely something new, even for those who have already been. Northern California state parks provide great access to the outdoors and affordable summertime recreation.
To search for a park by region, county/city, or activities go to Find-A-Park. Contact the Statewide Trails Section at 916-653-9901 or trails@parks.ca.gov.