Marshall Gold Discovery State Historic Park
Phone Number
(530) 622-3470
Park Hours
Day Use Areas
8am - 8pm
Museum Hours
10am -5pm
Driving Directions to Marshall Gold Discovery SHP
The park is located in Coloma on Highway 49 between Placerville and Auburn.


Online reservations are not available for this park.
Upcoming Park Events
No events scheduled at this moment.
---
The World Rushed In
James W. Marshall discovered gold in 1848 on the South Fork of the American River in the valley the Nisenan Indians knew as Cullumah (beautiful valley). This event led to the greatest mass movement of people in the Western Hemisphere and was the spark that ignited the spectacular growth of the West during the ensuing decades. The gold discovery site, located in the still visible tailrace of Sutter's sawmill in present day Coloma, California, is one of the most significant historic sites in the nation.

In 1848, James W. Marshall found shining flecks of gold in the tailrace of the sawmill he was building in partnership with John Sutter. This discovery changed the course of California's and the nation's history. See a replica of the original sawmill and over 20 historic buildings including a mining exhibit, Chinese store exhibits and schoolhouse exhibit.

Visitors have the opportunity to pan for gold in the American River and enjoy hikes and picnics under the riparian oak woodlands. Overlooking the beautiful river canyon is the Marshall Monument, California's first historic monument and the final resting place of James Marshall. The statue looks down on the river and point to the site of the gold discovery.

Visit our exhibits, take a gold panning lesson, or participate in tours, Living History Day, or special events planned regularly throughout the year. Contact the Gold Discovery Museum and Visitor Center for details. Marshall Gold Discovery State Historic Park is proud to also offer the Eureka Experience school and group programs.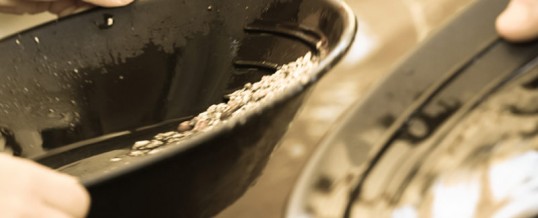 Next Living History Day is August 11
Explore the Life of a Chilean Miner at Marshall Gold Discovery State Historic Park During Living History on August 11
On Saturday, August 11, from 10 a.m. to 3 p.m. Marshall Gold Discovery State Historic Park in Coloma, California will explore the experiences of miners who came to California from Chile.
The cultural diversity that typifies present-day California began during the California gold rush as people from all over the world rushed to the area in search of riches. As more people swarmed the gulches and riverbeds and good diggings became harder to find, racial tensions mounted in this largely lawless society. Discrimination and prejudice ran rampant, affecting those who spoke a different language, or perhaps looked different. Chilean miners were no exception.
Join former state park ranger and park docent Alan Fuller Beilharz in the theater in the Visitor Center for a brief look at the state of early California civic society. The state was without law in the early gold rush, a fact that had astonishing and dreadful consequences. This program will narrate some true tales of those days as we look particularly at the treatment of the Chilean 49ers in places like Coloma and Chili Gulch. These educated and civic-minded pioneers from South America attempted to deal fairly with lawlessness and prejudice. Ultimately, they were evicted from placer mining by force. Their stories are timeless.
Mr. Fuller will also present a first person portrayal of Vicente Perez Rosales who came from Chile to California in January 1849. Rosales's humorous anecdotes are a window into the events of the early gold rush. He provides sparkling descriptions of the Coloma Road, Sutter's Mill, the native Nisenan, and the early 49ers. He describes the experience of placer mining in the South Fork, the grueling work, and the deep learning curve. He also paints vivid pictures of the infant cities of San Francisco and Sacramento, and the already deserted Sutter's Fort.
Rosales's most riveting narratives, however, are descriptions of gold rush society. He chronicles the lawless and overt discrimination against minorities, and the Chileans in particular, and relates sorrowful stories of the persecution of the Nisenan. He tells of the frustration of trying to succeed in the face of fierce and unremitting obstruction. Through it all, the joyful spirit of a civic-minded optimist shines through. This presentation will provide a unique and authentic view of the early California gold rush.
Alan Fuller Beilharz is a retired State Park Ranger who worked at Marshall Gold Discovery S.H.P. from 1978 until 2000. He was highly regarded for his skills in interpretation, artifact accessioning, and public contact. In retirement, he pursues several hobbies including botany, history, and traditional music. He continues his forty-year association with the park by participating in historical reenactments such as "Coloma Gold Rush Live."
Also on Saturday, visitors are encouraged to join park docents under the trees behind the museum from 10 a.m. to 3 p.m. for living history demonstrations and hands on learning opportunities.
This event continues the park's exploration of the diverse peoples and cultures found in Coloma before, during and after the Gold Rush. On the second Saturday of each month during the park's monthly Living History event, a different cultural group will be highlighted. In October, all cultures will come together in the melting pot of Coloma Gold Rush Live, the park's annual weekend-long living history event.
Upcoming Living History dates and themes for the year include:
July 14 Irish
August 11 Mexican/Chilean
September 8 Germans
October 13-14 Coloma Gold Rush Live! The Melting Pot
For more information on these events, or other activities at Marshall Gold Discovery State Historic Park, please call the museum at 530-622-3470.
Group Reservations 2017-18
Check school and group information page for change in reservation dates and procedures.
School and Group Information


Gold Discovery Tours
Marshall Gold Discovery State Historic Park is pleased to offer visitors guided walking tours!

Our Gold Discovery Tour tells the story and visits the sites of the Coloma Valley before the discovery of gold by James Marshall. Learn about the events leading up to the discovery, the history of the California Gold Rush and the town of Coloma.
Tours are offered at least twice a day, weather permitting. Tour cost is $3.00 per adult and $2.00 per child. We do not give tours on our event days including Coloma Gold Rush Live and Christmas in Coloma. Please come enjoy those events!

Any questions? Please call our museum at (530) 622-3470.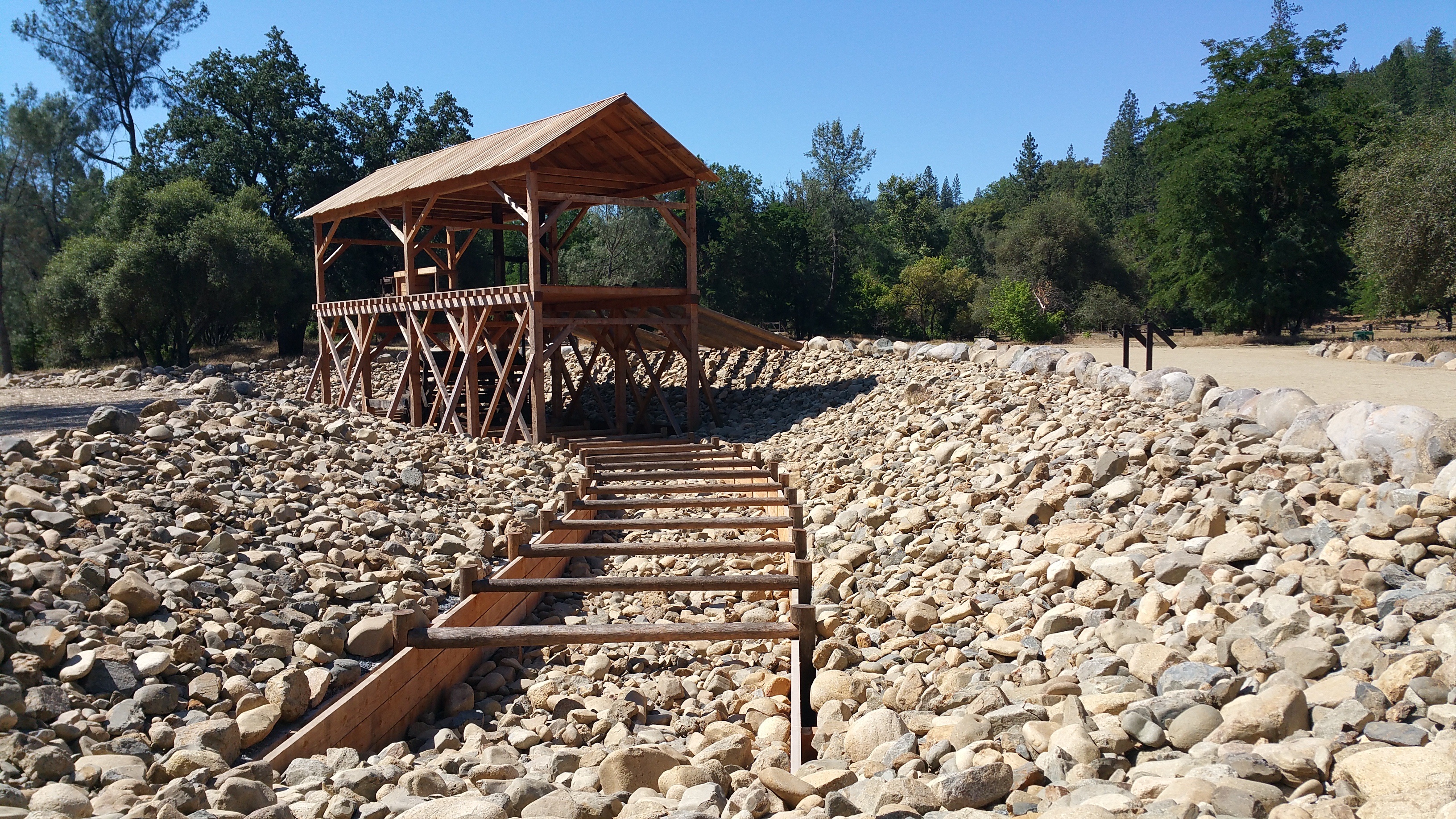 Sutter's Mill
Additional Information
Seasons & Recommended Clothing
Summer and spring are warm; fall and winter can be cool. Layered clothing is advised.

River Flow
For current river flow, please click on the link to be redirected.

Disclaimer
Gold panning, tours, the blacksmith shop, and other scheduled activities may be closed/cancelled due to extreme weather, poor air quality conditions, inclement weather, or emergencies. For the latest information, please call the Gold Discovery Museum at (530) 622-3470; open seven days a week 10am-5pm. You can also email marshallgold.info@parks.ca.gov for additional information.
Location & Directions
The park is located in Coloma, California on Highway 49 between Placerville and Auburn.

From US Highway 50 traveling East: Take the Ponderosa exit, turn left on South Shingle, take a right on North Shingle. Continue on North Shingle for 10 miles (North Shingle will turn into Green Valley Road, then Lotus Road). Lotus Road ends at CA HWY 49. Turn right on Highway 49 and go 1 mile to Coloma.

From US HWY 80 traveling East: Take the Elm Ave. exit and turn left. Take a left on CA HWY 49/CA HWY 193/South El Dorado Street. Continue on Highway 49 for approximately 13 miles. Highway 49 runs through the middle of Coloma.
Marshall Gold Discovery State Historic Park
Although small amounts of gold had been found in other parts of California, it was the gold discovery at Sutter's mill that received world-wide attention in 1848. The discovery caused one of the largest mass-migrations in history, bringing people to California from all over the world. Most prospectors who came did not strike it rich in the gold fields and returned home, but about ten percent stayed in California. Those who stayed contributed to California's unprecedented rapid commercial, agricultural and industrial development and statehood in 1850.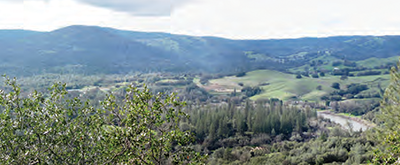 (Photograph by Mike Fuller)
Social Feed
---
Available Activities and Facilities at Marshall Gold Discovery State Historic Park
BOATING
Boating

TRAIL USE
Hiking Trails

DAY-USE ACTIVITIES & FACILITIES
Historical/Cultural Site
Picnic Areas
Env. Learning/Visitor Center
Exhibits and Programs
Fishing
Guided Tours
Interpretive Exhibits
Beach Area
Museums
Family Programs

OTHER FACILITIES & VISITOR INFORMATION
Food Service
Parking
Restrooms
Drinking Water Available