Eureka Experience Interpretive Programs
Individual and Family Gold Panning Lessons at Bekeart's Gun Shop
Gold Panning lessons are available on Saturday and Sundays from 10 am till 3 pm or Monday through Friday as space allows between school or tour group reservations.

Visitors also have the opportunity to pan for real gold in troughs set up for teaching the proper technique. Fun for all ages! Lessons are given through out the day. 45 minutes for lesson and panning and can keep any gold they find. The program is $7.00 per person, large group rates are available. Supplies are provided for use while you're panning in park troughs. Once you have found gold, you can purchase a pan (or bring your own from home!) to try your luck in the South Fork of the American River in our designated area near where James Marshall discovered gold in 1848.

Gold panning lessons located at Bekeart's Gun Shop accross from park museum.

For more information contact Eureka.Experience@parks.ca.gov

Recreational Panning is allowed in the river in designated areas during park hours. Check with The Gold Discovery Museum at (530) 622-3470 for details.

Please note that these hours are subject to change in cases of extreme heat.



Eureka Experience Group Programs
Marshall Gold Discovery State Historic Park is proud to now offer school or group programs to enhance your visit to the park. Your group can enjoy a real California Gold Rush Experience while panning for, and finding gold near the site of James Marshall's gold discovery. Also, each gold miner needs a pouch to keep their 'findings' in. During the Poke program, students will learn about California Gold Rush History, and get to make a leather pouch to store their precious treasures they found while panning. Our Wagons Ho program gives your group the experience of learning about what the average family would have brought on a wagon train out west, while actually loading a real wagon with supplies needed for the journey. On our Gold Discovery Tour, a guide will bring your group on a walking tour to the important points of historical interest centered around what was going on here before the gold discovery, what happened to make the discovery, and the start of the California Gold Rush.

Program Pricing for 2015-2016 Groups of 10 or more:
Gold Panning Lessons $6 per student
Poke Program $6 per student
Wagons Ho $150 per group up to 30 people
Gold Discovery Tour $60 per group up to 30 people

For reservations or info call (530) 622-3069 or email Eureka.Experience@parks.ca.gov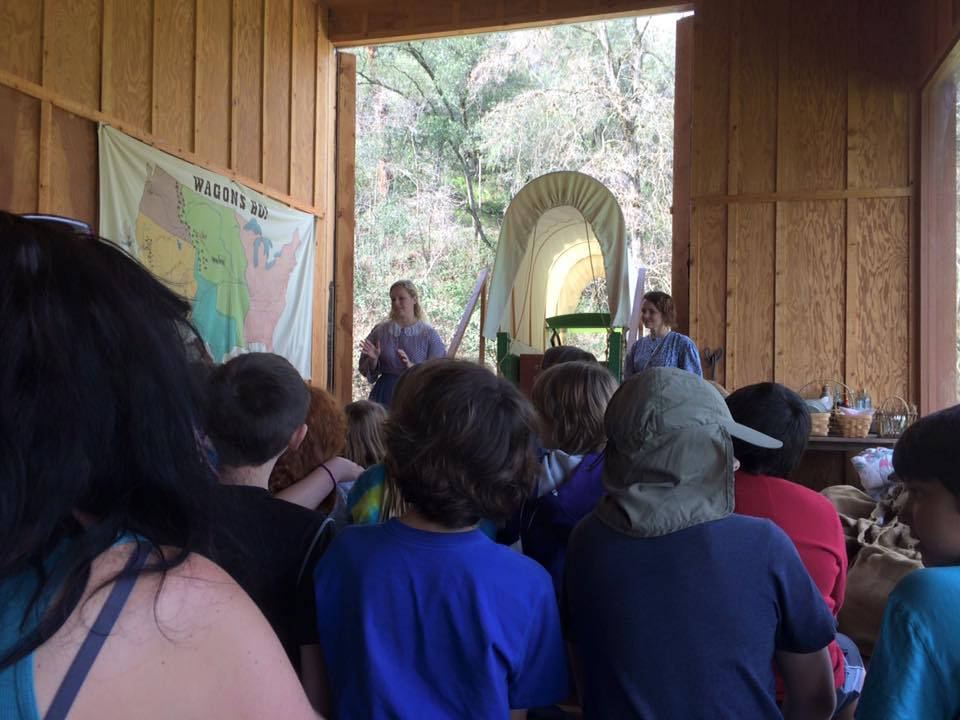 Environmental Education Programs
Environmental education programs are given by the American River Conservancy ARC located within Marshall Gold Discovery SHP at the historic Kane House. Environmental Education (This link will take you to ARC's website for information on programs offered within the park.)
Junior Ranger Program
We now have a Junior Ranger Program that is available for school groups and visitors.
If you are a teacher and would like to participate please click on the link below where you can download and print off a copy of the booklet. You can either use it just in the classroom or you can print them off for your class to bring on their visit to the park.

Visitors who would like to partcipate can pick up the booklet at the museum for no charge and explore our park using the Junior Ranger booklet. After completion you may purchase a Junior Ranger patch at the Mercantile for $2.00.
For further questions on the Junior Ranger Program please contact Susan Okey at susan.okey@parks.ca.gov or (530) 622-3069

https://drive.google.com/file/d/0By_H9KLugyanZWk5OHNrVy1BT3M/edit?pli=1