Mammoth Bar Off-Highway Vehicle Trails Re-opened for OHV Use
Updated May 15, 2018
California State Parks reopened several off-highway vehicle trails at Mammoth Bar in Auburn SRA. Use of these trails is restricted to Sundays, Mondays and Thursdays during the summer season, and additionally on Fridays from October 1 through March 31 seasonally. The reopened trails include: Ranch, River Bar, Stonewall, Rocky, Castle Rock, Hillside, Squaw Flat and the 90cc Track. Non-motorized day use and river access at Auburn SRA is available seven days per week from 8 a.m. to sunset.

Prior to reopening the approximately nine miles of trails, California State Parks conducted trails assessments, archaeological and biological surveys to ensure all maintenance of the OHV trails was in compliance with California environmental laws. The trails had been closed due to storm damage caused during the winter of 2017. The following trails will remain closed due to poor trail conditions: Eastside, Kennebeck, Grizzly and Hoosier. Auburn SRA intends to perform the necessary maintenance on Eastside in order to reopen the trail this fall.

Another area that was affected by the winter 2017 storms included the motocross (MX) track. Approximately 15 percent of the MX track was washed away by flood waters. In an effort to relocate and reopen the track, Auburn SRA has been working with the Off-Highway Motor Vehicle Recreation Division, the U.S. Bureau of Reclamation and advocacy groups to create a plan to rebuild the MX track. At this time, there is no estimated date for repairing and reopening it. Updates on the trails and MX track may be viewed online on the Mammoth Bar OHV Area website.

California State Parks encourages safe and responsible off-highway vehicle recreation. Help us protect the environment and keep our recreation areas safe by implementing the following:

• Obey park rules, such as parking in designated areas and not entering closed areas.
• Know the laws for off-highway vehicle recreation.
• Stay on designated trails.
• Use proper equipment such as protective clothing, goggles, a proper helmet and gloves.
• Ride within your limits.
• Approach curves and hills with caution.
• Stop only in clear areas as fuel can spark fires in grassy areas.
• Travel with a friend.
• View wildlife from a distance. Never feed or touch wildlife.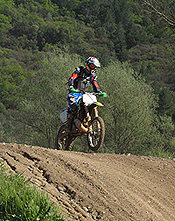 ---
Mammoth Bar OHV Area is part of the Auburn State Recreation Area. It is located in the Sierra Nevada foothills about thirty miles northeast of Sacramento. This motorcycle/ATV riding area has been used by off road enthusiasts for nearly 25-years and offers a wide range of trails and conditions in a beautiful setting next to the Middle Fork of the American River. The area is under the jurisdiction of the Bureau of Reclamation and is operated by California State Parks. Some OHV motorcycle/ATV trails are open for two-way traffic and others are one way only. OHV's are restricted to designated signed trails, to the MX tracks and the PIT (Pacific International Trials) areas.




*Mammoth Bar is open 7 days a week, OHV use is permitted only on specific days. OHV Ride Days are as follows;

April 1st-September 30th Sunday, Monday, and Thursday
October 1st-March 31st Sunday, Monday, Thursday, and Friday
Location
The entrance to Mammoth Bar is located on Old Foresthill Road. The easiest access is off of Interstate 80 north of Auburn. Take the Foresthill exit off I-80 and go east about 2.5 miles to the Old Foresthill Road. Turn right on Old Foresthill and the entrance is about 1.5 miles on the left.

All OHV use is regulated by both Federal and State laws. OHV's must have a visible ("Green Sticker" OHV registration) Red stickers are allowed all year round.

All OHV's must have a US Forest Service approved spark arrester in working condition and meet Federal and State noise standards (96 decibels maximum).

It is the rider's responsibility to know and comply with all applicable rules and regulations.

Facilities include picnic tables, BBQ's, Chemical toilets. No drinking water.

Mammoth Bar trail maps are available at the park office and kiosk.