Mammoth Bar is open 7 days a week, weather permitting.
OHV use is permitted only on specific days.
OHV Ride Days are as follows:
April 1st-September 30th Sunday, Monday, and Thursday
October 1st-March 31st Sunday, Monday, Thursday, and Friday
Mammoth Bar Motocross Track Relocation Project
Update- October 6, 2021

Mammoth Bar trails are open. The track project is anticipated to be complete in late October or early November of 2021.
Update- May 17, 2021
Substantial progress has been made in the last two weeks on the replacement of the track and construction of the new road. All vehicles entering the area are now being directed along the new road alignment to park in the area of the 90cc track on the river bar. Eastside and River Bar Trails will be temporarily closed to OHV use until a new route from the staging area to River Bar Trail can be established. OHV Trail access remains available from Rocky, Ranch and Stonewall Trails. The trials area is being relocated beginning May 17th and will be unavailable until further notice.
During construction please stay out of the work zone and abide by all signage.
Updated May 3, 2021
On May 3, 2021 State Park staff broke ground on the replacement/relocation project for the Mammoth Bar Motocross Track. This project will involve relocating the former motocross track to the area previously used as the staging area, trials area and access road, while establishing a new road alignment through the prior track footprint. Upon completion, the day use, track and trials areas will have been relocated and the 90cc track will be left intact. We expect this project to be completed in the summer of 2021.
During construction, access will be maintained via temporary routes and the staging area will be relocated upriver to the gravel bar area near the 90cc track. There may be times when the area is temporarily closed due to construction activities. Temporary closures will be posted to our website and the Mammoth Bar phone line at (530) 885-4527. During construction please stay out of the fenced areas and away from the heavy equipment.
Updated October 23, 2020
During the summer of 2020 State Parks filed a Notice of Determination (NOD) with the State Clearinghouse for the Mammoth Bar Motocross Track Relocation Initial Study/Mitigated Negative Declaration (IS/MND). State Parks has also prepared a Decision Memorandum which includes responses to comments received during the 30-day comment period for the IS/MND. The Decision Memorandum includes an Errata section of minor revisions made to the IS/MND which do not involve any substantive changes to the document.
State Parks intended to begin this project in August of 2020 with a completion date not later than October 15th, 2020. However, one of the necessary permits has not yet been approved by California Department of Fish and Wildlife (CDFW). Additionally, the heavy equipment operators, and much of the needed equipment allocated to this project, were diverted to help with fire rehabilitation efforts at California State Parks in Northern California which were impacted by this year's wildfires.
If the necessary permits were received soon, we would not initiate this project in the fall season. Starting this project during the fall/winter season would dramatically increase the probability of weather related work stoppages, increased costs for storm water monitoring and sampling, increased Storm Water Pollution Prevention Plan (SWPPP) permit fees and increased rental costs of idle equipment unable to be used during storm events.
Based on the above mentioned factors, we now anticipate starting the MX track relocation project in the late spring or summer of 2021.
---
California State Parks encourages safe and responsible off-highway vehicle recreation. Help us protect the environment and keep our recreation areas safe by implementing the following:

• Obey park rules, such as parking in designated areas and not entering closed areas.
• Know the laws for off-highway vehicle recreation.
• Stay on designated trails.
• Use proper equipment such as protective clothing, goggles, a proper helmet and gloves.
• Ride within your limits.
• Approach curves and hills with caution.
• Stop only in clear areas as fuel can spark fires in grassy areas.
• Travel with a friend.
• View wildlife from a distance. Never feed or touch wildlife.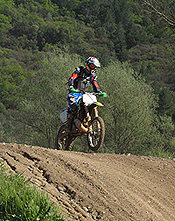 ---
Mammoth Bar OHV Area is part of the Auburn State Recreation Area. It is located in the Sierra Nevada foothills about thirty miles northeast of Sacramento. This motorcycle/ATV riding area has been used by off road enthusiasts for nearly 25-years and offers a wide range of trails and conditions in a beautiful setting next to the Middle Fork of the American River. The area is under the jurisdiction of the Bureau of Reclamation and is operated by California State Parks. Some OHV motorcycle/ATV trails are open for two-way traffic and others are one way only. OHV's are restricted to designated signed trails, to the MX tracks and the PIT (Pacific International Trials) areas.

*Mammoth Bar is open 7 days a week, weather permitting.
OHV use is permitted only on specific days. OHV Ride Days are as follows:

April 1st-September 30th Sunday, Monday, and Thursday
October 1st-March 31st Sunday, Monday, Thursday, and Friday
Location
The entrance to Mammoth Bar is located on Old Foresthill Road. The easiest access is off of Interstate 80 north of Auburn. Take the Foresthill exit off I-80 and go east about 2.5 miles to the Old Foresthill Road. Turn right on Old Foresthill and the entrance is about 1.5 miles on the left.

All OHV use is regulated by both Federal and State laws. OHV's must have a visible ("Green Sticker" OHV registration) Red stickers are allowed all year round.

All OHV's must have a US Forest Service approved spark arrester in working condition and meet Federal and State noise standards (96 decibels maximum).

It is the rider's responsibility to know and comply with all applicable rules and regulations.

Facilities include picnic tables, Chemical toilets. No drinking water.

Mammoth Bar trail maps are available at the park office and kiosk.