Lake Clementine Road Closure


On December 4th, 2023, Lower Lake Clementine Road will be closed after the hair pin for shoulder edging. Pedestrian and vehicle access will be prohibited.
Lower Lake Clementine is for Boat Access Only.
Motorized vessels cannot launch at Upper Lake Clementine.
Dogs are not allowed within the boundaries of Lower Lake Clementine or Upper Lake Clementine.
Effective June 26, 2023 seasonal fire restrictions are in effect. During these restrictions wood fueled campfires, liquid fuel torches and wood/charcoal fueled portable cooking devices are prohibited. Pressurized liquid fueled cooking devices are permitted in campsites and on registered vessels. Registered campers are permitted to use portable propane fueled campfires provided that no burning embers or other debris can escape the flame. For Posted Order click here.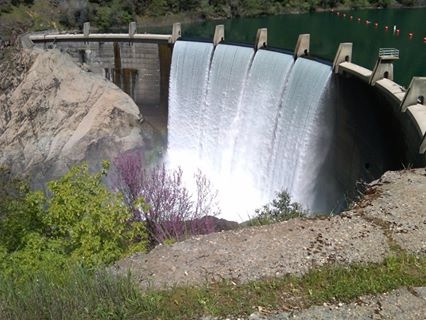 Lake Clementine Cyanobacteria Alert September 3, 2021
Updated 9/3/2021:
After the recent monitoring results from Upper Lake Clementine, additional samples were collected at 5 locations along the North Fork of the American River within Auburn SRA on August 31st. Results from the analyzed samples were received on the afternoon of September 3rd. Water samples in at Upper Lake Clementine and in the area of the boat-in campground at Lake Clementine did not detect harmful toxins associated with harmful algal blooms. However, algal mat samples collected in the Mineral Bar Campground area, at Yankee Jims/Shirttail Creek, and just downstream from the Ponderosa Bridge all detected harmful toxins. For more details please refer to the HAB Incident Map.

Due to the variable nature of harmful toxin levels, we recommend visitors to all sections of the North Fork of the American River (Mineral Bar to Rattlesnake Bar) assume that harmful toxins are present in the river as a result of algal mats. The toxins are especially dangerous to dogs, who are more likely to ingest the toxin-producing algae. Dogs should be kept away from the north fork at all times. We have received reports of dog fatalities likely resulting from cyanobacteria ingestion in 2020 and 2021 in the Oregon Bar area of Auburn SRA. Swimming in the river or at Lake Clementine should be done with caution to avoid the slower moving side channels where algal mats tend to grow. We have not received any reports of harmful toxin reactions in people.


---
Updated 8/25/2021:

During monitoring for the State Water Boards pre-holiday assessment, an algal mat sample was collected at Upper Lake Clementine on August 16, 2021. On August 24, 2021, State Parks received notice that a high level of anatoxin-a (99.87ug/l) was detected from the algal mat sample. If this level were detected in the water column (planktonic) rather than directly from the algal mat (benthic), the level would result in a danger advisory which would recommend no human contact with the water. Because the sample was taken from a cyanobacteria producing algal mat, the concentration of anatoxin is likely to overrepresent the actual level of anatoxin in the water column. We are working with the Central Valley Water Resources Board and have posted signs throughout the Lake Clementine area advising that toxic algal mats are present in the water body. We plan to conduct additional sampling in other areas along the North Fork. Cyanobacteria anatoxins can cause illness in people and can be fatal to dogs. Human and animal contact with suspected algal mats should always be avoided. More information about toxic algal mats and HAB incident reports can be found here: My Water Quality: California Harmful Algal Blooms (HABs).


Upper Lake Clementine
Upper Lake Clementine is for Day Use only, motorized vessels are not permitted. Operating hours are 8:00am to 6:30pm. The parking lot is limited to 170 vehicles, parking is on a first come first serve basis, a $10.00 parking fee per vehicle applies. Dogs, glass containers, and alcohol are not permitted. Seasonal barbeque restrictions may apply.
Seasonal Access Calendar:
April 15 to September 30: Open seven days a week.
October 1 to October 14: Open weekends only.
October 15 to April 14: Closed for Winter season.
Directions:
From Interstate-80 take the Foresthill exit. Continue on Foresthill Road 5.5 miles, turn left onto Upper Lake Clementine Road, take the dirt access road 2 miles down the canyon, high clearance vehicles are recommended.
Lower Lake Clementine
As of May 1st, 2022 Wake Surfing is prohibited at Lake Clementine
This new regulation was enacted due to damage to the shoreline, other vessels and the marina facility caused by abnormally large wakes associated with wake surfing.
Lake Clementine was created when the North Fork Dam was completed in 1939 by the Army Corps of Engineers as a debris dam. The dam rises 155 feet above the foundation and has a crest elevation of 718 feet. The reservoir has a capacity of 14,700 acre-feet, and a surface area of 280 acres. The reservoir is approximately 3.5 miles long and has very narrow steep canyon walls.
This small lake features a boat launch ramp, marina and boat-in campsites. Day users are welcome, but the Day Use Beach is only accessible by boat, kayak or canoe. Lower Lake Clementine has limited boat trailer parking, there are 25 trailer parking spots available on a first come first serve basis. The maximum length of vehicle and trailer is 50 feet. Lake Clementine's boat ramp and day use parking is open year round, weather permitting.

Directions:
Lake Clementine is located off the Auburn-Foresthill Road, approximately two miles from Auburn. From I-80 in Auburn, exit at Foresthill, drive 2.5 miles on Foresthill Road, turn left onto Lake Clementine Road, and then follow Lake Clementine Road 2 miles down to the entrance station. Lake Clementine Road is narrow, and you may encounter vehicles towing boats on trailers, and bicyclists on the road. Please use caution and observe the 15 mph speed limit
Boat-In Camping
15 boat-in-only campsites are available through www.reservecalifornia.com the statewide reservation system.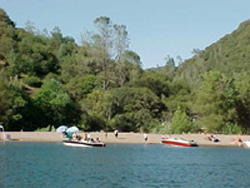 Limit of 8 people per campsite.
Maximum length of stay is 7 days.
Camping fee is $38.00 per night, $10.00 for each extra vehicle.
Day Use fee is $10.00 per day for all day use vehicles.
Motorized boat launch fee is $10.00 and payable at the entrance station.
Limited vehicle parking.
Picnic tables, chemical toilets, and fire rings.
Only 25 boat trailers are permitted.
Max. vehicle and trailer length is 50 feet.
No dogs are permitted in the campground or on the lake.
Lake Clementine has a wide variety of fish including: brown trout, large and small mouth bass, carp, and catfish.
Campground Calendar:
May 1 to May 14: campground has 4 sites, available first come first serve.
May 15 to September 15: campground has 15 sites, reservations required through ReserveCalifornia.com.
September 16 to September 30: campground is reduced to 4 sites, available first come first serve.
October 1 to April 30: campground closed for the winter.
Click here for a campground map.
Safety Rules
Your cooperation is appreciated in observing the following rules:
Water-ski and boating in a counter clockwise direction only.
Maximum speed on the lake is 40 MPH.
Maximum speed within buoyed areas is 5 MPH.
No wake allowed at the ramp, marina, and camping areas.
Swimming and water-skiing is prohibited in Marina Area.
Beach starts are prohibited.
Personal flotation devices, fire extinguishers and other normal required safety equipment must be onboard.
No Wake Surfing.
No parasailing.
No power boats upstream of regulatory buoy stating "No Power Boats".
No towed inflatables allowed in the ski zone. Towed inflatables may be used in the campground as swim platforms only.
Dogs are not permitted within the boundaries of Lower Lake Clementine.
No garbage removal provided; pack it in, pack it out!