Lower Lake Clementine is for Boat Access Only..
Upper Lake Clementine is open daily May 3rd to September 29th and weekends in October until October 13th when it closes for the 2019 season with no vehicle access.
Dogs are not allowed within the boundaries of
Lower Lake Clementine or Upper Lake Clementine.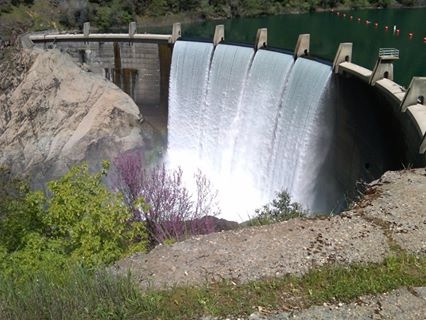 Lake Clementine was created when the North Fork Dam was completed in 1939 by the Army Corps of Engineers as a debris dam.

The dam rises 155 feet above the foundation and has a crest elevation of 718 feet.

The reservoir has a capacity of 14,700 acre-feet, and a surface area of 280 acres. The reservoir is approximately 3.5 miles long and has very narrow steep canyon walls.

This small lake features a boat launch ramp, marina and boat-in campsites.

Day users are welcome, but the Day Use Beach is only accessible by boat, kayak or canoe.
Location - Directions
Lake Clementine is located off the Auburn-Foresthill Road, approximately two miles from Auburn. From I-80 in Auburn, exit at Foresthill, drive 2.5 miles on Foresthill Road, turn left onto Lake Clementine Road, and then follow Lake Clementine Road 2 miles down to the entrance station. Lake Clementine Road is narrow, and you may encounter vehicles towing boats on trailers, and bicyclists on the road. Please use caution and observe the 15 mph speed limit.
Boat-In Camping
15 boat-in-only campsites are available through www.reservecalifornia.com the statewide reservation system.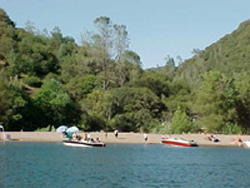 Limit of 8 people per campsite.
Maximum length of stay is 7 days.
Camping fee is $38.00 per night, $10.00 for each extra vehicle.
Day Use fee is $10.00 per day for all day use vehicles.
Motorized boat launch fee is $10.00 and payable at the entrance station.
Limited vehicle parking.
Picnic tables, chemical toilets, and fire rings.
Only 25 boat trailers are permitted.
No dogs are permitted in the campground or on the lake.
Lake Clementine has a wide variety of fish including: brown trout, large and small mouth bass, carp, and catfish.
Click here for a campground map.
Safety Rules
Your cooperation is appreciated in observing the following rules:
Water-ski and boating in a counter clockwise direction only.
Maximum speed on the lake is 40 MPH.
Maximum speed within buoyed areas is 5 MPH.
No wake allowed at the ramp, marina, and camping areas.
Swimming and water-skiing is prohibited in Marina Area.
Beach starts are prohibited.
Personal flotation devices, fire extinguishers and other normal required safety equipment must be onboard.
No parasailing.
No power boats upstream of regulatory buoy stating "No Power Boats".
No towed inflatables allowed in the ski zone. Towed inflatables may be used in the campground as swim platforms only.
Dogs are not permitted within the boundaries of Lower Lake Clementine.
No garbage removal provided; pack it in, pack it out!