Humboldt Lagoons State Park
UPDATE (May 21, 2020) - As California State Parks begins working with locals on a phased and regionally-driven approach to increase access to state park units where compliance with state and local public health ordinances can be achieved, it is important for visitors to continue to practice physical distancing and avoid congregating with people outside their immediate household. Everyone has the responsibility to mitigate the spread of COVID-19.
Here are some guidelines for people visiting Humboldt Lagoons SP:
What is open now?
Day Use Vehicular Access.
Very limited parking is now available to the public.
Trails.
Beaches.
What is currently closed at this park and throughout the State Park System?
Statewide:
Campgrounds.
High public-use indoor facilities, including museums and visitor centers.
Special events and tours continue to be canceled until further notice.
Are there any new visitor guidelines?
Yes, please see below:
Stay Local: Stay close to home. Walk or bike into the park. Parking is very limited. Do not take road trips to parks and beaches or to neighboring states.
Stay Active: Keep walking, jogging, hiking and biking. Watch for one-way trails.
Stay Safer at 6 Feet: Maintain a physical distance of 6 feet or more. Gatherings, picnics and parties are not allowed. Visitors will be asked to leave if there are too many people at the park, beach or on trails to allow for the required physical distance.
Stay Clean: Be prepared. Bring soap/sanitizer and pack out all trash.
Stay Covered: The state now requires you to wear a face covering in most indoor settings and public outdoor spaces when you cannot maintain physical distancing of six feet or more from people outside of your immediate household. For details, please visit CDPH's guidance here. Visitors should also abide by their local county health orders.
Thank you for your patience and continued support of California State Parks as we work to limit your risk for exposure to COVID-19 in the outdoors. For more information, please visit
parks.ca.gov/FlattenTheCurve
.
Phone Number
(707) 677-3570
Park Hours
Day-use areas are open
sunrise to sunset year-round
Dogs Allowed?
Yes
Except for service animals, dogs not allowed in campsites, on trails, or in dune areas.
Driving Directions to Humboldt Lagoons SP
The park is located 40 miles north of Eureka and 55 miles south of Crescent City, CA on Highway 101.


Online reservations are not available for this park.
Upcoming Park Events
No events scheduled at this moment.
BOATING
Boating
Boat Ramps

OVERNIGHT FACILITIES
Environmental Campsites
Boat-in/Floating Camps

TRAIL USE
Hiking Trails

DAY-USE ACTIVITIES & FACILITIES
Picnic Areas
Env. Learning/Visitor Center
Fishing
Interpretive Exhibits
Scuba Diving/Snorkeling
Beach Area
Swimming
Nature & Wildlife Viewing
Windsurfing/Surfing
Geocaching

OTHER FACILITIES & VISITOR INFORMATION
Parking
Restrooms
Drinking Water Available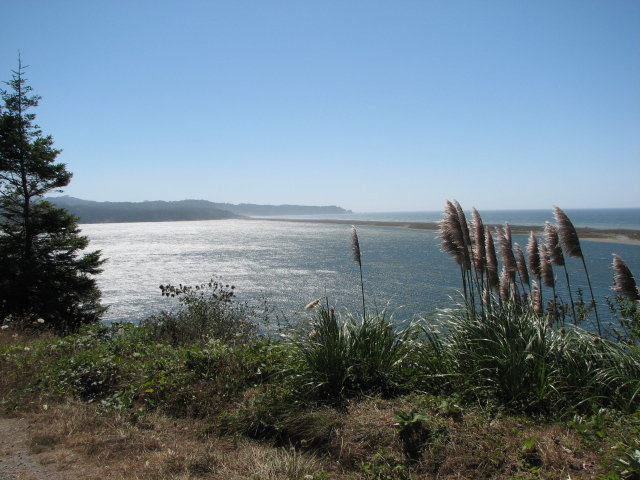 Humboldt Lagoons State Park lies on the sandy, windswept edge of ocean and forest. Formed by the clash of two tectonic plates, it's part of the largest lagoon system in the United States. Ranger Maurice Morningstar calls it "a string of pearls that lets you look back in time and see a process that continues today."
Forty miles north of Eureka, the park includes Big Lagoon, Stone Lagoon, and Freshwater Lagoon, as well as Dry Lagoon, which is now a marsh, bordered by dunes, forests, prairies, and coastal scrub. With such varied habitats, wildlife thrives. On a single visit, you can see whales and elk, trout and salmon, pelicans and woodpeckers.
Visitors can hike the California Coastal Trail and paddle, swim, and fish at the lagoons. There's even a paddle-in and hike-in campground in the forest at Ryan's Cove—and kayaks and paddleboards for rent at Stone Lagoon Visitor Center. In May or early June, take a short drive up Stagecoach Hill to see the blaze of color along Azalea Nature Trail.

In the early 1900s, Dry Lagoon was drained by early farmers; several types of crops were attempted but none proved economical. Several dairy ranches were established along the shores of Stone Lagoon.

Later when the highway was improved, a motel-restaurant called the "Little Red Hen" was located next to the lagoon. This business continued in operation until 1979. The restaurant building was remodeled into a museum and park office, now the Stone Lagoons Visitor Center.

Today the marshland habitat has returned to support a rich variety of marsh plants, birds, and other animals. The park offers boating, fishing, and hiking with day-use only picnic areas near the visitor center.

Bring your own boat or rent one to enjoy exploring the lagoon. At the beach, you have access to six miles of bird watching or whale watching.
Humboldt Lagoons State Park Video
Location/ Directions
Humboldt Lagoons is located 40 miles north of Eureka and 55 miles south of Crescent City on Highway 101.
Seasons/Climate
Coastal/Temperate. Summer is foggy, cool, and damp, with temperatures averaging 50-60 degrees. Winter temperatures average 40-50 degrees with 60 annual inches of rainfall occurring mostly from November into May. Spring and fall typically have nice weather.

Social Feed