Humboldt Lagoons State Park is located on the land of the Ner'-er-herh/Coastal Yurok People. The name of this place is Chah-pekw Hee-koh. The park offers opportunities hiking, boating, fishing, camping, birdwatching, whale watching, agate hunting, and a stunning springtime azalea bloom.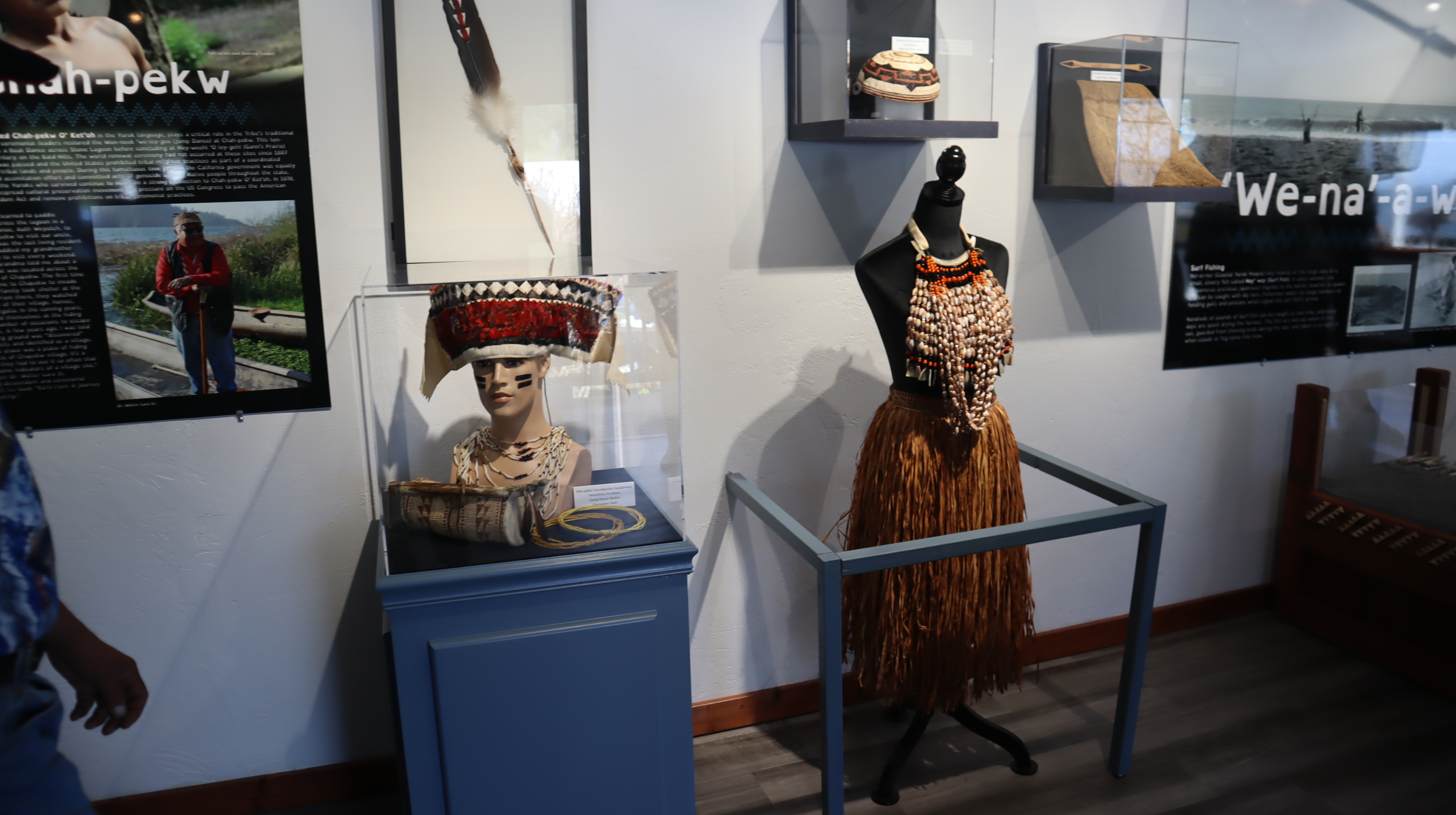 If you have an hour, visit Stone Lagoon and stop by the Chah-pekw O' Ket'-toh Visitor Center, the first tribally operated visitor center within the CA State Park System. Explore information on traditional Yurok culture that has been in practice since time immemorial. Picnic on the deck overlooking the beautiful lagoon.
If you have half a day, drive to Dry Lagoon day-use area. Hike north on the California Coastal Trail to Ryan's Cove and back. Along the way, you'll see dunes, crashing waves, berry bushes, wildflowers, and the lush forest beside Stone Lagoon. ("Dry Lagoon to Ryan's Cove and Back")
If you have a full day, rent boats at Stone Lagoon Visitor Center and paddle around the lagoon. Fish, watch for migrating birds, and spot elk, bear, or river otters along the shore. Lunch at a picnic table at Ryan's Cove, and paddle back. If you have more time, camp at Ryan's Cove and head up to Sharp Point for the sunset.
Please plan to do water activities only in the lagoons. On the ocean side of Humboldt Lagoons, swimming, surfing, and kayaking are not recommended. Big swells, strong currents, and waves that slam onto steep beaches make it too dangerous.
Camping
Dry Lagoon Primitive Hike-In Campground is closed due to budget cuts. Stone Lagoon has a boat-in and hike-in campground, with six year-round primitive sites at Ryan's Cove. [Moderate Hike: Dry Lagoon to Ryan's Cove and Back] Register at the self-pay station at Stone Lagoon Visitor Center.
Fishing
Freshwater Lagoon has rainbow and German brown trout, surf perch, catfish, and largemouth bass. Use barbless hooks at Stone Lagoon and Big Lagoon for all species. Steelhead trout are catch-and-release only. Anglers 16 or over must carry a valid California fishing license. View regulations at www.wildlife.ca.gov.
Picnicking
You'll find pleasant picnicking at the Stone Lagoon Visitor Center (at mile marker 115.3 off Highway 101) and at Dry Lagoon day-use area. Another good option is Big Lagoon County Park, just south of Humboldt Lagoons.
Just for Kids
As you explore Humboldt Lagoons, you and your kids can work your way through the Adventure Guide together. Download the guide or call 916-654-2249 to order a copy.