Recreational Infrastructure Revenue Enhancement (RIRE) Program: $37,000,000
Parks and Water Bond Act of 2018 (Proposition 68)

Recreational Infrastructure Revenue Enhancement (RIRE) Program: $37,000,000

RIRE funds were made to local agencies that obtained voter approval between November 1, 2012, through November 30, 2018 for revenue enhancement measures aimed at improving and enhancing local or regional park infrastructure. Funds were allocated proportionally based on population, with a minimum allocation of $250,000.
Eligible Projects
Funds must be spent on projects aimed at improving or enhancing local or regional park infrastructure for the purposes of the revenue enhancement measure.
RIRE Allocation Rollout and Grant Performance Period – July 1, 2019 – June 30, 2024
When a RIRE recipient receives their allocation letter, they need to contact their Grant Administration Project Officer and complete a brief one-on-one RIRE Guide Overview before submitting a complete application package to the Office of Grants and Local Services (OGALS). After completing the Overview, a grantee submits an authorizing resolution to accept RIRE funds and approves the filing of all applications associated with the grant contract. A grantee then puts forward a complete project application(s) for their allocation amount. This allows OGALS to execute a contract and the grantee to submit reimbursement payment requests for their approved projects.
Deadlines
December 31, 2021 – Authorizing Resolution and Project Applications
March 31, 2022 – Contracts signed and returned to OGALS
December 31, 2023 – Complete Project Scopes
March 31, 2024 – Grantee submits Project Completion Packet
Program Information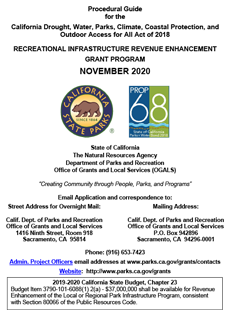 Procedural Guide for the RIRE Program – 2022

This guide will be used for RIRE Program projects administered by the Office of Grants and Local Services (OGALS).
Recreational Infrastructure Revenue Enhancement (RIRE) Program Forms