Cuyamaca Rancho State Park
This park unit is partially open.
Please take the time to read the information contained on this webpage to find out what is open and closed, and what COVID-19 guidelines are in place. - (January 4, 2022)
What is open now?
Paso Picacho Campground (pending weather conditions).
Paso Picacho and Merigan day-use areas.
Sweetwater Highway 79 Turnout.
Hiking trails throughout.
Arroyo Seco and Granit Springs Primitive Trail Camps (pending weather conditions).
Dyar Day-use.
Special Events under 50 people.
Group picnic sites.
Los Vaqueros Equestrian Group Camp.
Dyar Visitor Center.
Stonewall Mine Day-use.
What is currently closed?
Special events over 50 people and tours continue to be canceled until further notice.
Green Valley

Campground

is closed Dec 1 thru March 31
---
COVID-19 Guidelines - (February 16, 2022)
Recreate Responsibly
Protect yourself, family, friends and your community by following these prevention measures:
Know Before You Go – Prior to leaving home, check the status of the park unit you want to visit to find out what restrictions and guidelines are in place. Have a back-up plan in case your destination is crowded. Stay home if you are sick
Plan Ahead – Some restrooms will be temporarily closed to keep up with cleaning schedules. Bring soap/hand sanitizer.
Play It Safe – Find out what precautions you should take when exploring the outdoors, especially if this is your first time visiting the State Park System. Learn more at parks.ca.gov/SafetyTips.
Be COVID-19 Safe – State Parks continues to meet guidance from local and state public officials as COVID-19 is still present and still deadly. Effective March 1, 2022, state guidance recommends that all individuals, regardless of vaccine status, continue masking in indoor settings, such as museums and visitor centers. Universal masking remains required in specified high-risk settings. Please plan ahead as local county guidelines may differ from state guidance and visitors are urged to follow county guidelines when required. Read the latest COVID-19 guidance at COVID19.ca.gov.
Leave No Trace – Leave areas better than how you found them by staying on designated trails and packing out all trash. Do not disturb wildlife or plants.
Phone Number
(760) 765-3020
Max. Trailer Lengths
Trailer: Up to 30 Feet
Camper/Motorhome: Up to 30 Feet
Park Hours
6 a.m - 8 p.m.
Dogs Allowed?
Yes
Dogs allowed in the campgrounds and on designated paved park roads.
Driving Directions to Cuyamaca Rancho SP
East of San Diego, the park is on Highway 79, five miles north of I-8.


Visitors will be able to reserve campsites and lodging six months in advance from the current date. Bookings may extend from the arrival date to the desired departure date – based on availability and the park's maximum stay rules.
Upcoming Park Events
No events scheduled at this moment.
OVERNIGHT FACILITIES
Environmental Campsites
Family Campsites
Group Campsites
RV Dump Station
Alternative Camping
RV Access

TRAIL USE
Hiking Trails
Horseback Riding

DAY-USE ACTIVITIES & FACILITIES
Historical/Cultural Site
Picnic Areas
Env. Learning/Visitor Center
Exhibits and Programs
Guided Tours
Interpretive Exhibits
Nature & Wildlife Viewing
Museums
Family Programs
Geocaching

OTHER FACILITIES & VISITOR INFORMATION
Parking
Restrooms / Showers
Restrooms
Drinking Water Available

For current fire restrictions, please call (760)765-3020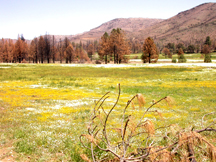 The beautiful park offers camping and hiking in an oak woodland forest, with a sprinkling of pines and lovely meadows with creeks. There are over 100 miles of trails which accommodate hikers, bikers, and equestrians. The two family camps, Paso Picacho and Green Valley, are open and on the reservation system spring through fall. Green Valley sits at an elevation of 4,000 feet and has a creek which runs through the middle of the campground. The day use area offers sets of cascades and shallow pools, great for water play on hot days. Green Valley has 81 campsites.
Paso Picacho, 5 miles north, sits at an elevation of 5,000 feet. The most popular hikes start from this camp, including the 2 mile hike up Stonewall Peak (elevation 5,700 feet), and the 3.5 mile hike up Cuyamaca Peak (elevation 6,512 feet), both which offer breathtaking views of the deserts to the east, the coast to the west, and Lake Cuyamaca at the bottom. Lake Cuyamaca, operated by the Helix Water District, is two miles north of Paso Picacho and offers boating and fishing. Paso Picacho campground has 85 campsites.
Each campsite has a picnic table and a fire ring. Restrooms with flush toilets and pay showers are in the campground. Water faucets a located every few campsites. There are no hookups. Each campground has a dump station. Firewood and ice may be purchased at the camps. Interpretive programs are offered during the summer season. Campsites are $40 per night. Reservations are necessary for weekends April through October. The camping fee includes one motorized vehicle. Extra vehicles are $10 per night. There is a limit of 8 persons per campsite. Dogs are allowed but are restricted to the campgrounds, picnic areas, and paved roads and Cuyamaca Peak Fire Road. They may not be left unattended. Reservations may be made through ReserveCaliforniaTM at 1-800-444-PARK.

Environmental backpack in or horseback ride in camps are also available. Granite Springs and Arroyo Seco Environmental camps are open on first come, first serve. Both have chemical toilets, non-potable water, corrals and tent sites.
Additional Visitor Services
County of San Diego (Environmental youth education camp)
Cuyamaca Rancho State Park

At Cuyamaca Rancho State Park, the rounded hills of granitic and metamorphic rock of the Peninsular Ranges are the deep roots of a much different ancient range that included volcanoes and high mountains possibly like the Andes. By examining these roots, we learn about the internal workings of other mountains.


(Photograph by Janis Hernandez)