Closure Notice (9/13/2020):
Portions of the park are reopening, these include Coastal Side & Waddell. Thank you for your patience and understanding.
Update (Feb. 19, 2021)
With the Regional Stay at Home Order lifted, State Parks is reopening campground sites for existing reservation holders. The department will be using a phased approach to reopen other campground sites for new reservations, starting January 28. The public is advised that not all campground sites are open to the public due to the pandemic, wildfire impacts and other issues. Additionally, group campsites remain closed. Day use outdoor areas of park units currently open to the public remain open.
As State Parks increases access to the State Park System, it is critical that Californians continue to recreate responsibly in the outdoors as the pandemic is far from over.
Please take the time to read the information contained on this webpage to find out what is open and closed, and the COVID-19 guidelines for this park unit.
What is open now?
Limited parking in both the main day use lot and the Gazos Beach parking lot is now available to the public.
Restrooms will be partially reopened.
Trails will be open for access.
Visitors must wear masks at the kiosks for day use entry in accordance with San Mateo County health order.

What is currently closed at this park and throughout the State Park System?
At this park:
The Año Nuevo Coast Natural Preserve will remain closed, as will the Elephant Seal Viewing Area.
All buildings including the visitor center/store remains closed.
Statewide:
Some park units and campground sites continue to be temporarily closed due to the pandemic, impacts from wildfires or other issues. Please visit the webpage of your local outdoor destination to find out if it is open.
High public-use indoor facilities, including museums and visitor centers.
Special events and tours continue to be canceled until further notice.
Are there any new visitor guidelines?
State Parks has implemented the following guidelines to reduce the risk of exposure to COVID-19 in the outdoors:
Stay Local: Stay close to home during this pandemic period. If you or anyone in your household is feeling sick, please remain at home and plan your trip for another time.
Plan Ahead:

The ongoing pandemic response continues to be dynamic and fluid. Prior to leaving home, check the webpage of your outdoor destination you plan to visit to find out if it is open, if parking is available, and what visitor guidelines are in effect.
Learn what safety precautions you should take when exploring the outdoors at parks.ca.gov/SafetyTips.
SNO-PARKS: Make sure your vehicle is snow ready. A permit is required for each vehicle parked at a SNO-PARK site. Parking is on a first come, first-serve basis at all SNO-PARK sites. The public is advised that parking lots are filling up early in the day. Illegal parking is prohibited. More information can be found at ohv.parks.ca.gov/SNOPARKS.

Stay Safer at Six Feet: No matter the recreational activity, maintain a physical distance of six feet or more. Your guests should only include those within your immediate household. This means no guests or friends, and no gatherings or parties. If there are too many people to maintain the required physical distance, please visit us on a different day.

Boating: Do not raft up to other boaters or pull up onto a beach next to other recreators.
Off-highway Vehicle Recreation: Do not ride next to others or pull up next to someone else as it could put you in close proximity to others. Stage 10 feet or more from each other during unloading and loading.

Keep Clean: Be prepared as not all services may be available. Some restrooms will be temporarily closed to keep up with cleaning schedules. Bring soap/hand sanitizer. Please pack out all trash. Park units are experiencing heavy use and you can help alleviate the impact on park facilities.
Stay Covered: The state requires you to wear a face covering when you cannot maintain a physical distance of six feet or more. Individuals must have a face covering with them at all times.
Although law enforcement entities have the authority to issue citations, the expectation is that the public is responsible for adhering to the advice of public health officials, visitor guidelines and closures.
California State Parks continues to work with local and state officials on a phased and regionally driven approach to increase access to state park units where compliance with state and local public health ordinances can be achieved. However, the situation remains fluid and park operations can change at any time. For information on statewide current closures and available services, please visit
parks.ca.gov/FlattenTheCurve
.
Phone Number
(650) 879-2025
Park Hours
Day Use Area 8:30am to Sunset
Permits to view seals issued 8:30 to 3:30 --( Seal Viewing temporarily closed )
Driving Directions to Año Nuevo SP
The park is about 20 miles north of Santa Cruz on Hwy 1.


Camping and Lodging
Año Nuevo State Park is a day use facilities

Reserve tickets online for Guided Seal Walks
Upcoming Park Events
No events scheduled at this moment.
TRAIL USE
Hiking Trails

DAY-USE ACTIVITIES & FACILITIES
Historical/Cultural Site
Picnic Areas
Env. Learning/Visitor Center
Exhibits and Programs
Guided Tours
Interpretive Exhibits
Vista Point
Nature & Wildlife Viewing

OTHER FACILITIES & VISITOR INFORMATION
Parking
Wheelchair Accessible

Visiting Año Nuevo State Park
Año Nuevo State Park's rich variety of natural and cultural resources draws visitors from around the world. The park's Natural Preserve offers an extraordinary wilderness experience, where every year up to 10,000 elephant seals return to breed, give birth, and molt their skin amongst the scenic dunes and beaches.

The park features the Marine Education Center boasting a natural history exhibit, bookstore, and theater. This complex is housed in the historic nineteenth century dairy ranch of the Dickerman/Steele family. These restored buildings recall the early American settlers, while the midden sites throughout the Natural Preserve tell us the story of the Quiroste Indians that lived peacefully here for thousands of years prior to the 1600s. Cove Beach is a short walk from here for beachgoers and surfers.

The physical terrain of Año Nuevo is distinctive, with coastal terrace prairie, wetland marshes, dune fields and coastal scrub hosting a high diversity of plants and animals, including the rare and endangered San Francisco Garter Snake and California Red-legged Frog.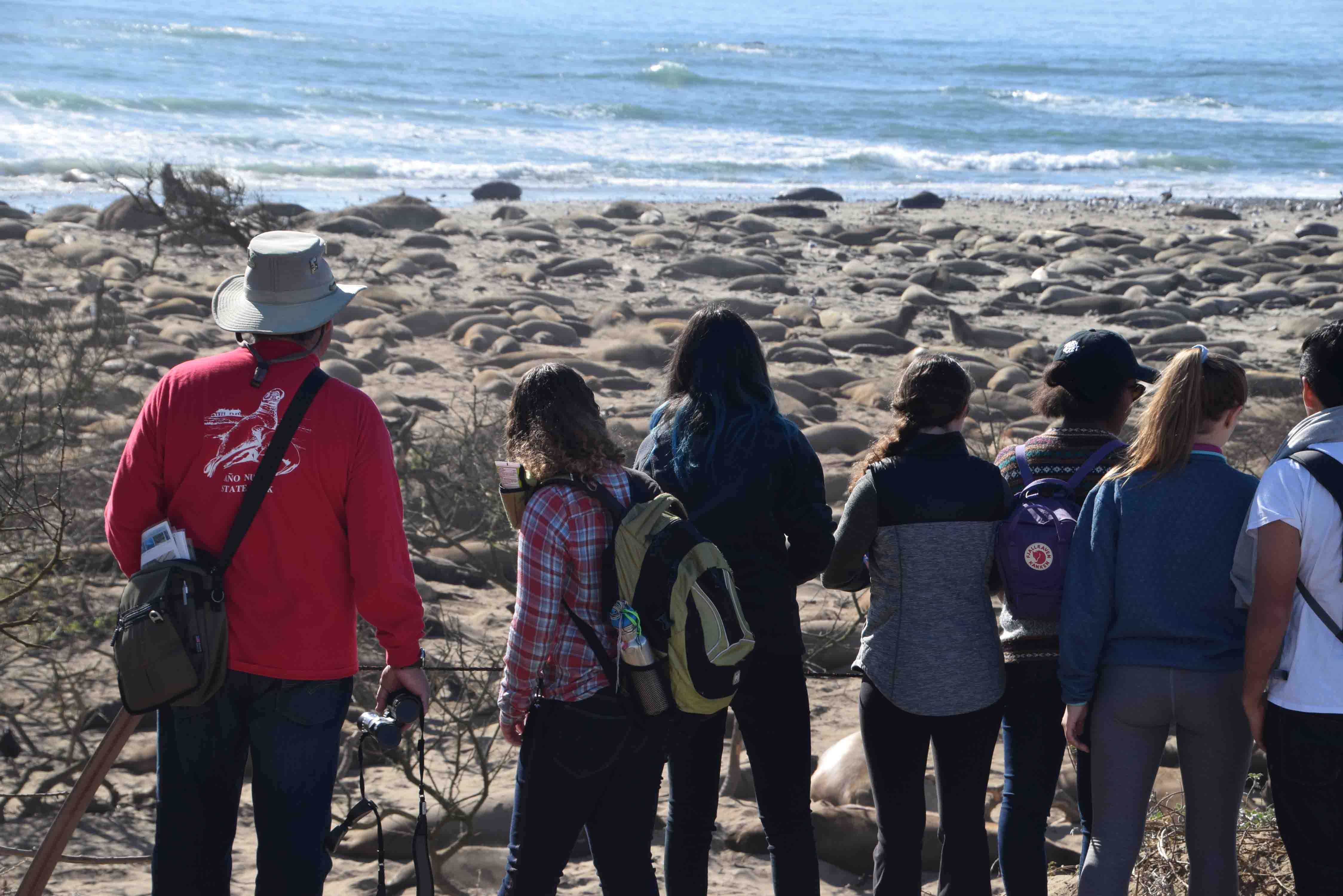 A hike out along ocean bluffs brings visitors to Año Nuevo Point, a major bird migratory route and fantastic birding location. Located just offshore sits Año Nuevo Island and the remains of a 19th century lighthouse and fog signal station. Built in 1872, the historic keeper's house now provides a new home to Brandt's and Pelagic Cormorants as well as California Sea Lions. Otters and harbor seals are often sighted in the waters and magnificent Steller Sea Lions take up residence on the outlaying rocks.
Click here to learn about visiting the northern elephant seals at Año Nuevo State Park.
Experience the Elephant Seals Year-Round -
Guided Seal Walk Season Suspended Due to COVID-19
One of the largest mainland breeding colonies in the world for the northern elephant seal is at Año Nuevo State Park. A Natural Preserve has been established to protect the elephant seals along with many other animals such as otters, California sea lions, coyotes, cormorants, terns and more. Native plants and an untouched intertidal ecosystem also find shelter inside the Natural Preserve. Elephant seals can be observed here year round either on a docent lead tour or through a self guided permit system within the Wildlife Viewing Area.
IMPORTANT PARK INFORMATION
The following rules and regulations are for your own safety and to protect the plants and animals that live in this park.
TO SEE THE ELEPHANT SEALS -2020/2021 Guided Seal Walk season is suspended. Seal viewing is unavailable.
Elephant seal viewing requires a 3-4 mile moderate hike over varied terrain, including sand dunes. Driving to see them is not an option. Sturdy shoes, layered clothing, water and rain/wind/sun protection are reccomended. Visitors requiring mobility assistance are encouraged to make a reservation for an Equal Access Tour.
December - March: You must be on a Guided Walk to see the seals. Reservations are made through Reservecalifornia.com
April - November: Visitor permits to see the seals inside the Natural Preserve are issued from 8:30 to 3:30. Visitors will not be able to obtain a permit after 3:30pm due to the lenghth of time it takes to hike to the viewing areas.
KEEP YOUR DISTANCE FROM SEALS
Elephant seals are deadly wild animals and are protected by the park. Harassment and disturbance of elephant seals is prohibited by state and federal laws. Seals can sometimes appear dead due to their quiet nature of sleeping on beaches. However, the majority of the time they are very much alive. Never get within 25 feet of an elephant seal.
NO PETS
Due to the nearby Natural Preserve, pets are not allowed in the park and cannot be left inside parked vehicles in the parking lot.
NO BIKES ON TRAILS
Bikes are prohibited on all trails in the park.
NO COLLECTING
Shells, rocks, wood, plants or animals. All features of this park are protected by law.
NO SMOKNG OR FIRES
Smoking is not permitted in buildings or on guided walks. Fires of all types are prohibited.
NO DRONES
Drone use is prohibited within Año Nuevo State Park.