Guided Walk Reservations
To make reservations for the Elephant Seal Guided Walks visit ReserveCalifornia or call 1-800-444-4445. International Reservations 518-218-5078
Reservations for Public Walks go on sale October 20.
Call Center Hours: Daily 8am - 6pm.
ReserveCalifornia is closed on Thanksgiving, Christmas, and New Years Day. All times are Pacific Standard Time.
There are no ticket refunds or exchanges for cancellations, no shows, weather, or late arrivals. Refunds are issued only when the park staff must cancel a walk. As much notice as possible will be given in the event of a cancellation.
---
Persons requiring mobility assistance may make reservations
for special docent-led Equal Access Guided Walks.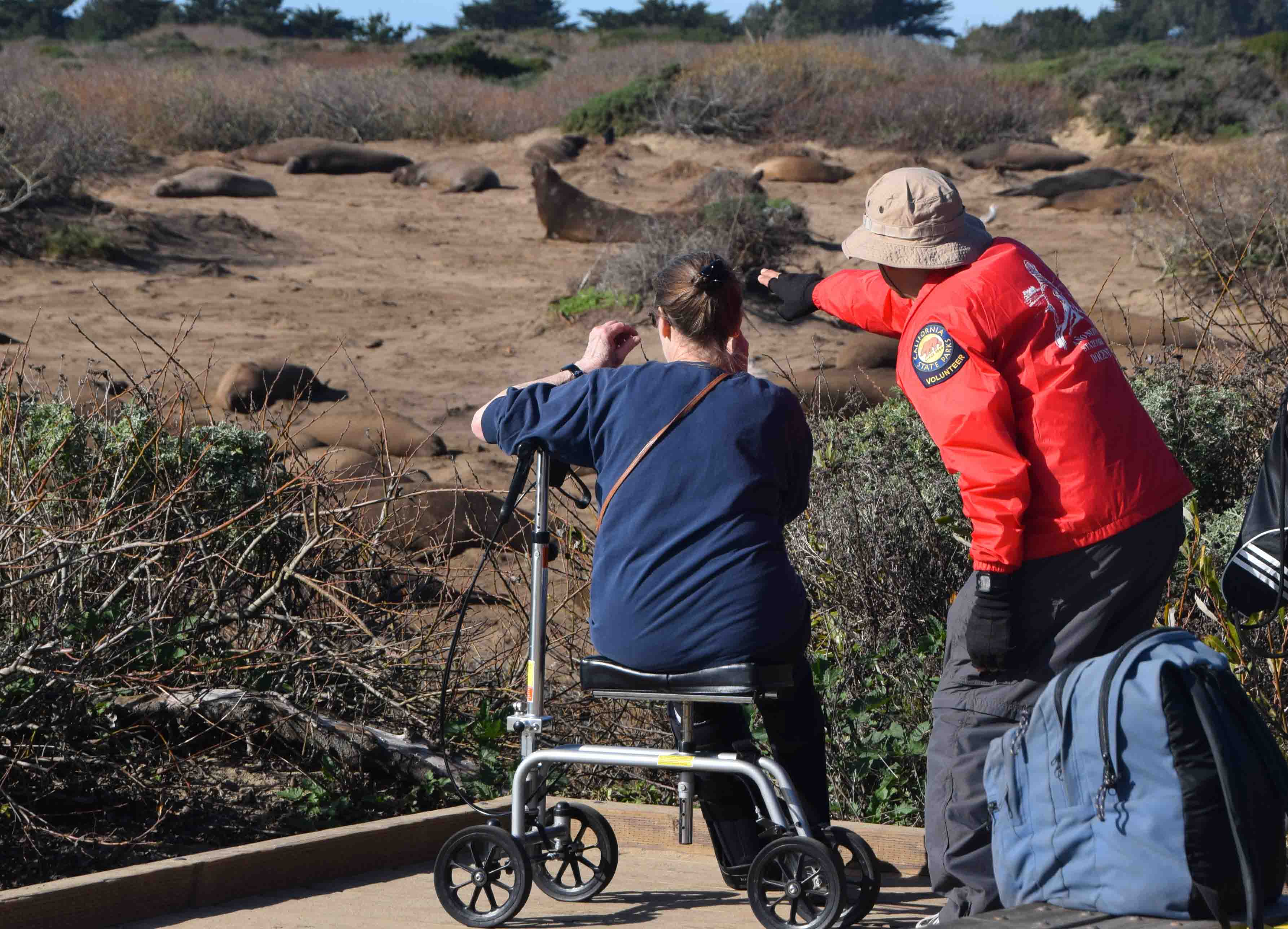 To accommodate visitors who require mobile assistance, the park offers a 2-hour tour for visitors to access the natural preserve and view the elephant seals. Qualified persons include those that require mobility assistance and cannot walk the 3-mile hike on the Año Nuevo Point Trail. An ADA wheelchair accessible van transports visitors to an accessible boardwalk that leads to where the elephant seals may be seen. Each person in need of mobility assistance may bring up to 2 additional people on the tour.
Spring, Summer, Fall Equal Access Tours (April - Nov)
THE EQUAL ACCESS ROAD IS UNDER CONSTRUCTION FROM SEPTEMBER 18-OCTOBER 31. NO TOURS WILL BE SCHEDULED DURING THE CONSTRUCTION.
Equal Access Tours take place every other Sunday at 10am and 1pm. Reservations are required and must be made by the Wednesay before the desired date.
Reservations

A park staff member will return your email to set up the reservation as soon as possible. For questions, call (650) 879-2029.
During April-November, tickets are not purchased, but there is still a day-use parking fee of $10.00.
Available dates:
Sunday, November 6
Sunday, November 20
What Should I Bring on the Tour?
Elephant seal tours are conducted rain or shine. Winter weather can be very cold and windy, even on sunny summer days.
Rain is frequent and the trail may be muddy with small puddles.
Visitors should bring hooded rain gear,a warm jacket, layered clothing, and sturdy walking shoes.
Cameras and binoculars are welcome!
For safety reasons, use of umbrellas are not permitted on the tours.
No food is allowed on the tour, but you may picnic in designated areas before or after the guided tour.
Pets are not allowed in the park and cannot be left inside parked vehicles in the parking lot.
Two guests are allowed with each person qualifying for an EA Guided Tour