Docenting at Año Nuevo State Park
A true jewel of the California coastline and home to a large Elephant Seal rookery, Año Nuevo State Park offers an uncommon and remarkable wildlife experience. Every winter, over 5,000 Elephant seals, the largest marine mammals to come ashore, find their way to the park to give birth and mate along the shoreline. During this time, volunteers trained in the natural and cultural history of the park (docents) lead guided walks through the elephant seal rookery. They enjoy sharing this amazing experience with over 60,000 visitors from all over the world each year. Elephant seals return to the shores of Año Nuevo for molting in the spring and summer months. Docents during this time are stationed at the wildlife overlooks and enjoy meeting visitors as they explore the park. They answer questions about the seals, the history of the area, and the plentiful wildlife found within Año Nuevo. The community docent program was created in 1975 and has been the driving force for elephant seal interpretation ever since.
Docent Training Program
Our training program is one of the most comprehensive within the California State Parks system. We bring in resident experts to teach classes on a variety of subjects including elephant seals, marine mammals, park history, sharks, general wildlife and more. Training is also provided on interpretive techniques for educating visitors and logistical skills on working inside the coastal natural preserve.

Throughout the year, the Ano Nuevo Docent Program also provides enrichment events such as research lectures, visits to other parks, and special subject-matter hikes within the park. We are proud to have a 170-person strong docent corps, many of whom have been a part of the program for over 15 years. Join our family of naturalists and enjoy the many benefits of being a volunteer at Año Nuevo State Park.
Requirements
Able to walk 3-4 miles per volunteer day including soft sand.

Able to stand and talk for up to 4-8 hours per volunteer day

Comfortable in rain and wind while volunteering

Able to commit to observing guided walks during the winter breeding season, and 8 all-day training classes on Sundays in the spring, plus some additional training days.

Able to commit to volunteering 2 days a month January to March and then 2 shifts per month April to December.

Able to visit the park for an interview in the spring/summer.
Benefits of Docenting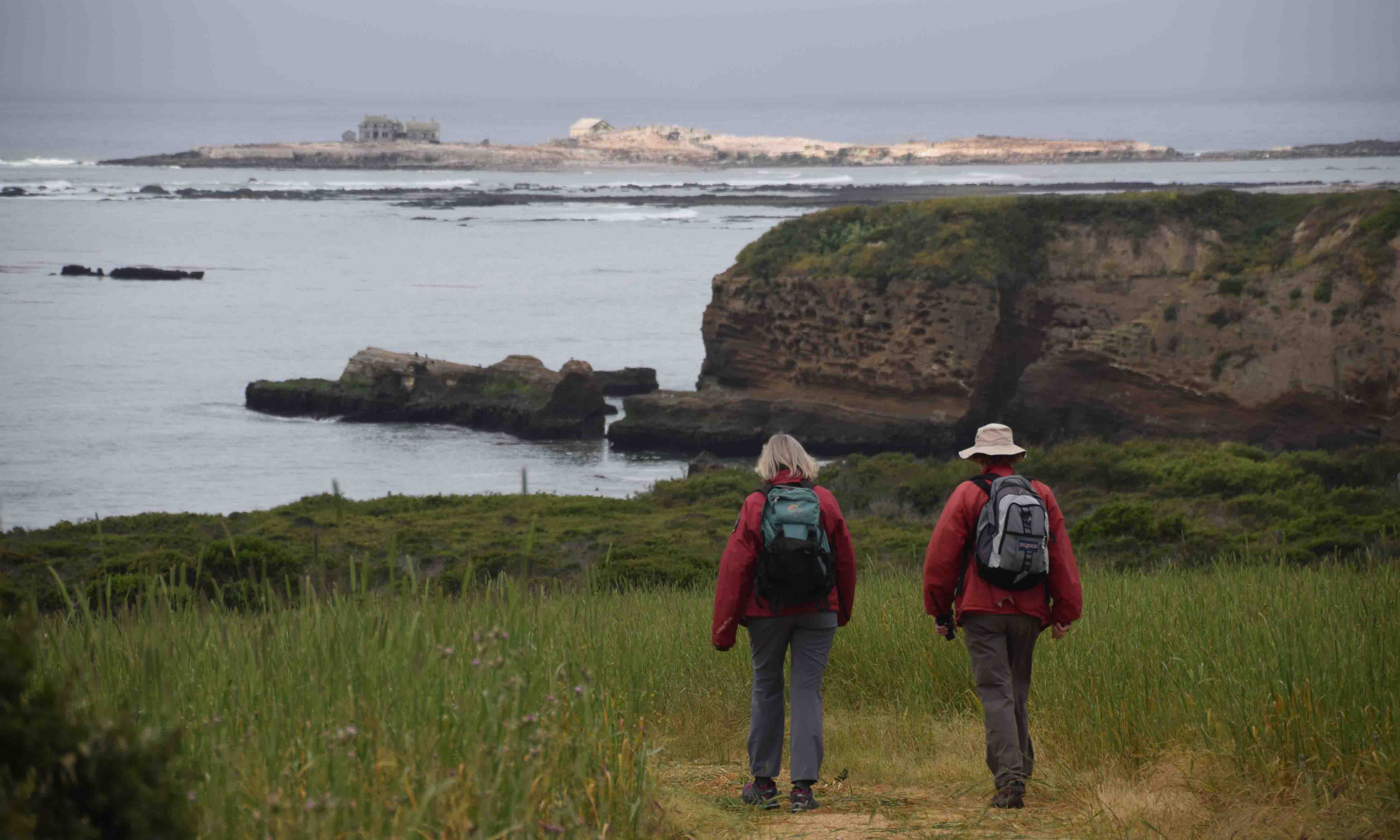 Become part of the California State Park team

Spend time along the California coast surrounded by scenic landscapes and wildlife.

Meet new people

Help connect thousands of visitors each year to things you care about

Take advantage of opportunities for ongoing education and training

Earn year-round park passes to California State Parks

Lead special after-hour walks for friends and families to see the elephant seals

15% discount in the parkstore

Receive access to the Docent Rookery, a special park resources page only for volunteers
APPLICATIONS NOW BEING ACCEPTED FOR OUR 2023-2024 CLASS!
Link to application: http://bttr.im/dccx9
THANK YOU FOR YOUR INTEREST IN VOLUNTEERING!
For more information contact Susan Blake, Docent Recruitment Coordinator at 650-879-2032 or email anovolcoordinator@parks.ca.gov