Parks and Water Bond Act of 2018 (Proposition 68)
Per Capita Program: $185,000,000
Funds are available for local park rehabilitation, creation, and improvement grants to local governments on a per capita basis. Grant recipients are encouraged to utilize awards to rehabilitate existing infrastructure and to address deficiencies in neighborhoods lacking access to the outdoors.
Urban County Per Capita: $13,875,000
These funds will be are available for Per Capita grants to cities and districts in urbanized counties (a county with a population of 500,000 or more) providing park and recreation services within jurisdictions of 200,000 or less in population. An entity eligible to receive funds under this subdivision shall also be eligible to receive funds available under the General Per Capita Program (PRC §80061(b).


Per Capita Program Allocations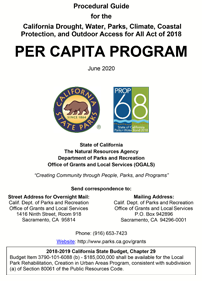 Procedural Guide for the Per Capita Program - June 2020
Per Capita Program - Frequently Asked Questions (updated 7/2/2020)