Parks and Water Bond Act of 2018 (Proposition 68)
Per Capita Program: $185,000,000
Funds are available for local park rehabilitation, creation, and improvement grants to local governments on a per capita basis. Grant recipients are encouraged to utilize awards to rehabilitate existing infrastructure and to address deficiencies in neighborhoods lacking access to the outdoors.


Urban County Per Capita: $13,875,000
This funding has not yet been appropriated by the legislature. These funds will be available for Per Capita grants to cities and districts in urbanized counties (a county with a population of 500,000 or more) providing park and recreation services within jurisdictions of 200,000 or less in population. An entity eligible to receive funds under this subdivision shall also be eligible to receive funds available under the General Per Capita Program (PRC §80061(b).


Rollout Schedule:
April 2019 - Determining allocations
A questionnaire has been sent by mail to eligible agencies requesting information necessary to determine final allocations of Per Capita funding. A link to the mailing list can be found below. The questionnaire must be returned to the Office of Grants and Local Services (OGALS) no later than June 3, 2019. Questions about the mailing list or questionnaire should be directed to Lisa Vigil (Lisa.Vigil@parks.ca.gov).
Per Capita Program - Frequently Asked Questions (updated 4/22/19)

List of all questionnaire recipients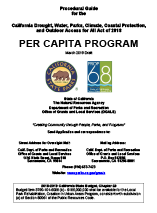 March 2019: Draft Procedural Guide for the Per Capita Program - March 2019 Draft
This guide will be used for Per Capita projects administered by the Office of Grants and Local Services through the California Drought, Water, Parks, Climate, Coastal Protection, and Outdoor Access for All Act of 2018. Please note that Community Access Projects will no longer be allowed. Public review and comments on the Per Capita Program Draft Procedural Guide will be accepted through Friday, May 3, 2019. Comments may be sent via e-mail to Lisa.Vigil@parks.ca.gov or in person at a public hearing.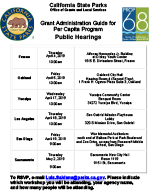 March 2019: Public Hearings Announcement (April - May 2019)