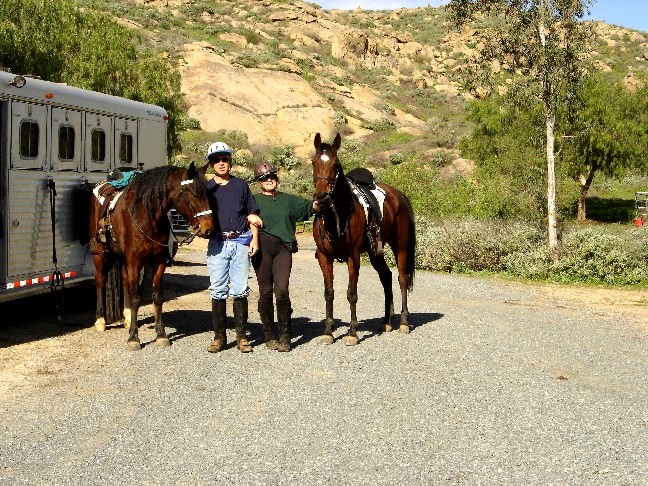 ---
For information on Camping Rules and Safety and Pet Safety in the Park (Yes, your pets are welcome!)

Horse Campground Map: This map shows individual campsite numbers within the campground. Pictures of each site are available online. Check out the map get an idea of what site you want to reserve, and then you can make reservations online or call 1-800-444-7275 (TDD: 1-800-274-7275).
---
Horse Camp
Lake Perris has 7 primitive campsites equestrian campsites. Each campsite has a fire pit, picnic table, and 2 corrals. Watering troughs for horses are located in the horse camp area. Drinking water is available and chemical restrooms are provided. There are no showers, no hookups, and the entire unit is unpaved, but the view is excellent. You must have a minimum of 1 horse; maximum of 2 horses. Reservation fee covers 2 horses per site. No dogs are allowed on trails. Campers must muck out stalls and clean up after their horses.

The driveway length is about 25 feet long.


---
Pricing and Reservations
Pricing:
$21.00 per site, per night

Each site allows a maximum of 8 people and 2 horses.
Sites can usually accommodate 2 vehicles with trailers, 1 vehicle with a trailer and 1 self-contained RV, or 3 vehicles maximum.
Although your site may hold 3 vehicles, your reservation only covers 1 vehicle. Extra vehicle fees must pay use fees on arrival.

Payment: Cash and Credit Card only. Checks are no longer accepted at Lake Perris SRA.

Reservations: Reservations for Horse Camp are made online or can be rented on a same-day walk-up basis. Reservations may be made between 2 days and 6 months in advance. Make Reservations

Walk-ins: Same-day walk-ins are accepted when we have availability. Reservations take precedence. Sites may be occupied without a reservation for 2 nights at a time provided that the site is available. Walk-ins who want to stay more than 2 consecutive nights will need to make reservations online or by calling the Reservation phone number for the remainder of their stay.

Check-in: Campers with horse camp reservations may proceed to the horse camp area. Campground staff will drop by to check you in, collect extra vehicle fees, and provide you with official parking passes. You may also drop by the Campground office and check in at your convenience. An official parking pass is required for vehicle in-and-out privileges. Vehicles without parking passes are subject to citation or being charged at the gate.
---
Cancellation, Early Check-Out, and No Shows
All cancellations, site changes, and no-shows are subject to the reservation cancellation policy.
Cancellation: Cancellations may be made prior to check-in time on the day of arrival. If you made reservations online, you may cancel online. If you made reservations over the phone then you must cancel over the phone by calling (800) 444-7275. There is an $7.50 cancellation fee until 5:00 p.m. the day before your arrival. After that time, you will be charged for one night's use fee. These fees are for each site reserved.

Early Check-Out: If you have to permanently leave the park earlier than expected, be sure to check out at the Campground Kiosk. If we are informed of your permanent early departure, and collect your vehicle campground tags, then we can process your early check-out and you may be entitled to a refund for the days you did not use. You will still be responsible for the same fees as a late cancellation.

No-Shows: A reservation is considered a "no-show" when you have not arrived by 12:00 noon on the second day of your reservation. For example, if you have reserved Friday night, Saturday night, and Sunday night, and you have not checked in by 12:00 noon on Saturday, your site will be considered canceled. The site is then available to be sold on a first-come first-serve basis and the reservation is subject to the reservation cancellation policy.