Santa Cruz State Junior Lifeguards

Updated 4/28/2020: In an effort to protect public health and the safety of visitors, volunteers and staff as the state responds to the continued threat of COVID-19 (coronavirus), California State Parks is postponing the Junior Lifeguard Program registration for summer programs until June and will reevaluate at that time. Participants who have already enrolled will not be dropped. If you have questions please reach out to the specific program for assistance.

Public health officials are advising the public to walk, run, hike and bike in their local neighborhoods and walk to parks. Most importantly, the public is being asked not to congregate in the outdoors. Everyone has the responsibility to "Flatten the COVID-19 Curve at Parks" by maintaining a social distance of 6 feet or more when recreating in the outdoors and staying home if they are sick. If visitors cannot maintain social distancing, they need to leave the park.

Please check back for the latest 2020 updates.
*For detailed step-by-step instructions on HOW TO REGISTER, please click here

*Prior to registration, you must create an account on ReserveCalifornia and list the JG's you wish to enroll, as dependents on your account. Instructions here.

*You can also utilize the below links, however you MUST SIGN IN TO YOUR RESERVE CALIFORNIA account first!
These links will only be active starting on t.b.d :

Rio Del Mar JG's- Session 1 (tbd)
Rio Del Mar JG's- Session 2 (tbd))

Rio Del Mar LITTLE GUARDS- Session 1 (tbd)
Rio Del Mar LITTLE GUARDS- Session 2 (tbd)

Twin Lakes JG's- Session 1 (tbd)
Twin Lakes JG's- Session 2 (tbd)

Manresa JG's- Session 1 (tbd)
Manresa JG's- Session 2 (tbd)
---
Please check back for updates. We will also be posting updates to our Social Media as well, so be sure to like us on Facebook and follow us on Instagram.
If you have any questions in the meantime, please contact the Junior Lifeguard Coordinator by sending an email to: sczstate.jrguards@parks.ca.gov
---
About the Program: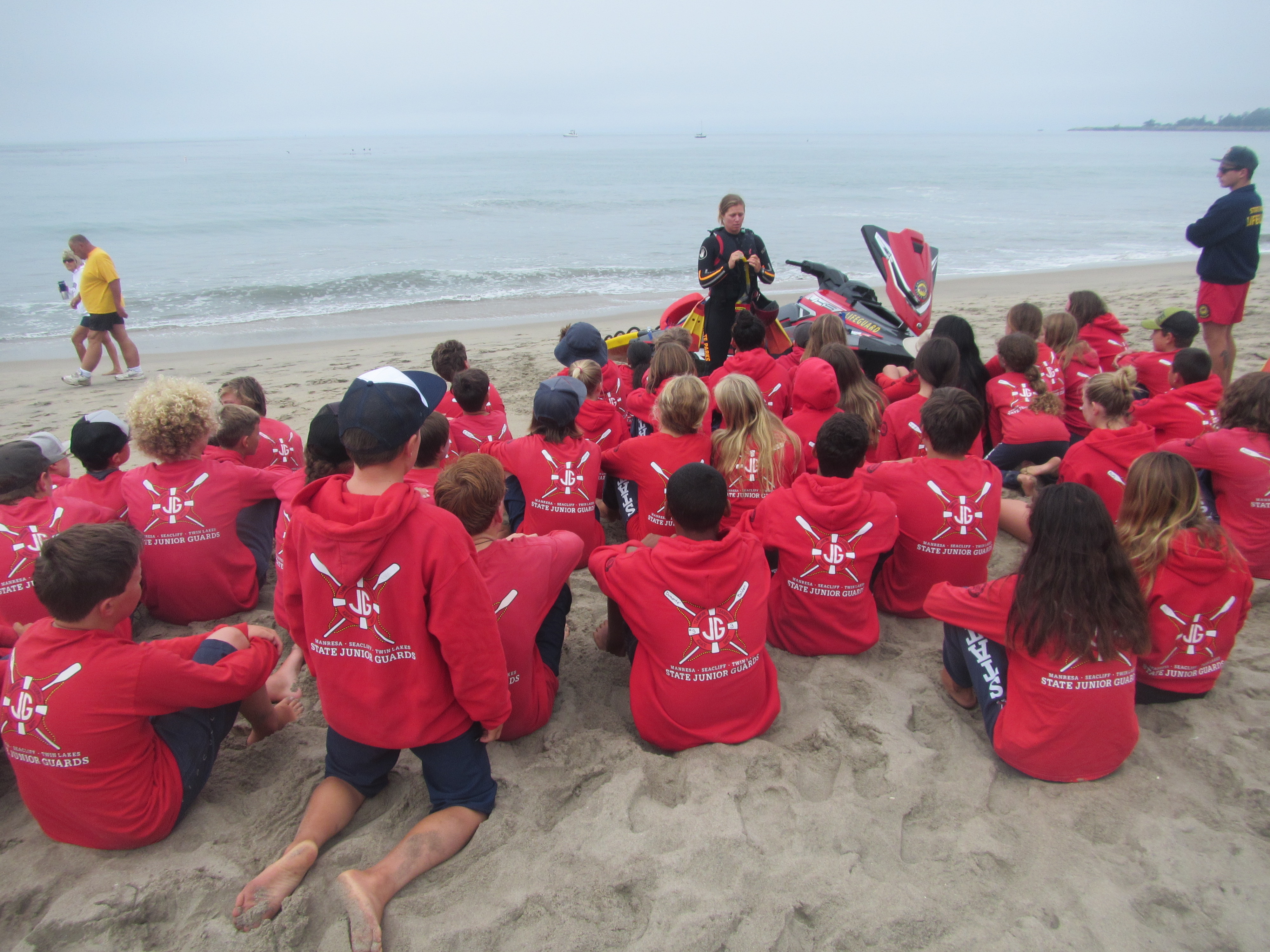 The Junior Lifeguard Program emphasizes: Teamwork, Leadership, and Aquatic Safety while introducing young people to aquatic recreational and professional opportunities. The program is designed to provide quality water safety education while improving young people's physical conditioning, their understanding and respect for the environment, and their respect for themselves, their parents, and their peers.
Two sessions are offered. Each four week session runs from 10:00am until 3:00 p.m., Monday through Friday. Cost for one session is $440.00.*
Our Program instructors are California State Lifeguards, who are trained in advanced first aid and rescue techniques and in most cases were junior guards themselves. It is for this reason that when you enroll your child into JG's you can rest assured that he or she is under the best of care.
---

2020 Important Dates
Junior Lifeguard Tryouts
(New JG's must attend one tryout session and successfully complete the swim test)
(If you are a returning State Junior Guard, no tryout is needed)
(All participants MUST register prior to Tryouts)

2020 Program Dates
Rio Del Mar State Beach (Platforms)
(Ages 6-15):
Session I: tbd
Session II: tbd

Manresa State Beach
(Ages 9-15):
Session I: tbd
Session II: tbd
Twin Lakes State Beach
(Ages 9-15):
Session I: tbd
Session II: tbd
---
*Registration prices and program dates subject to change*
*No JG's July 3*