Santa Cruz State Junior Lifeguards

The Junior Lifeguard Program is a unique and challenging aquatic program for young people. Goals of the Junior Lifeguard Program are to promote water safety and environmental awareness.
*2018 REGISTRATION-
MARCH 31ST, 2018 @ 9:00AM. BUTTONS WILL BE ON THIS WEBSITE*

About the Program: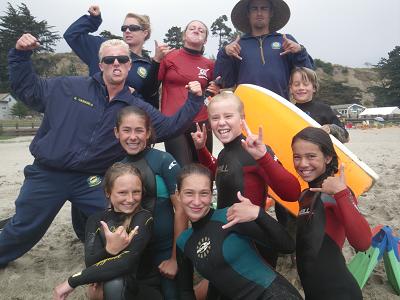 The Junior Lifeguard Program emphasizes: Teamwork, Leadership, and Aquatic Safety while introducing young people to aquatic recreational and professional opportunities. The program is designed to provide quality water safety education while improving young people's physical conditioning, their understanding and respect for the environment, and their respect for themselves, their parents, and their peers.
The program runs from 10:00am until 3:00 p.m. Monday through Friday.
Our Program instructors are California State Lifeguards, who are trained in advanced first aid and rescue techniques and in most cases were junior guards themselves. It is for this reason that when you enroll your child into JG's you can rest assured that he or she is under the best of care.
---

Important Dates
2018 Junior Lifeguard Tryouts
(New JG's must attend one tryout session and successfully complete)
(If you are a returning Junior Guard, no tryout is needed)
(All participants MUST register prior to Tryouts)
Check back soon for dates

2018 Program Dates
Rio Del Mar State Beach (Platforms)
(Ages 6-15):
Session I: check back soon
Session II: check back soon

Manresa State Beach
(Ages 9-15):
Session I: check back soon
Session II: check back soon

Twin Lakes State Beach
(Ages 9-15):
Session I: check back soon
Session II: check back soon