Position Description
This paid, non-lifeguard, mentorship position will work under close leadership of the Seasonal Lifeguard II at their reporting beach location, and an assigned Seasonal Lifeguard I-Junior Lifeguard Program Instructor during the operating hours of the Junior Lifeguard Program. The incumbents will work with Lifeguard Staff and other Park Personnel in order to develop job skills, proper work habits, and leadership qualities through work experience. They also become role models for program participants, while they themselves gain training and experience in leadership, teamwork, aquatic safety skills, and first aid. This is a great opporutnity for those interested in becoming a future lifeguard!

Click here to view the Junior Lifeguard Youth Aide Duty Statement
---
Requirements
Minimum age is 15 years, max 16 years at time of appointment.
Currently enrolled in an accredited high school or equivalent educational program.
Willingness to work all necessary weekdays during the Junior Lifeguard Program operating hours.

Physical strength and endurance necessary to complete the following:
• Competitive 500 yard ocean swim.
• Competitive 100 yard run, 200 yard swim, 100 yard run.
• Competitive oral interview.
Completion of the Junior Lifeguard Youth Aide training program.
---
Desirable Qualities
The ability to get along well with others and work within a work-group of highly motivated professionals.
Willingness to follow directions and perform a variety of manual, instructional, or clerical tasks.
A desire to develop job skills, proper work habits, and leadership qualities related to Lifeguard and other Park employment.
---
The Tryout
The tryout will consist of a 500 yard open ocean swim with a maximum time limit of 10 minutes. Candidates who complete the swim in the allotted time will qualify for the Run-Swim-Run portion of the tryout which will consist of a 200yard run- 200 yard swim.

Qualified candidates are invited to an interview, held on the same day.
Tryout Date:
T.B.D @8:00AM @ Twin Lakes- Blacks Beach (East Cliff Drive & end of 14th Avenue).

*date and/or location subject to change without noticed due to weather or conditions
---
What To Bring to the Tryout: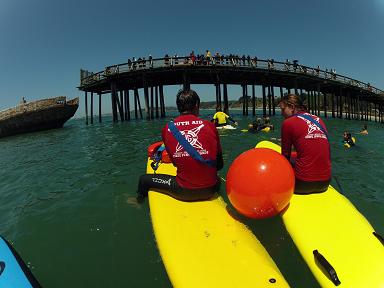 Parent or Legal Guardian
Wetsuit
Clothes/ towel to keep warm
School Identification, California Identification Card, or California Drivers License

Fins will not be allowed
---