2021 Uniform Information
All Junior Lifeguard Program participants must wear the required uniform for camaraderie and safety. The uniforms allow the instructors to safely monitor the children and distinguish them from non-Junior Lifeguard participants.

To adhere to social distancing and COVID guidelines, uniform sales will be available during pre-designated sales days below. Please only attend YOUR RESPECTIVE UNIFORM SALES DAY.
2021- When/Where Can I Purchase JG Uniform items?

NEW Participants:
JG Tryouts @ Simpkins Family Swim Center (look for our uniform trailer in the back parking lot)
May 2 & June 5

RETURNING Participants:
Lifeguard Headquarters (665 14th Avenue, Santa Cruz, CA 95062)
Session 1 Participants: June 11, 9:00AM - 3:00PM
Session 2 Participants: June 25, 9:00AM - 3:00PM
Session 3 Participants: July 9, 9:00AM - 1:00PM
Session 4 Participants: July 23, 9:00AM - 1:00PM
To faciliate safe social distancing, please only attend YOUR RESPECTIVE UNIFORM SALES DAY.
These will be the only opportunities to purchase uniforms!! Uniforms will not be available once the program has begun.
---
*Payable by PERSONAL CHECK, VISA, MASTER CARD OR DISCOVER CREDIT CARD. Checks can be made out to "California State Parks".
(NO CASH EXCEPTED!!!!)


---
Whats Required:
Red long sleeve T-shirt with the Junior Lifeguard logo (included in tuition fees)
Solid, navy blue swimsuit
Sandles (any type)
Hat/Cap

Optional:
JG Backpack
Fins
Navy blue sweatpants,
Long/short sleeve rashguards (navy)
Red JG sweatshirts
Wetsuit (highly recommended)

Please Mark ALL ITEMS with first and last name with permanent marker!!!

---
Bathing Suits
Girls can wear either a one-piece or two-piece navy blue swimsuit.
Boys can wear any navy blue swim trunks or jammers as a part of their uniform. (No patterns or designs)
We do not sell bathing suits. They can be bought at one of the local sports stores.
---
Uniform Prices: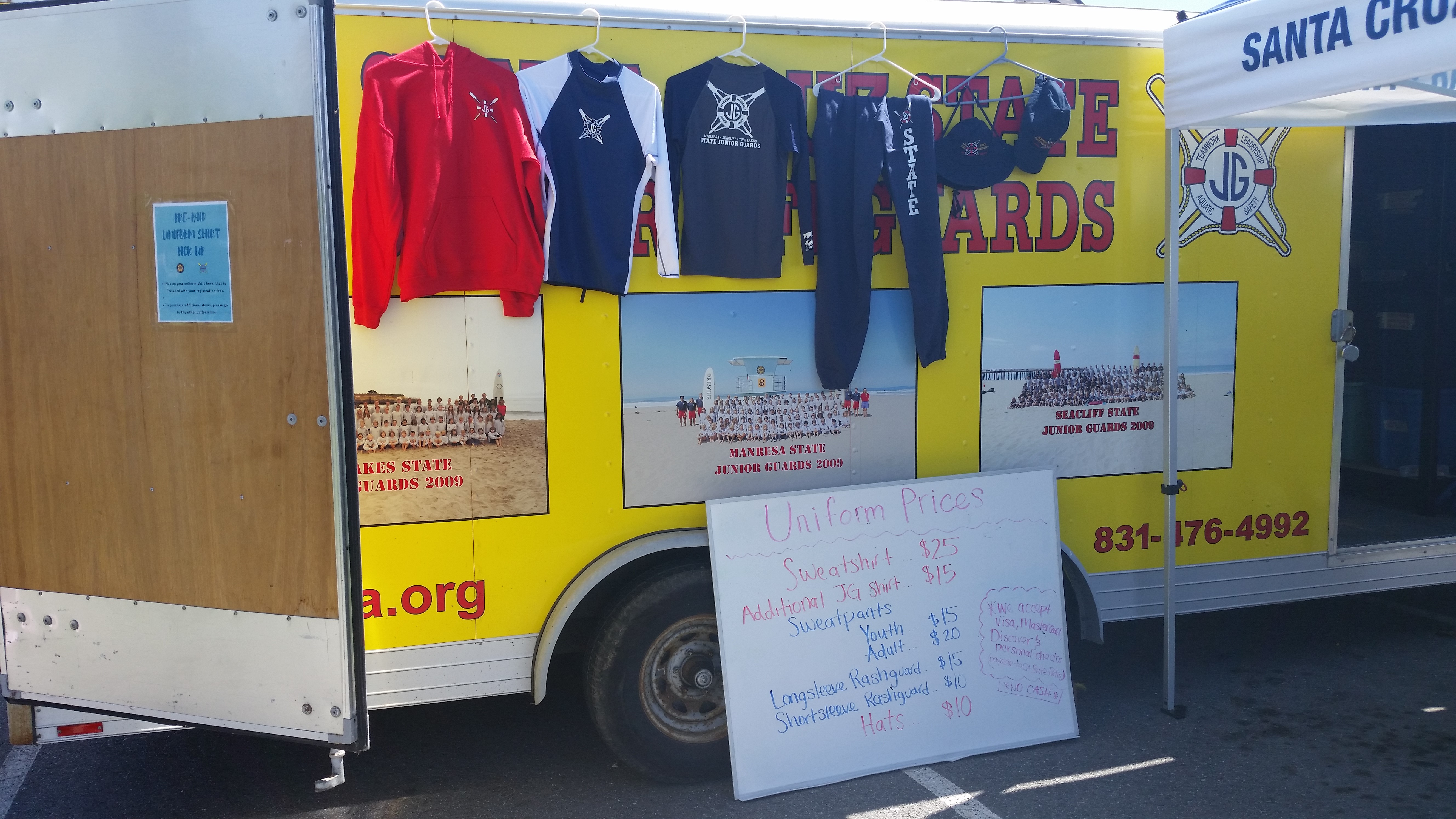 Extra Uniform shirt
Hood Sweatshirt
Long Sleeve Rashguard
Youth Sweat pants
Adult Sweatpants
JG hats (Ball cap/sun hat)
JG Backpack
(backpacks must be paid by check and made payable to "SCSLA")
$15
$25
$15
$15
$20
$10
$40
For your benefit, we offer these high quality items at or near wholesale price. Tax is included in the price, and all proceeds go directly back into the Junior Lifeguard program.

*Payable by personal check, Visa, Mastercard or Discover credit cards. Checks can be made out to "California State Parks".
(NO CASH EXCEPTED!!!!)
---