Land and Water Conservation Fund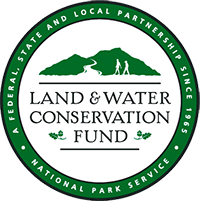 Land and Water Conservation Fund (LWCF) grants provide funding for the acquisition or development of land to create new outdoor recreation opportunities for the health and wellness of Californians. Since 1965, over one thousand parks throughout California have been created or improved with LWCF assistance.
---
Current Announcements:
The workshops focused on the competitive Project Selection Criteria and gave an overview of other application requirements. Please see the "LWCF Application Guide for Local Agencies" below.
---
LWCF Local Agency Competitive Programs - Application Process


---
LWCF Local Agency Competitive Programs - Grant Administration


---
LWCF Park Stewardship: A Guide to Permanent Operation and Maintenance (November 29, 2016) PDF / DOCX

The LWCF program states that once the project is complete, the land within the approved 6(f)(3) boundary map is considered under federal protection. This protection helps preserve outdoor recreational use of the site in perpetuity. The LWCF Park Stewardship guide provides an overview of the requirements for permanent operation and maintenance of the LWCF funded areas.


---
Questions regarding the LWCF program may be sent to your OGALS Project Officer.


Additional Program Information:
LWCF Press Releases