Land and Water Conservation Fund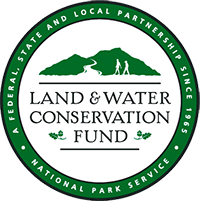 Land and Water Conservation Fund (LWCF) grants provide funding for the acquisition or development of land to create new outdoor recreation opportunities for the health and wellness of Californians. Since 1965, over one thousand parks throughout California have been created or improved with LWCF assistance.
---
Current Announcements:
Monday, April 6, 2020 application deadline for the nationwide Outdoor Recreation Legacy Partnership (ORLP) Program.


ORLP is a federal subprogram of the Land and Water Conservation Fund (LWCF). ORLP is administered at the federal level by the National Park Service. For this nationwide competition, $40 million is available for all states on a competitive basis. Each state may recommend up to four projects for consideration. The minimum grant request per project application is $300,000. The maximum grant request for each project is $1,000,000.

In California, proposals must be submitted to the Office of Grants and Local Services (OGALS) for review "postmarked" by April 6, 2020. OGALS will then submit up to four proposals on behalf of California to a National Review Committee by early July 2020. The National Review Committee's process could take approximately two years. There is no guarantee that any of the four projects nominated by California will be selected by the National Review Committee. If a project is selected for funding by the National Review Committee, additional federal requirements must be met, which could take an additional year. Therefore, projects that can be delayed until 2023 may be the most ideal for submission for funding consideration.



Eligible applicants remain consistent with the LWCF: Cities, Counties, Federally recognized Native American Tribes, Joint Powers Authorities where all members are otherwise eligible under the LWCF, park districts, and special districts with authority to acquire, operate and maintain public park and recreation areas. The administrative requirements of LWCF apply to ORLP, including no less than a 50% match of the total project cost. This means that grant can fund up to, but not more than, 50% of the total project cost. Given that a project start date could potentially be determined in 2023 if selected for funding, the match source(s) should be expendable from 2023 through project completion. Projects that depend on a match source that must be expended before 2023 are not recommended for this program.

The ORLP program can fund acquisition and/or development projects. Target projects will create or reinvigorate parks and other outdoor recreation spaces located in Census-delineated urbanized areas. Specifically, the program is intended for areas located within jurisdictions delineated by the Census Bureau from the 2010 Census as urbanized areas. These areas will have a population of 50,000 or more with high density. Further, the program targets projects located in or directly accessible to neighborhoods or communities that are underserved in terms of parks and recreation resources and its population is economically disadvantaged.

To prepare an application, applicants will use the National Park Service's ORLP Financial Assistance "Notice of Funding Opportunity (NOFO), P20AS00029, dated 1/31/2020."

Follow this link to the federal webpage Grants.gov https://www.grants.gov/web/grants/search-grants.html


Look for "Search Grants" Opportunity Number P20AS00029.

A technical assistance packet developed by OGALS is also available upon request. To request a technical assistance packet, please email to Natalie.Bee@parks.ca.gov


Mail the application "postmarked" by Monday April 6, 2020 to:
CA Department of Parks and Recreation
Office of Grants and Local Services
1416 Ninth Street, Room 918
Sacramento, CA 95814



The application deadline for the competitive cycle of the Land and Water Conservation Fund was February 3, 2020. Grant requests up to $6 million per application are encouraged. Acquisitions are the highest ranking project type.


The workshops focused on the competitive Project Selection Criteria and gave an overview of other application requirements.


LWCF Local Agency Competitive Programs - Application Process Use this link to access the "LWCF Application Guide".


---
LWCF Local Agency Competitive Programs - Grant Administration


---
LWCF Park Stewardship: A Guide to Permanent Operation and Maintenance (November 29, 2016) PDF / DOCX

The LWCF program states that once the project is complete, the land within the approved 6(f)(3) boundary map is considered under federal protection. This protection helps preserve outdoor recreational use of the site in perpetuity. The LWCF Park Stewardship guide provides an overview of the requirements for permanent operation and maintenance of the LWCF funded areas.


---
Questions regarding the LWCF program may be sent to your OGALS Project Officer.


Additional Program Information:
LWCF Projects 1964 - 2017 (Excel) / PDF