Cuyamaca Rancho State Park
Update: (April 15, 2021)
With the Regional Stay at Home Order lifted, State Parks is reopening campground sites for existing reservation holders. The department will be using a phased approach to reopen other campground sites for new reservations, starting January 28. The public is advised that not all campground sites are open to the public due to the pandemic, wildfire impacts and other issues. Additionally, group campsites remain closed. Day use outdoor areas of park units currently open to the public remain open.
As State Parks increases access to the State Park System, it is critical that Californians continue to recreate responsibly in the outdoors as the pandemic is far from over.
Please take the time to read the information contained on this webpage to find out what is open and closed, and the COVID-19 guidelines for this park unit.
What is open now?

Green Valley Campground and Falls Day-use.
Paso Picacho Campground (pending weather conditions).
Paso Picacho and Merigan day-use areas.
Sweetwater Highway 79 Turnout.
Hiking trails throughout.
Arroyo Seco and Granit Springs Primitive Trail Camps (pending weather conditions).
Dyar Day-use.
Special Events under 50 people.
Group picnic sites.
What is currently closed at this park and throughout the State Park System?
Closed at this park:
Los Vaqueros Equestrian Group Camp.
Dyar Visitor Center.
Stonewall Mine Day-use.
Special events over 50 people and tours continue to be canceled until further notice.
Group camps.
Statewide:
Some park units and campground sites continue to be temporarily closed due to the pandemic, impacts from wildfires or other issues. Please visit the webpage of your local outdoor destination to find out if it is open.
High public-use indoor facilities, including museums and visitor centers.
Special events and tours continue to be canceled until further notice.
Are there any new visitor guidelines?
State Parks has implemented the following guidelines to reduce the risk of exposure to COVID-19 in the outdoors:
Stay Local: Stay close to home during this pandemic period. If you or anyone in your household is feeling sick, please remain at home and plan your trip for another time.
Plan Ahead:

The ongoing pandemic response continues to be dynamic and fluid. Prior to leaving home, check the webpage of your outdoor destination you plan to visit to find out if it is open, if parking is available, and what visitor guidelines are in effect.
Learn what safety precautions you should take when exploring the outdoors at parks.ca.gov/SafetyTips.

SNO-PARKS: Make sure your vehicle is snow ready. A permit is required for each vehicle parked at a SNO-PARK site. Parking is on a first come, first-serve basis at all SNO-PARK sites. The public is advised that parking lots are filling up early in the day. Illegal parking is prohibited. More information can be found at ohv.parks.ca.gov/SNOPARKS.
Stay Safer at Six Feet: No matter the recreational activity, maintain a physical distance of six feet or more. Your guests should only include those within your immediate household. This means no guests or friends, and no gatherings or parties. If there are too many people to maintain the required physical distance, please visit us on a different day.

Boating: Do not raft up to other boaters or pull up onto a beach next to other recreators.
Off-highway Vehicle Recreation: Do not ride next to others or pull up next to someone else as it could put you in close proximity to others. Stage 10 feet or more from each other during unloading and loading.

Keep Clean: Be prepared as not all services may be available. Some restrooms will be temporarily closed to keep up with cleaning schedules. Bring soap/hand sanitizer. Please pack out all trash. Park units are experiencing heavy use and you can help alleviate the impact on park facilities.
Stay Covered: The state requires you to wear a face covering when you cannot maintain a physical distance of six feet or more. Individuals must have a face covering with them at all times.
Although law enforcement entities have the authority to issue citations, the expectation is that the public is responsible for adhering to the advice of public health officials, visitor guidelines and closures.
California State Parks continues to work with local and state officials on a phased and regionally driven approach to increase access to state park units where compliance with state and local public health ordinances can be achieved. However, the situation remains fluid and park operations can change at any time. For information on statewide current closures and available services, please visit
parks.ca.gov/FlattenTheCurve
.
Phone Number
(760) 765-3023
Max. Trailer Lengths
Trailer: Up to 30 Feet
Camper/Motorhome: Up to 30 Feet
Park Hours
dawn 'til dusk
Dogs Allowed?
Yes
Dogs allowed in the campgrounds and on designated paved park roads.
Driving Directions to Cuyamaca Rancho SP
East of San Diego, the park is on Highway 79, five miles north of I-8.


Camping and Lodging
Visitors will be able to reserve campsites and lodging six months in advance from the current date. Bookings may extend from the arrival date to the desired departure date – based on availability and the park's maximum stay rules.
Upcoming Park Events
No events scheduled at this moment.
OVERNIGHT FACILITIES
Environmental Campsites
Family Campsites
Group Campsites
RV Dump Station
Alternative Camping
RV Access

TRAIL USE
Hiking Trails
Horseback Riding

DAY-USE ACTIVITIES & FACILITIES
Historical/Cultural Site
Picnic Areas
Env. Learning/Visitor Center
Exhibits and Programs
Guided Tours
Interpretive Exhibits
Nature & Wildlife Viewing
Museums
Family Programs
Geocaching

OTHER FACILITIES & VISITOR INFORMATION
Parking
Restrooms / Showers
Restrooms
Drinking Water Available

Fire Restrictions-Cuyamaca Rancho State Park
For current fire restrictions, please call (760) 767-4037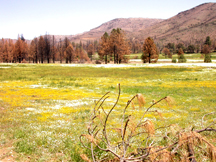 The beautiful park offers camping and hiking in an oak woodland forest, with a sprinkling of pines and lovely meadows with creeks. There are over 100 miles of trails which accommodate hikers, bikers, and equestrians. The two family camps, Paso Picacho and Green Valley, are open and on the reservation system spring through fall. Green Valley sits at an elevation of 4,000 feet and has a creek which runs through the middle of the campground. The day use area offers sets of cascades and shallow pools, great for water play on hot days. Green Valley has 81 campsites.
Paso Picacho, 5 miles north, sits at an elevation of 5,000 feet. The most popular hikes start from this camp, including the 2 mile hike up Stonewall Peak (elevation 5,700 feet), and the 3.5 mile hike up Cuyamaca Peak (elevation 6,512 feet), both which offer breathtaking views of the deserts to the east, the coast to the west, and Lake Cuyamaca at the bottom. Lake Cuyamaca, operated by the Helix Water District, is two miles north of Paso Picacho and offers boating and fishing. Paso Picacho campground has 85 campsites.
Each campsite has a picnic table and a fire ring. Restrooms with flush toilets and pay showers are in the campground. Water faucets a located every few campsites. There are no hookups. Each campground has a dump station. Firewood and ice may be purchased at the camps. Interpretive programs are offered during the summer season. Campsites are $30 per night. Reservations are necessary for weekends April through October. The camping fee includes one motorized vehicle. Extra vehicles are $10 per night. There is a limit of 8 persons per campsite. Dogs are allowed but are restricted to the campgrounds, picnic areas, and paved roads and Cuyamaca Peak Fire Road. They may not be left unattended. Reservations may be made through ReserveCaliforniaTM at 1-800-444-PARK.

Environmental backpack in or horseback ride in camps are also available. Granite Springs and Arroyo Seco Environmental camps are open on first come, first serve. Both have chemical toilets, non-potable water, corrals and tent sites.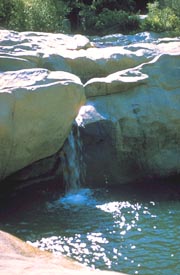 Day use visitors may use the picnic areas provided at the campgrounds for $10 per vehicle. The receipt is good for the entire park for the day. The picnic areas offer tables, restrooms, and barbeques. Visitors may also park in legal turnouts along the highway and hike for free. Fire is not allowed anywhere except in the developed picnic areas and campgrounds. The park is located approximately 50 miles east of San Diego on Highway 79. It is 15 miles south of the quaint historical town of Julian.

For the most current information on the park, go to http://www.crspia.org. This website also covers our tremendous volunteer program and its opportunities. The park phone number is 760-765-3020. Come visit this park rich in beauty and history! The park phone number is 760-765-3020. Come visit this park rich in beauty and history!
East of San Diego, the park is on Highway 79, five miles north of I-8.
Vista: Parks from Ridge to River
The online video journal of the Colorado Desert District covering Anza-Borrego Desert State Park®, Cuyamaca Rancho State Park and Palomar Mountain State Park.
Additional Visitor Services
County of San Diego (Environmental youth education camp)
Cuyamaca Rancho State Park

At Cuyamaca Rancho State Park, the rounded hills of granitic and metamorphic rock of the Peninsular Ranges are the deep roots of a much different ancient range that included volcanoes and high mountains possibly like the Andes. By examining these roots, we learn about the internal workings of other mountains.


(Photograph by Janis Hernandez)
Social Feed