UPDATE (July 14, 2020) - California State Parks continues to work with locals on a phased and regionally-driven approach to increase access to state park units where compliance with state and local public health ordinances can be achieved. Even though the department has increased access across the State Park System, the need for Californians to slow the spread of COVID-19 in the outdoors remains critical.
As such, State Parks continues to ask visitors to plan ahead, avoid road trips and stay close to home, maintain physical distancing, wear a face covering when a physical distance of six feet from others who are not from the immediate household members cannot be maintained, and avoid congregating. This means no gatherings, picnics or parties. Visitors are being asked to leave if there are too many people to allow for the required physical distance. Full details on the guidelines are available at
parks.ca.gov/FlattenTheCurve
.
Here are some guidelines for people visiting Chino Hills State Park:
What is open now?
The following is open at the park:
The park is open for day-use from 8 a.m. to 7 p.m.
Campground will open June 22. For more information about camping, visit www.parks.ca.gov/COVID19Camping. To make a reservation, visit www.ReserveCalifornia.com or call 800-444-7275. Reservations must be made 48 hours in advance of arrival date
No transactions at entrance station. APM or Pay by Phone only.
Trails - all active recreation will be permitted such as hiking, running, mountain biking, and bird watching, and equestrian use rules and regulations are now posted at all trailheads and will continue to be enforced.
Only restrooms in the proximity of the parking lots will be available.
Picnic tables, and benches.
What is currently closed at this park and throughout the State Park System?


At this Park:

Visitor center temporarily closed.
Statewide:

Many campgrounds across the state remain closed until further notice. Some campgrounds have started to reopen with modifications. For more information, please visit www.parks.ca.gov/COVID19Camping.
Many high public-use indoor facilities, including museums and visitor centers.
Special events and tours continue to be canceled until further notice.
Are there any new visitor guidelines?
Yes, please see below:
Stay Local: Stay close to home. Walk or bike into the park. Parking is very limited. Do not take road trips to parks and beaches or to neighboring states.
Stay Active: Keep walking, jogging, hiking and biking. Watch for one-way trails.
Stay Safer at 6 Feet: Maintain a physical distance of 6 feet or more. Gatherings, picnics and parties are not allowed. Visitors will be asked to leave if there are too many people at the park, beach or on trails to allow for the required physical distance.
Stay Clean: Be prepared. Bring soap/sanitizer and pack out all trash
Stay Covered: The state now requires you to wear a face covering in most indoor settings and public outdoor spaces when you cannot maintain physical distancing of six feet or more from people outside of your immediate household. For details, please visit CDPH's guidance here. Visitors should also abide by their local county health orders.
Thank you for your patience and continued support of California State Parks as we work to limit your risk for exposure to COVID-19 in the outdoors. For more information, please visit
parks.ca.gov/FlattenTheCurve
.
Phone Number
(951) 780-6222
Max. Trailer Lengths
Trailer: 28 Feet
Camper/Motorhome: 28 Feet
Park Hours
October - March
8am-5pm 7 Days a Week

April - September
8am-7pm 7 Days a Week


Dogs Allowed?
Yes
Dogs allowed only on paved roads and in campgrounds. Dogs not allowed on park trails.
Driving Directions to Chino Hills SP
The park is located 10 miles northwest of Corona. Take the 91-Freeway to Highway 71-North, turn left at Soquel Canyon. Proceed to Elinvar and turn left. Elinvar merges into Sapphire on the left, the park entrance is located on the right. 4721 Sapphire Road; Chino Hills, CA 91709


Camping and Lodging
Visitors will be able to reserve campsites and lodging six months in advance from the current date. Bookings may extend from the arrival date to the desired departure date – based on availability and the park's maximum stay rules.
Upcoming Park Events
No events scheduled at this moment.
OVERNIGHT FACILITIES
Family Campsites
Group Campsites
Primitive Camping
RV Access

TRAIL USE
Hiking Trails
Horseback Riding

DAY-USE ACTIVITIES & FACILITIES
Picnic Areas
Env. Learning/Visitor Center
Exhibits and Programs
Guided Tours
Interpretive Exhibits
Vista Point
Nature & Wildlife Viewing
Museums
Family Programs
Geocaching

OTHER FACILITIES & VISITOR INFORMATION
Parking
Restrooms
Drinking Water Available

At-Home Resources
Share your nature observations from home!
Find Us On Social Media
Trails are OPEN
Enjoy your day at the park!
Trail Closures
Please be advised that the following trails are closed due to erosional damage and hazardous conditions:
Hills For Everyone Trail is currently closed
North Ridge Trail is closed between where it intersects at Telegraph Canyon Trailhead east to Gilman Trail.
You can find a FAQ sheet for North Ridge Trail
HERE
Please Remember
GATE HOURS:
The gates are locked in the evenings during the following hours:
5:00pm October 1st - 1st Sunday in April
7:00pm 1st Sunday in April - September 30th
Gates open at 8:00 am.
When gates are locked, there is no vehicle access into or out of the campground.
EMERGENCIES AFTER THE PARK IS CLOSED – CALL 911

Information regarding the gate closure is available at the park and online at the State Park website. While some campers may be inconvenienced by the nightly closure, an extra level of security is provided by eliminating vehicles driving in the park that are not associated with campers. Not having these vehicles in the park at night reduces the hazard to children and pedestrians, reduces noise and vandalism, and reduces opportunities for theft of camping gear.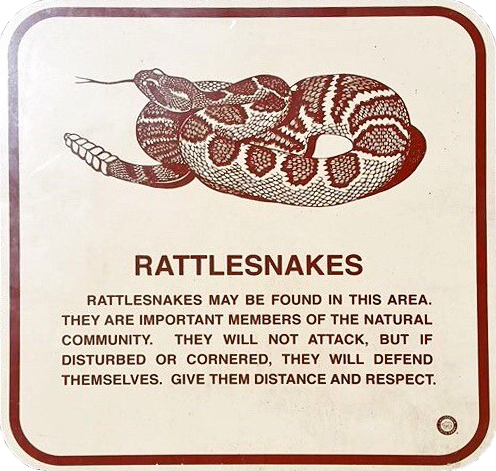 Are there any rattlesnakes? -
The answer is, "
Yes!
"
The 2 most common rattlesnakes you will see here are the Southern Pacific Rattlesnake and the Red Diamond Rattlesnake. The Southern Pacific Rattlesnake is the one you will most likely run into in the park. If you do see a rattlesnake while hiking, stop and wait until the snake leaves the area. It has mostly likely felt you coming from the vibrations you've mad
e walking on the trail. If it doesn't leave, turn around and notify a park employee or volunteer. Snakes are more willing to leave you alone and find something more manageable to strike and eat (unless you try to take a selfie with it). Notify a park employee so that the snake can be returned to a more suitable location to live. Do not try to relocate or pickup the snake yourself.
Park Information
---
---