Red Rock Canyon State Park
UPDATE (June 16, 2020) - As California State Parks begins working with locals on a phased and regionally-driven approach to increase access to state park units where compliance with state and local public health ordinances can be achieved, it is important for visitors to continue to practice physical distancing and avoid congregating with people outside their immediate household. Everyone has the responsibility to mitigate the spread of COVID-19.
Here are some guidelines for people visiting Red Rock Canyon SP:
What is open now?
Trails, beaches and day use areas.
Parking may be limited.
Campgrounds are open on a first come, first serve basis and at limited capacity to maintain social distancing and avoid large group gatherings starting June 12. Camping is available only for those in the same family unit. For the new camping guidelines, visit www.parks.ca.gov/COVID19Camping.

What is currently closed at this park and throughout the State Park System?
At this park:
Visitor Centers
Picnic Areas
Congregate and high touch areas

Statewide:
Many campgrounds across the state remain closed until further notice. Some campgrounds have started to reopen with modifications. For more information, please visit www.parks.ca.gov/COVID19Camping.
High public-use indoor facilities, including museums and visitor centers.
Special events and tours continue to be canceled until further notice.

Are there any new visitor guidelines?

Yes, please see below:
Stay Local: Stay close to home. Walk or bike into the park. Parking may be limited. Do not take road trips to parks and beaches or to neighboring states.
Stay Active: Keep walking, jogging, hiking and biking. Watch for one-way trails.
Stay Safer at 6 Feet: Maintain a physical distance of 6 feet or more. Gatherings, picnics and parties are not allowed. Visitors will be asked to leave if there are too many people at the park, beach or on trails to allow for the required physical distance.
Stay Clean: Be prepared. Bring soap/sanitizer and pack out all trash.
Stay Covered: Please be sure to wear face coverings when you cannot maintain a safe 6-foot distance from others.
Thank you for your patience and continued support of California State Parks as we work to limit your risk for exposure to COVID-19 in the outdoors. For more information, please visit
parks.ca.gov/FlattenTheCurve
Phone Number
(661) 946-6092
Max. Trailer Lengths
Trailer: 30 Feet
Camper/Motorhome: 30 Feet
Park Hours
The park is open from sunrise to sunset for day use. The campground is open 24 hours.
Dogs Allowed?
Yes
Dogs allowed only in picnic area, campground, and primitive roads. Dogs not allowed on trails.
Driving Directions to Red Rock Canyon SP
The park is 25 miles northeast of Mojave on Highway 14.


Online reservations are not available for this park.
Upcoming Park Events
No events scheduled at this moment.
OVERNIGHT FACILITIES
En route Campsites
Family Campsites
Primitive Camping
RV Access

TRAIL USE
Hiking Trails
Horseback Riding

DAY-USE ACTIVITIES & FACILITIES
Historical/Cultural Site
Picnic Areas
Env. Learning/Visitor Center
Exhibits and Programs
Guided Tours
Interpretive Exhibits
Off-Highway Vehicles
Nature & Wildlife Viewing
Family Programs
Geocaching

OTHER FACILITIES & VISITOR INFORMATION
Parking
Restrooms
Drinking Water Available

Red Rock Canyon State Park features scenic desert cliffs, buttes and spectacular rock formations. The park is located where the southernmost tip of the Sierra Nevada converge with the El Paso Range. Each tributary canyon is unique, with dramatic shapes and vivid colors.

Historically, the area was once home to the Kawaiisu Indians, who left petroglyphs in the El Paso mountains and other evidence of their inhabitation. The spectacular gash situated at the western edge of the El Paso mountain range was on the Native American trade route for thousands of years. During the early 1870s, the colorful rock formations in the park served as landmarks for 20-mule team freight wagons that stopped for water. About 1850, it was used by the footsore survivors of the famous Death Valley trek including members of the Arcane and Bennett families along with some of the Illinois Jayhawkers. The park now protects significant paleontology sites and the remains of 1890s-era mining operations, and has been the site for a number of movies.

After wet winters, the park's floral displays are stunning. The beauty of the desert, combined with the geologic features make this park a camper's favorite destination. Wildlife you may encounter includes roadrunners, hawks, lizards, mice and squirrels.

Camping
Camping in developed sites only in Ricardo Campground. The campground is tucked up against the base of dramatic desert cliffs, with 50 primitive campsites, potable water, pit toilets, fire rings, and tables. Bring your own firewood, or purchase it at the visitor center. There are no RV hook-ups or showers. A maximum of 8 people is allowed per site (there are no group sites).

Camping is first-come, first served; there is no reservation system. The campground can fill up on weekends in the spring and fall, especially if the weather is nice or on holiday weekends, so arriving on a Thursday evening or Friday morning is recommended.

Camping is $25 per night per site, which includes parking for one vehicle per site, or $23 per night with seniors (62 years old or older). Additional vehicles are $6 each. There is a 30 foot maximum on RVs. Self-registration/payment is required before setting up camp or parking. Vehicles (including OHV) must be parked within the rock lined areas provided at each campsite. No horses or livestock allowed in the campground. Quiet hours are 10 pm to 6 am; generators must be off from 8 pm to 10 am.

Overnight parking in the day-use lot is not permitted.

Day Use
Miles of trails meander through the dramatic landscape of the park, and hiking is an intimate way to experience the desert. Use desert safety precautions- bring twice as much water as you think you need, and layered clothing for sudden fluctuations in temperature.

Shaded picnic tables are available first-come, first served in the day-use area adjacent to the Visitor Center. The day-use parking lot and picnic area, open sunrise to sunset, is $6 per vehicle per day.

Equestrian Use
Horses are allowed on all roads in the park, with the exception of seasonally closed areas (see side bar). Horses are not allowed in the campgrounds, however equestrian day use out from the Red Cliffs parking area is still allowed, but no overnight camping.

Off-Highway Vehicle Recreation
All licensed vehicles (street legal and OHV with green stickers) may travel on the primitive (dirt) road system within the park. All drivers of vehicles (street legal and OHVs) within the park must be licensed. Please watch for Closed Route signs and check maps for open routes (please do not create new routes). Drinking and driving laws apply both on the paved and primitive dirt roads.

Please note Nightmare Gulch Temporary Closure.

Location/Directions
The park is 25 miles northeast of Mojave on Highway 14, near Cantil. Go west 1/4 mile on Abbott Drive. Signage indicating the turnoff is clearly visible on Highway 14.

The park is 120 miles north of Los Angeles, via Interstate 5 and Highway 14.

Red Rock Canyon State Park
The colorful badlands, cliffs and canyons of Red Rock Canyon State Park provide more than pretty scenery and a backdrop for movies. Hidden behind the scenes in the layers of rock is what amounts to paleontologists as a treasure trove. For almost a century, paleontologists have been combing through these layers and making important discoveries about the history of mammalian life in these parts.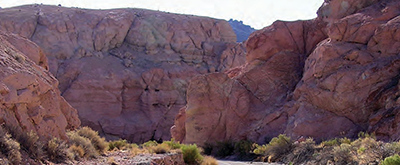 (Photograph by Will Harris)
Social Feed