EFFECTIVE (September 8, 2020) - Thank you for your patience and continued support of California State Parks as we work to limit your risk for exposure to COVID-19 in the outdoors.
As a reminder, Californians are encouraged to avoid road trips and stay close to home, maintain physical distancing, wear a face covering when a physical distance of six feet from others who are not from the immediate household members cannot be maintained, and avoid congregating. Everyone has the responsibility to slow down the spread of COVID-19.
Here are some additional guidelines for people visiting Carpinteria State Beach:
What is open now?
The following is open at this park:
What is currently closed at this park and throughout the State Park System?
At this park:

Group Camps Visitor Center and Park Office.
Are there any new visitor guidelines?
Yes, please see below:
Stay Safer at 6 Feet: Maintain a physical distance of 6 feet or more. Gatherings, picnics and parties are not allowed. Visitors will be asked to leave if there are too many people at the park to allow for the required physical distance.
Stay Clean: Be prepared. Bring soap/sanitizer.
Stay Covered: The state now requires you to wear a face covering in most indoor settings and public outdoor spaces when you cannot maintain physical distancing of six feet or more from people outside of your immediate household. Expect that trails, boardwalks and sidewalks do not provide six feet distance, Always have your face covering at hand. For details, please visit CDPH's guidance here. Visitors should also abide by their local county health orders.
Statewide, California State Parks continues to work with locals on a phased and regionally-driven approach to increase access to state park units where compliance with state and local public health ordinances can be achieved. Even though the department has increased access across the State Park System, the need for Californians to slow the spread of COVID-19 in the outdoors remains critical.
For information on statewide current closures and available services, please visit visit
parks.ca.gov/FlattenTheCurve
.
Phone Number
(805) 684-2811
Max. Trailer Lengths
Trailer: 35 Feet
Camper/Motorhome: 35 Feet
Park Hours
Day Use:
7:00 a.m. until sunset.
Dogs Allowed?
Yes
Dogs allowed in campground and day-use area. Dogs not allowed on beach.
Driving Directions to Carpinteria SB
The park is on Highway 224, off U.S. 101, twelve miles south of Santa Barbara.


Camping and Lodging
Maximum Stay: From March 1 through November 30, park visitors may camp for a maximum of seven (7) consecutive days. From December 1 through February 28, park visitors may camp for a maximum of fifteen (15) consecutive days. When the maximum consecutive stay has been reached, the person(s), equipment, and vehicle(s) must vacate the campground for a period of 48 hours before returning for another stay. The maximum stay limit for camping at Carpinteria State Beach is a total of 30 days in any calendar year.
Upcoming Park Events
No events scheduled at this moment.
OVERNIGHT FACILITIES
En route Campsites
Family Campsites
Group Campsites
Hike or Bike Campsites
RV Sites w/Hookups
RV Dump Station
RV Access

TRAIL USE
Hiking Trails

DAY-USE ACTIVITIES & FACILITIES
Picnic Areas
Env. Learning/Visitor Center
Exhibits and Programs
Fishing
Guided Tours
Interpretive Exhibits
Scuba Diving/Snorkeling
Beach Area
Swimming
Windsurfing/Surfing
Family Programs
Geocaching

OTHER FACILITIES & VISITOR INFORMATION
Parking
Restrooms / Showers
Restrooms
Outdoor Showers
Drinking Water Available
Wheelchair Accessible

ABOUT THE PARK: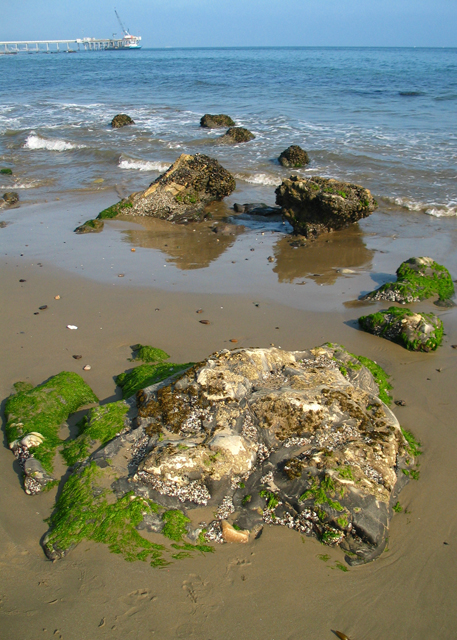 Twelve miles south of Santa Barbara, Carpinteria State Beach offers a mile of beach for swimming, surf fishing, tidepool exploring and camping. Although dogs are not allowed on the beach, we have a great picnic area where they are allowed to enjoy the outdoors as well. Lifeguards patrol the beach year round and lifeguard towers are staffed roughly from Memorial Day weekend through Labor Day weekend. The Spanish named the area Carpinteria because the Chumash tribe, which lived in the area, had a large seagoing canoe-building enterprise, or "carpentry shop" here. This was because of naturally-occurring surface tar, which was used to waterproof the canoes.

Seals and sea lions can be seen in the area December through May, as well as an occasional gray whale. Tidepools contain starfish, sea anemones, crabs, snails, octopi and sea urchins.
RV RENTAL/DELIVERY POLICY:
Trailers may be rented from 101 RV Rental Concessions. This is the only permitted business for delivery of RVs in this state park. For questions, please contact 101 RV Rental at (805) 210-7391.
HD LIVE WEB CAM & SURF REPORT

Now Hiring!