---
NOTICE
Due to potential hazards caused by rainfall, the Santa Cruz and Santa Rosa campground loops closed on March 20th. People with reservations in those loops will receive full refunds for canceled reservations. While it is still very wet out and there are plenty of puddles to stomp in, we are happy to say we plan to resume honoring reservations starting March 23, 2018.
ABOUT THE PARK: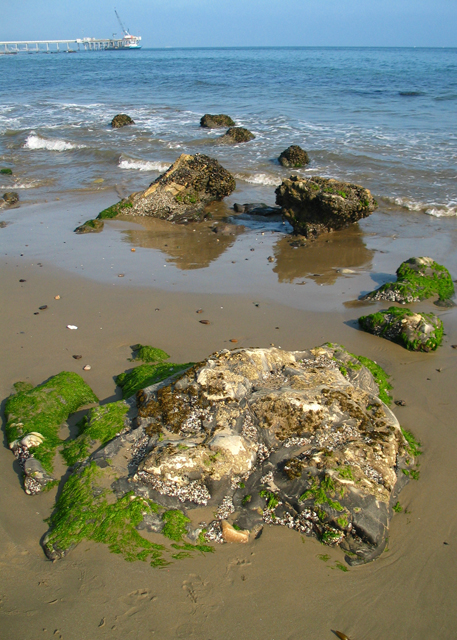 Twelve miles south of Santa Barbara, Carpinteria State Beach offers a mile of beach for swimming, surf fishing, tidepool exploring and camping. Although dogs are not allowed on beach, we have a great picnic area where they are allowed to enjoy the outdoors as well. Lifeguards patrol the beach year round and lifeguard towers are staffed roughly from Memorial Day weekend through Labor Day weekend. The Spanish named the area Carpinteria because the Chumash tribe, which lived in the area, had a large seagoing canoe-building enterprise, or "carpentry shop" here. This was because of naturally-occurring surface tar, which was used to waterproof the canoes.

Seals and sea lions can be seen in the area December through May, as well as an occasional gray whale. Tidepools contain starfish, sea anemones, crabs, snails, octopi and sea urchins.
Celebrate Earth Day by Restoring Our Parks!
Please accept this invitation to join us!
Saturday, April 21, 2018
California State Parks Foundation's 20th Annual Earth Day Restoration and Cleanup.
The day of the event, registration begins at 8:30 a.m. at Carpinteria State Beach, 205 Palm Avenue, Carpinteria, CA 93013. Activities will end at approximately 12:30 p.m.

Volunteers may sign up in advance. Click here to sign up as a volunteer!


JOB OPPORTUNITY
NOW HIRING! Become a Visitor Services Aide! Click here for details.
Submit applications to:
Carpinteria State Beach
Attention: David Wilson
5361 6th Street
Carpinteria, CA 93013
Most of the parks of the Channel Coast District are located along the coast in western Ventura and Santa Barbara Counties. Camp Host positions exist at the following parks within the District:

McGrath State Beach

Emma Wood State Beach
(North Beach Campground and Ventura River Group Camp)

Carpinteria State Beach

El Capitan State Beach

Refugio State Beach

Gaviota State Park


CLIMATE:
Summer and spring are warm, fall and winter can be cool. Layered clothing is advised.
RV RENTAL/DELIVERY POLICY:
Trailers may be rented from 101 RV Rental Concessions. This is the only permitted business for delivery of RVs in this state park. For questions, please contact 101 RV Rental at (805) 210-7391.
---
Available Activities and Facilities at Carpinteria State Beach
OVERNIGHT FACILITIES
En route Campsites
Family Campsites
Group Campsites
Hike or Bike Campsites
RV Sites w/Hookups
RV Dump Station
RV Access

TRAIL USE
Hiking Trails

DAY-USE ACTIVITIES & FACILITIES
Picnic Areas
Env. Learning/Visitor Center
Exhibits and Programs
Fishing
Guided Tours
Interpretive Exhibits
Scuba Diving/Snorkeling
Beach Area
Swimming
Windsurfing/Surfing
Family Programs
Geocaching

OTHER FACILITIES & VISITOR INFORMATION
Parking
Restrooms / Showers
Restrooms
Outdoor Showers
Drinking Water Available
Wheelchair Accessible