This park unit is partially open.
Please take the time to read the information contained on this webpage to find out what is open and closed, and what COVID-19 guidelines are in place. - (July 28, 2021)
What is open now?
Camping facilities – Reservation are open and recommended on ReserveCalifornia.
Day-use trails, boardwalk, beach and restrooms.
Visitor Center and park office.
Tomol Play Area
Special events and tours.
What is currently closed?
Restrooms in Anacapa loop.
1/2 restroom facilities in Santa Rosa loop.
---
COVID-19 Guidelines - (June 21, 2021)
Recreate Responsibly
Protect yourself, family, friends and your community by following these prevention measures:
Know Before You Go – Prior to leaving home, check the status of the park unit you want to visit to find out what restrictions and guidelines are in place. Have a back-up plan in case your destination is crowded. Stay home if you are sick
Plan Ahead – Some restrooms will be temporarily closed to keep up with cleaning schedules. Bring soap/hand sanitizer.
Play It Safe – Find out what precautions you should take when exploring the outdoors, especially if this is your first time visiting the State Park System. Learn more at parks.ca.gov/SafetyTips.
Be COVID-19 Safe– State Parks continues to follow guidance provided by the California Department of Public Health:

Fully Vaccinated Persons

: Face coverings are not required in public outdoor settings.For indoor public settings, such as museums and visitor centers, all vaccinated individuals are to self-attest that they are in compliance prior to entry.

Unvaccinated Persons

: Face coverings are required in indoor public settings such as museums and visitor centers.

Leave No Trace – Leave areas better than how you found them by staying on designated trails and packing out all trash. Do not disturb wildlife or plants.
Phone Number
(805) 684-2811
Max. Trailer Lengths
Trailer: Up to 35 Feet
Camper/Motorhome: Up to 35 Feet
Park Hours
Day Use:
Sunrise to Sunset
Dogs Allowed?
Yes
Dogs allowed in campground and day-use area. Dogs not allowed on beach.
Driving Directions to Carpinteria SB
The park is on Highway 224, off U.S. 101, twelve miles south of Santa Barbara.


Camping and Lodging
Maximum Stay: From March 1 through November 30, park visitors may camp for a maximum of seven (7) consecutive days. From December 1 through February 28, park visitors may camp for a maximum of fifteen (15) consecutive days. When the maximum consecutive stay has been reached, the person(s), equipment, and vehicle(s) must vacate the campground for a period of 48 hours before returning for another stay. The maximum stay limit for camping at Carpinteria State Beach is a total of 30 days in any calendar year.
Upcoming Park Events
No events scheduled at this moment.
OVERNIGHT FACILITIES
En route Campsites
Family Campsites
Group Campsites
Hike or Bike Campsites
RV Sites w/Hookups
RV Dump Station
RV Access

TRAIL USE
Hiking Trails

DAY-USE ACTIVITIES & FACILITIES
Picnic Areas
Env. Learning/Visitor Center
Exhibits and Programs
Fishing
Guided Tours
Interpretive Exhibits
Scuba Diving/Snorkeling
Beach Area
Swimming
Windsurfing/Surfing
Family Programs
Geocaching

OTHER FACILITIES & VISITOR INFORMATION
Parking
Restrooms / Showers
Restrooms
Outdoor Showers
Drinking Water Available
Wheelchair Accessible

ABOUT THE PARK: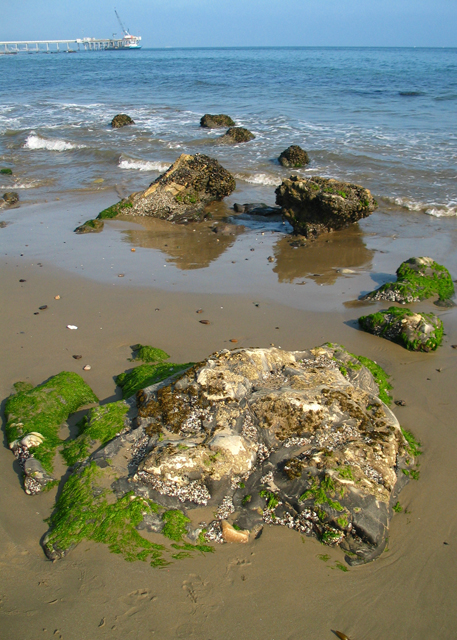 Twelve miles south of Santa Barbara, Carpinteria State Beach offers a mile of beach for swimming, surf fishing, tidepool exploring and camping. Although dogs are not allowed on the beach, we have a great picnic area where they are allowed to enjoy the outdoors as well. Lifeguards patrol the beach year round and lifeguard towers are staffed roughly from Memorial Day weekend through Labor Day weekend. The Spanish named the area Carpinteria because the Chumash tribe, which lived in the area, had a large seagoing canoe-building enterprise, or "carpentry shop" here. This was because of naturally-occurring surface tar, which was used to waterproof the canoes.

Tide pools contain starfish, sea anemones, crabs, snails, octopuses and sea urchins.
Harbor seals can often be seen near Carpinteria State Beach with a protected harbor seal rookery within walking distance of the state beach. Please note that December 1-May 31 this section of city beach is closed to protect young seal pups. The best way to observe the seals is use the City of Carpinteria Bluff trail. For more information on how to access the trail and protect harbor seals please click on the "Harbor Seal Rookery" link under the"Related Pages" section of this webpage.
RV RENTAL/DELIVERY POLICY:
Trailers may be rented from 101 RV Rental Concessions. This is the only permitted business for delivery of RVs in this state park. For questions, please contact 101 RV Rental at (805) 210-7391.
HD LIVE WEB CAM & SURF REPORT

Now Hiring!