Big Basin Redwoods State Park
---
Expect Traffic and Parking Delays at Big Basin Redwoods State Park on Busy Summer Weekends
We are experiencing a high demand for parking on busy summer and holiday weekends. Due to this demand, traffic can back up along Highway 236 both north and south of Park Headquarters causing long delays and our day use parking lots can fill to capacity.We will make every effort to accommodate all of our visitors, but if we run out of parking, you may be turned away. Follow these tips to help get the best chance to find a parking place:
Come during the week! Beat the crowds and come on a weekday.
Arrive early. If we fill up, it is normally in the mid-afternoon.
Enter the park from the south. Taking Highway 236 north from the town of Boulder Creek into Big Basin is less windy and normally has less traffic and shorter delays.
Do not park in undesignated areas! Parking along the highway in undesignated areas near Park Headquarters is illegal and may result in citation.
Parking availability is dynamic and it is hard for park staff to know if we will have parking available when you arrive. If you call and ask if we have parking, we may not be able to give you an accurate answer.
Thank you for your understanding and patience as we work to accommodate you and our other visitors during the busy Summer season.
Winter storms have DAMAGED the trail system:
Trail Closures & Conditions:
CLOSED - Approximately half a mile of Skyline to Sea Trail is closed between Middle Ridge Road and the Sunset Connector Trail due to storm damage. Detours are in place.
CLOSED - All of Timm's Creek Trail due to storm damage.
Skyline to the Sea Detour Directions:
The closed section of Skyline to the Sea Trail can by bypassed by using Middle Ridge Road to the Sunset Trail to the Sunset Connector Trail to the Skyline to the Sea Trail.
Other trails are OPEN but please keep in mind the following:
Please check with staff at Park Headquarters to see if your planned route is safe and passable.
Trail conditions are always changing, so please be aware that you may come across blocked trails that we don't know about. Please be prepared to turn back.
Visiting Big Basin Redwoods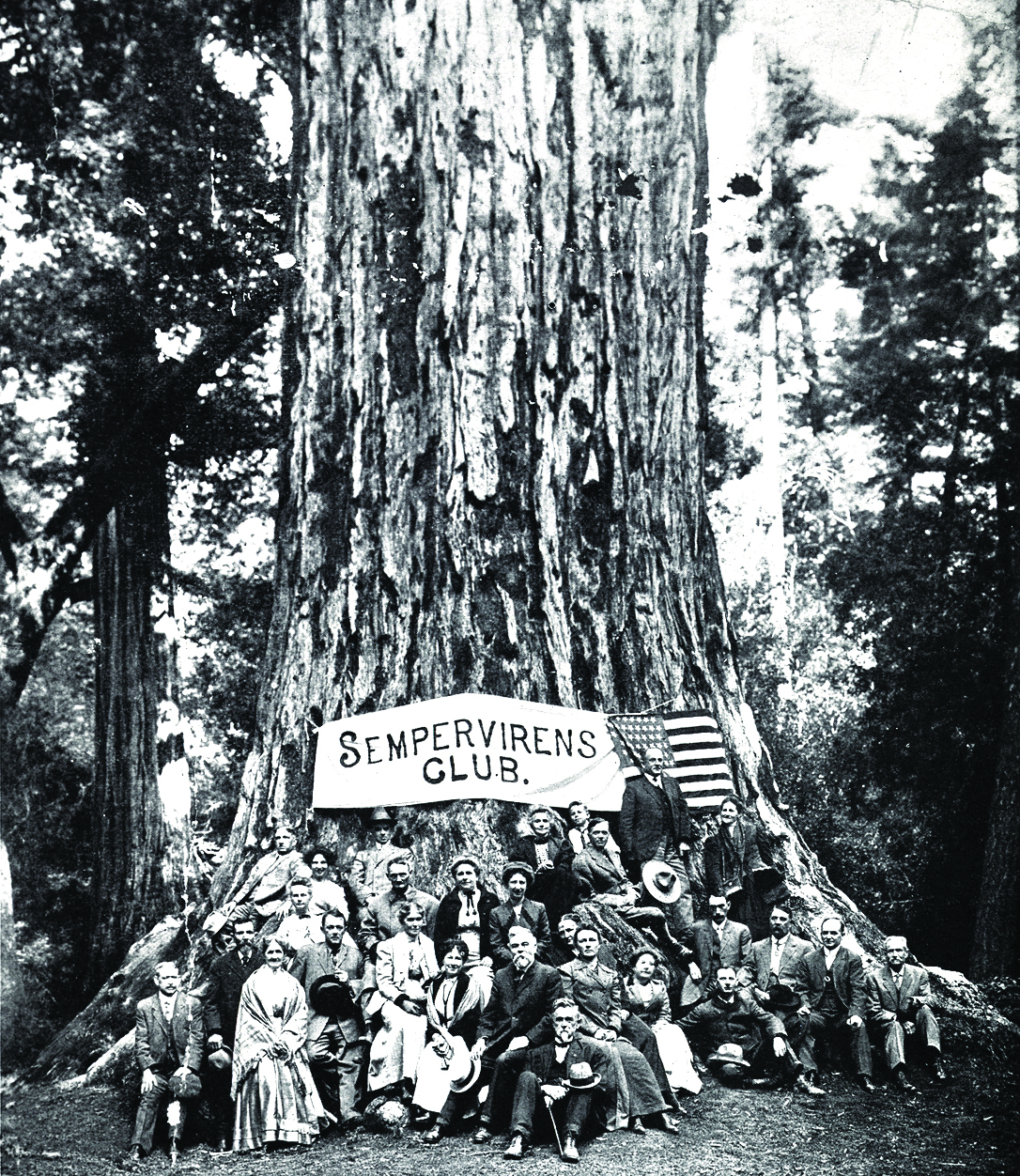 "Imagine a time when the whole peninsula from San Francisco to San Jose shall become one great city; then picture, at its very doorstep, this magnificent domain of redwood forests and running streams, the breathing place of millions of cramped and crowded denizens of the city."
– Carrie Stevens Walter, Sempervirens Club, 1901
Established in 1902, Big Basin Redwoods is California's oldest state park. In the heart of the Santa Cruz Mountains, its biggest attractions—literally—are its ancient coast redwoods. Some of these giants are more than 50 feet around and as tall as the Statue of Liberty. At 1,000 to 2,500 years old, some may predate the Roman Empire. The park also offers spectacular views of the Pacific Ocean, lush waterfalls, and a fascinating natural and cultural history.

Big Basin's coastal unit, Rancho del Oso, is accessible off Highway 1 in Davenport, about 20 miles north of Santa Cruz.
Home to the largest continuous stand of ancient coast redwoods south of San Francisco, park vegetation consists of old-growth and recovering second-growth redwood forest, with mixed conifer, oaks, chaparral, and riparian habitats. Elevations in the park vary from sea level to over 2,000 feet.
The park has more than 80 miles of trails. Some of these trails link Big Basin to Castle Rock State Park and the eastern reaches of the Santa Cruz range. The Skyline to the Sea Trail threads its way through the park along Waddell Creek to the beach and adjacent Theodore J. Hoover Natural Preserve, a freshwater marsh.
The park has a number of waterfalls, a variety of habitats (from lush canyon bottoms to sparse chaparral-covered slopes), many animals (deer, raccoons, bobcats) and lots of bird life—including Steller's jays, egrets, herons and California woodpeckers.
Things to Do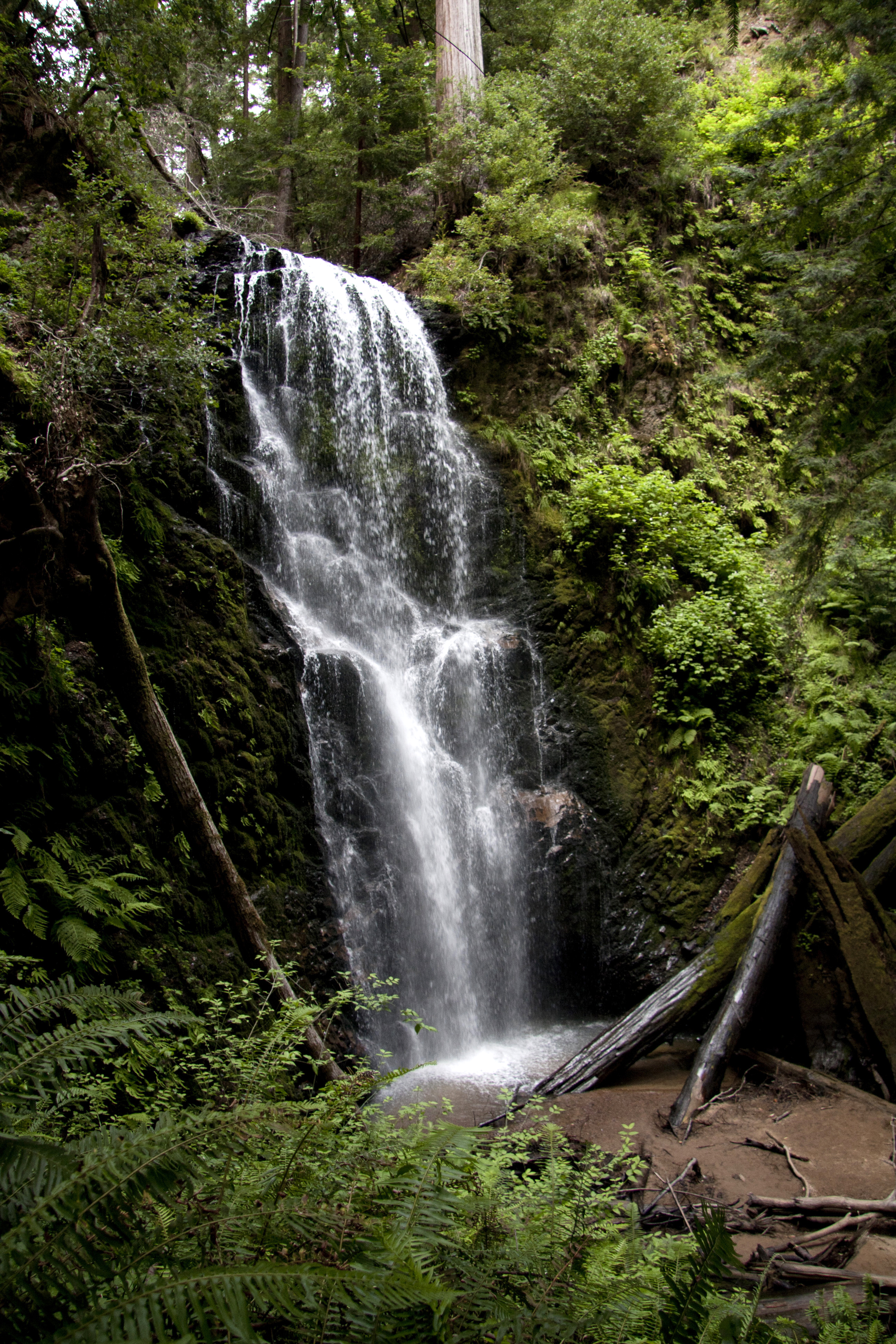 EXPERIENCE THE REDWOODS – Big Basin Redwoods State Park preserves more than 18,000 acres. This unique ecosystem of ancient coast redwood trees has captured the interest and dedication of many people throughout time. Visit the Redwood Loop Trail – grab a self-guided trail brochure at park headquarters for this 0.5 mile (1 km) flat loop trail and discover the survival adaptation of the coast redwood and the inspiration this grove holds that led to its protection.
RANCHO DEL OSO NATURE & HISTORY CENTER – Rancho del Oso is the coastal portion of Big Basin Redwoods State Park, located 17 miles north of Santa Cruz, off of Highway 1. It is across Highway 1 from Waddell State Beach, located in the Waddell Valley. To learn more about the Rancho del Oso and the West Waddell Creek State Wilderness, please click here.
HIKING – for recommend hikes, please click here.
BICYCLING – Bicycles are allowed on all fire roads and on the Skyline to the Sea trail from Rancho Del Oso to the seasonal bridge near the base of the Berry Creek Falls trail.
PARK EVENTS – We offer a variety of free interpretive programs throughout the year. To see a list of upcoming events and activities, please click here.
CAMPING – Big Basin's 142-site campground rests under the ancient redwoods of the Santa Cruz Mountains. Camping is $35 per night, and a $10 per night fee for additional vehicles. For reservations, please visit www.ReserveCalifornia.com.
Tent Cabins– Registration for the Tent Cabins is at the Gift Shop or after hours at the Host Site at Huckleberry Campground. The tent cabins are managed by a private concession. To make Tent Cabin reservations, please call (800) 444-7275.
Horse Camp – At Rancho del Oso (the coastal portion of Big Basin), located off Highway 1 in Davenport, there is a Horse Camp that, with reservations, allows riders to camp overnight with their horses. For reservations for the Horse Camp, please call Big Basin Headquarters at 831-338-8861. Please note, dogs are not allowed in any portion of Rancho del Oso, including the Horse Camp.
Little Basin Concession Group Campground- Little Basin is a 534-acre California State Parks campground that was recently added to Big Basin Redwoods State Park through a partnership with the Peninsula Open Space Trust and Sempervirens Fund. Little Basin is currently operated by the non-profit management organization United Camps, Conferences, and Retreats (UCCR). For more information, please click here.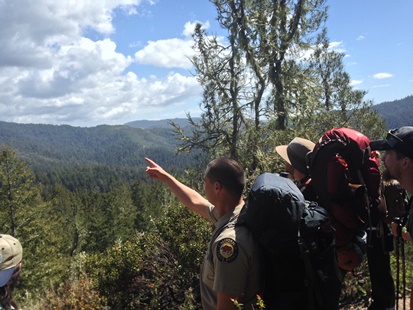 BACKPACKING - There are 5 backcountry trail camps with in Big Basin Redwoods State Park that require reservations. There are additional backcountry trail camps in surrounding State Parks that can link to Big Basin such as Castle Rock State Park and Butano State Park. The Skyline to the Sea Trail begins at Castle Rock State Park, and ends at Rancho Del Oso and Waddell State Beach. For more information about backcountry trail camps and to make reservations, please click here.
Naturalist-led backpacking trips are offered during the summer season in the Santa Cruz Mountains through the California State Parks Backpacking Adventures program. For more information, please click here.
Basic Park Information
FEES – There is a vehicle day-use fee for the day-use area and the campground. Regular sized autos ($10), seniors age 62 or older ($9), bus parking 10-24 passengers ($50), and bus parking for 25+ passengers ($100). There is no fee at the Rancho del Oso Nature and History Center.
Camping is $35 a night, plus $10 fee per night for additional vehicles.
DOGS are allowed in the campsites, picnic areas, and on paved roads. They must be on a leash and attended at all times. Dogs are not permitted on any of the trails or fire roads excluding the campground connector trail from Sempervirens and Blooms Creek campgrounds to park headquarters. Dogs are not allowed in any portion of the Rancho del Oso area, or on Waddell State Beach.
Dogs are allowed on North Escape, a 2.5-mile one-way (5-mile round trip) paved road that is mostly gated off to cars and alongside old-growth redwoods, a creek, and lush undergrowth.
HORSES are allowed on:
All fire roads
Skyline to the Sea trail from Rancho Del Oso to the seasonal bridge near the base of the Berry Creek Falls trail.
China Grade to the Toll Road Interconnector Trail
Trails: McCrary Ridge Trail, East Ridge Trail, Last Chance Trail, Clark Connector Trail Westridge Trail, Henry Creek Trail, and the Basin Trail.
BICYCLES are allowed on all fire roads and on the Skyline to the Sea trail from Rancho Del Oso to the seasonal bridge near the base of the Berry Creek Falls trail.
DRONES are not allowed in the park. To protect wildlife and cultural resources, and for the safety and welfare of visitors and staff, Big Basin Redwoods State Park is closed to the use of Model Aircraft, Unmanned Aircraft Systems (UAS), and Gliders in flight.
PROFESSIONAL/COMMERCIAL PHOTOGRAPHY AND FILMING requires a permit through the California Film Commission. For more information, please click here.
WEDDINGS, PARTIES, AND SPECIAL EVENT PERMITS please call (831) 335-6324 or email mtnspecevent@parks.ca.gov.
This is a Crumb Clean Park
Big Basin Redwoods SP, Big Basin Tent Cabins, Little Basin Redwoods SP, and the Backpack Trail Camps are Crumb Clean. Feeding wildlife is prohibited by law. Dispose of all trash properly and don't leave it out in your campsite where animals can get to it. Recycle glass, plastic, and aluminum.
Visitors are required to watch this short video about the impact your food has on park wildlife.
Volunteers in Parks
Do you enjoy nature and being outdoors? Do you feel a strong sense of giving to the community, promoting conservation and stewardship, and sharing knowledge with others? You can join our stewardship team and help connect park visitors to our natural and cultural resources. For more information, please click here.
---
Available Activities and Facilities at Big Basin Redwoods State Park
OVERNIGHT FACILITIES
Family Campsites
Group Campsites
Hike or Bike Campsites
Lodging
RV Dump Station
Alternative Camping
RV Access

TRAIL USE
Bike Trails
Hiking Trails
Horseback Riding

DAY-USE ACTIVITIES & FACILITIES
Historical/Cultural Site
Picnic Areas
Env. Learning/Visitor Center
Exhibits and Programs
Guided Tours
Interpretive Exhibits
Swimming
Vista Point
Nature & Wildlife Viewing
Windsurfing/Surfing
Museums
Family Programs
Geocaching

OTHER FACILITIES & VISITOR INFORMATION
Food Service
Camp Store
Restrooms / Showers
Restrooms
Drinking Water Available