Santa Cruz Mountains Backcountry Trail Camps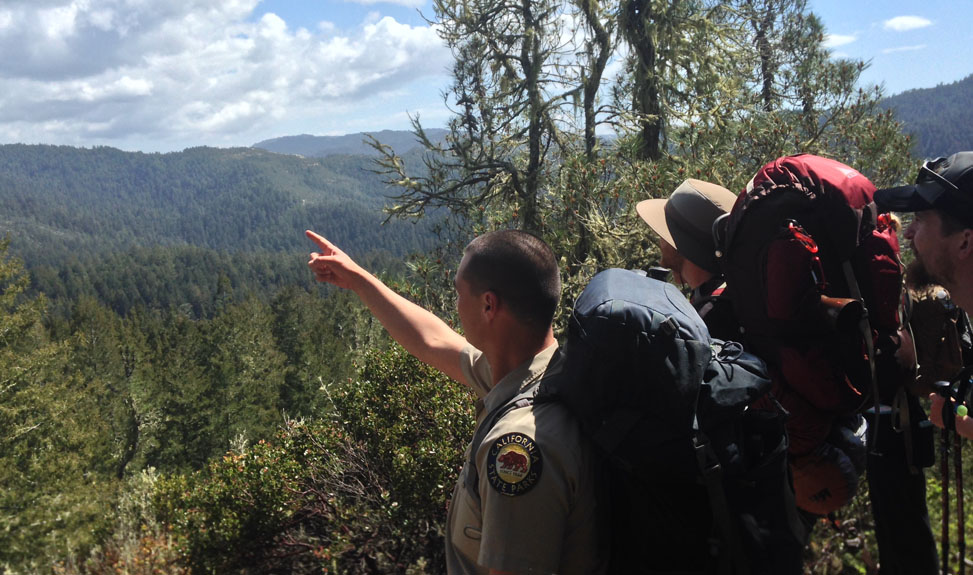 Looking for your next adventure?
California State Parks Backpacking Adventures offers naturalist-led backpacking trips through the Santa Cruz Mountains each summer. Online registration opens February 1 at 9am.
NO WATER at WATERMAN GAP TRAIL CAMP
Due to an issue with our water system, there is
NO WATER
available at
Waterman Gap Trail Camp
.

All water must be packed into the camp.

The nearest source of surface water north of Waterman Gap Trail Camp is Tin Can Creek where it is crossed by the Saratoga Gap Trail approximately 2.9 miles north of Waterman Gap.

The nearest source of surface water south of Waterman Gap Trail Camp is Boulder Creek where it is crossed by the East Ridge Trail approximately 4.5 miles south of Waterman Gap. Water in this area is drying up and you might have to continue an additional 2 miles for a total of 6.5 to get to Opel Creek where it is crossed by Skyline to the Sea Trail.
Remember all surface water must be treated before being used.
Please plan accordingly.
We apologize for the inconvenience and we are working to fix the issue as soon as possible but we expect the water to be out for some time.
WINTER IN THE SANTA CRUZ MOUNTAINS BACKCOUNTRY TRAIL CAMPS
To avoid damaging the backcountry road system by driving on the dirt roads during the wet winter months, California State Parks will not be providing toilet paper or trash service to the backcountry trail camps until May 1, 2020.
Please pack out all trash and please bring your own toilet paper. Do not dispose of trash in the pit toilets or the food lockers.
Seasonal Bridges may be washed out and creeks might be high. Rescue could be delayed by down trees, wet roads, and storm conditions. Please plan accordingly.
Starting November 1st, the following Backcountry Trail Camps will be OPEN with reduced service. Reservations and Backcountry Permits are still required:
Waterman Gap Trail Camp in Castle Rock State Park
Jay Trail Camp in Big Basin Redwoods State Park
Sunset Trail Camp in Big Basin Redwoods State Park
Lane Trail Camp in Big Basin Redwoods State Park
Twin Redwoods Trail Camp in Big Basin Redwoods State Park
Butano Trail Camp in Butano State Park
Castle Rock Trail Camp with its foul weather shelter, will be OPEN on a first come, first serve basis

The following Trail Camp will be CLOSED until May 1st 2020:
Alder Trail Camp in Big Basin Redwoods State Park
Backcountry Trail Camp Reservations and Information for
The Santa Cruz Mountain Backcountry Trail Camps provide an incredible wilderness experience in the back yard of the San Francisco Bay Area. These trail camps are located within thousands of acres of redwood forest and are connected by an extensive trail system, spanning from the skyline ridge tops down to the Pacific Ocean. There are eight different trail camps open for reservation in our backpacking system across four different State Parks: Big Basin Redwoods, Portola Redwoods, Castle Rock, and Butano State Park. Along these trails, you will get to experience a variety of different scenery, wildlife, and geological features.
Trail Camp Rules:
Trail Camps are open by reservation only. No dispersed camping is allowed.
Overnight parking for Backpackers is only in designated trail head parking lots. Do not park along highways or in other undesignated areas.
Trail Camps are primitive. Bring your own water since Butano, Lane, Alder, Twin Redwoods, Slate Creek, and Sunset Trail Camps do not have water faucets. We do not recommend consuming backcountry water, but if you choose to do so, we recommend using a filter that removes particles, bacteria, cysts and parasites larger than 0.2 microns.
Hikers must be off trails by sunset. Please arrive early enough to reach your assigned trail camp by sunset. If you arrive after sunset you will not be permitted to embark on your trip.
No ground fires of any kind are allowed. Backpacking stoves may be used for cooking in all trail camps except in cases of extreme fire danger.
No smoking on any trails or in any trail camp.
Do not wash your dishes or clothing in creeks. Do not bathe in creeks.
Never feed wildlife or allow wildlife to access your food. You are required to use the food lockers to store your food.
No bikes are allowed on the single track trails. Bikes are only permitted on fire roads and on the Multi-Use section of the Skyline to the Sea Trail between Rancho Del Oso at Waddell Beach and the bike rack below Berry Creek Falls in Big Basin Redwoods State Park.
No dogs are allowed in the trail camps or on the trails.
No horses are allowed in the trail camps. Horse camping is permitted at Rancho Del Oso Horse Camp in Big Basin Redwoods State Park. Call (831) 338-8867 for information and reservations.
Campers must display permits when parking and carry their Backcountry Permit at all times.
Camp in designated areas only and only in your assigned trail camp.
6 people maximum per site.
Campers under 18 years of age must provide written permission from or be accompanied by a guardian.
Hammocks are to be used with tree straps only and are not to be attached to any redwood trees.
In case of emergency call 911 from one of the pay phones near a ranger station or from a call box on Highway 1 or Highway 9 and a ranger will be dispatched. It is unlikely your mobile phone will have coverage in the backcountry.
Fees
Trail camp fees are $15 per site, per night. (maximum 6 people per site)
There is a $8 non-refundable reservation fee. The reservation fee covers processing and any cancellations/adjustments.
Each campsite can accommodate up to 6 people and you are allowed to reserve up to two campsites per reservation.
If you are reserving more than two sites for a group of 13 or more the non-refundable reservation fee is a flat $25.00 no matter how many campsites are being reserved.
Group reservations are allowed Sunday – Thursdays only, not on weekends.
Changes and/or cancellations must be made a full 48 hours in advance by calling (831)338-8867.
Before You Make a Reservation
This guide is designed to help you plan your trip. Inside is information about each trail camp, the trail heads, suggested routes, and more. Please read the guide, pick your route and your trail camps. Once you have your itinerary picked out, you can be more informed when requesting a reservation.
Maps
Big Basin Redwoods State Park Map
Portola Redwoods State Park Map
Please check the Trail Camp Calendar for availability of Trail Camps on the nights you would like to stay.
The calender lists how many sites are still avalable at each trail camp for each night. Each site has a capacity of 6 people. If it reads 0 avalable, we are sold out. Please check the campsite availability for each day you plan on backpacking at each of the trail camps you plan on staying at before submitting your reservation request.
We process requests in the order received. The calendar may show that there is availability, but if other person submitted a request before you which is still pending, we might sell out before we process your request. Trail Camp requests are processed Monday through Friday from 9am to 5pm. If the dates you want are not available now, check back for cancellations.
How to Make Reservations
Reservations are required for all backcountry trail camps. There is no dispersed or off-trail camping allowed.
Reservations can be made 60 days in advance by submitting a request online.
Fill out an online Trail Camp Request Form and click submit.
**Sending a request does not mean that you have a reservation. Reservations are confirmed once paid**
Wait for us to process your request. Requests are processed Monday through Friday from 9am to 5pm.
If your request is rejected you will need to start over and submit a new request.
When your request has been approved we will hold your reservation until 5pm the following business day pending payment. If your reservation is not paid by 5pm the following business day we will cancel your request and you will need to submit a new one.
Reservations are paid over the phone using a debit/credit card. Please call (831)338-8867 Monday through Friday 9am to 5pm to pay for your reservation and get any final questions answered.
Once you have paid for your reservation, your permits will be emailed to you.
For groups of 13+, call (831) 338-8867. Group reservations are allowed Sunday-Thursday only, and can be made at any time for the current year. Additional fees apply.
Please click the link above to send a Backcountry Trail Camp Request. We process requests Monday through Friday from 9am to 5pm. Sending a request does not mean you have a reservation. Reservations are confirmed upon payment. Requests for trail camps may be made up to 60 days in advance.
To make a same day reservation, please call (831) 338-8867.
For groups of 13 or more, you will need a group reservation. Group Reservations can be made by calling (831) 338-8867.
Castle Rock Trail Camp Information:
Castle Rock Trail Camp is different from the other Backcountry Trail Camps. It is open year round on a first-come, first-serve basis. It has trash receptacles, bathrooms, and 20 campsites with picnic tables and fire rings. Gathering of wood is not permitted but wood is available for sale during the wet season. Fires are not allowed during fire season. Signs will be posted indicating whether or not fires are permitted. The cost is $15 per campsite per night. This includes overnight parking for one vehicle. Each additional vehicle is $10 per night. To register and pay your fees, check in with staff at the Robert C. Krikwood Parking Lot. Place your receipt on the dashboard in a visible place as proof of payment. Rangers will verify payment. For more information about camping and fire closure dates, please call Castle Rock State Park at (408) 868-9540.