Portola Redwoods State Park
Contact Information
(650) 948-9098
Park Hours
Day use hours are 6am-sunset

In severe weather the park might be closed.
Max. Trailer Lengths
Trailer: 21 Feet
Camper/Motorhome: 24 Feet
Driving Directions to Portola Redwoods SP
From Highway 35, turn west onto Alpine Road, go 3 miles, and turn onto Portola State Park Road. The road dead ends in the park. Use low gear as both these roads are steep and winding.
Due to mountain roads, expect a 1 1/2 to 2 hour drive from most Bay Area locations. There is no gasoline available at or near the park. There is no store in or near the park.


Camping and Lodging
Online reservations are available 24 hours a day, seven days a week. Reservations can be made 7 months in advance on the first day of the month beginning at 8:00 a.m. PST via the website, by mail, or by calling the toll free telephone number at 1-800-444-7275. Due to seasonal volume, access to the ReserveAmerica website and the telephone line may at times be limited.
Trail Camps
For more information and reservations for Slate Creek, please visit the Santa Cruz Mountain State Parks
Backcountry Trail Camp Page
.
Upcoming Park Events
No events scheduled at this moment.
---
Campground Construction
California State Parks is working to construct animal resistant dish washing stations throughout the campgrounds in Big Basin Redwoods State Park, Butano State Park and Portola Redwoods State Park as part of our ongoing efforts to protect the endangered Marbled Murrelet.

Due to severe winter weather which delayed construction, we will have to continue working into the busy summer season in order to complete this project.

Visitors should expect construction noise from 7am to 5pm. This includes saws, hammers, and other possibly loud noises.

We apologize for the inconvenience and appreciate your understanding as we rush to complete this vital project


Visiting Portola Redwoods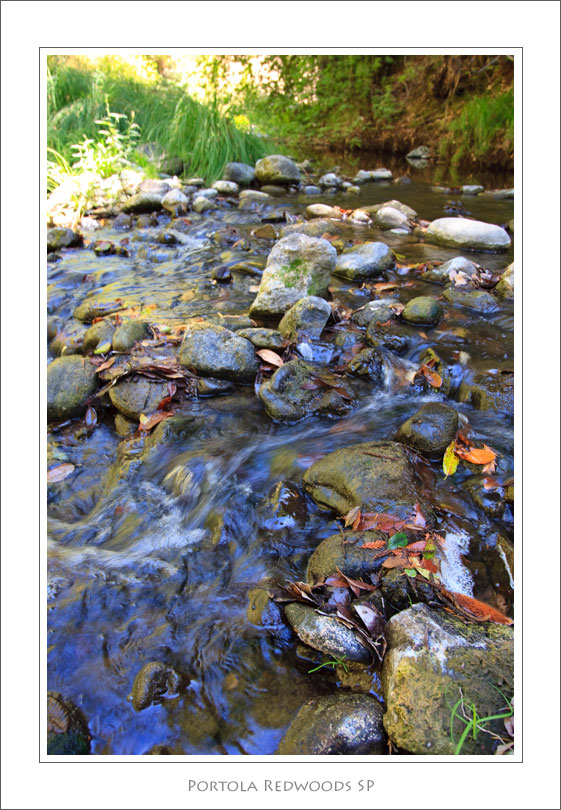 At Portola Redwoods State Park, silence and tranquility rule. The road leading to its 2,800 acres drops from a ridgetop into a deeply shaded redwood forest, offering a hushed getaway from the suburban bustle of nearby Silicon Valley and the South Bay. The visitor center, with its couches and fireplace, feels like a wilderness lodge. Eighteen miles of trails follow meandering creeks, where moisture-loving coast redwoods stand tall among ferns and huckleberries. Waterfalls on Fall and Pescadero creeks tumble down mossy banks over rocks and woody debris.
The park has a 55-site family campground, 4 group campsites, and a trail camp for backpackers. It also protects some of the most remote and scenic redwoods in the region, the Peter's Creek Grove.
The park is open year round for hiking, picnicking, and other day uses. The campground is open April through October and the visitor center is open on weekends year round and on weekdays as staffing permits.
The park is a 1.5- to 2-hour drive from most Bay Area locations. See the link above for directions. Please come prepared: there's no gasoline or food available at or near the park.

Weather
Come prepared for any type of weather. The park gets 40 to 60 inches of rain per year, and the summer months can be foggy and cool. Summer high temperatures are in the 70s to 80s, lows in the 50s. Winter highs are in the 40s to 50s, lows in the 30s.

Please Remember
• Pets are permitted only in campsites and picnic areas and on paved roads and the Upper and Lower Escape Roads.
• Dogs must be on a leash no longer than six feet and attended at all times. At night they must be confined with their guardian inside a tent or vehicle. Except for service animals, dogs are not allowed in the visitor center or on hiking trails or dirt roads. Paved roads and Upper and Lower Escape Roads at the north end of the campground are the only dog-walking options in the park.
• Hiking trails are also closed to bicycles and horses.
• Firewood may be purchased at the park office or from the camp host. Please do not gather wood; the health of the forest depends on the nutrients provided by fallen wood.
• Quiet hours are from 10 p.m. to 8 a.m. Do not operate generators between 8 p.m. and 10 a.m. Sounds should not be audible beyond your campsite at any time.
• No fishing is allowed.
• All natural and cultural features are protected by law and must not be disturbed or removed.
• Use extreme care during the last few miles of the drive to the park; the road downhill is narrow and steep.
• Be sure to bring plenty of gas and other supplies. The nearest gas station is in Sky Londa (14 miles away at the intersection of highways 84 and 35) and the nearest groceries are in Sky Londa and La Honda (9 miles away on Highway 84).
• Keep the park "crumb clean." Jays, ravens, and crows are attracted to food left behind by campers and picnickers. These birds eat the eggs and chicks of an endangered seabird that nests in old-growth forests along the coast, the marbled murrelet. Leave no food out: not even a crumb.
This park is Crumb Clean. Visitors are required to watch this short video about the impact human food has on park wildlife.
Social Feed
---
Available Activities and Facilities at Portola Redwoods State Park
OVERNIGHT FACILITIES
En route Campsites
Environmental Campsites
Family Campsites
Group Campsites
Hike or Bike Campsites
Primitive Camping
RV Access

TRAIL USE
Hiking Trails

DAY-USE ACTIVITIES & FACILITIES
Historical/Cultural Site
Picnic Areas
Env. Learning/Visitor Center
Exhibits and Programs
Interpretive Exhibits
Swimming
Museums
Family Programs
Geocaching

OTHER FACILITIES & VISITOR INFORMATION
Parking
Restrooms / Showers
Restrooms
Drinking Water Available