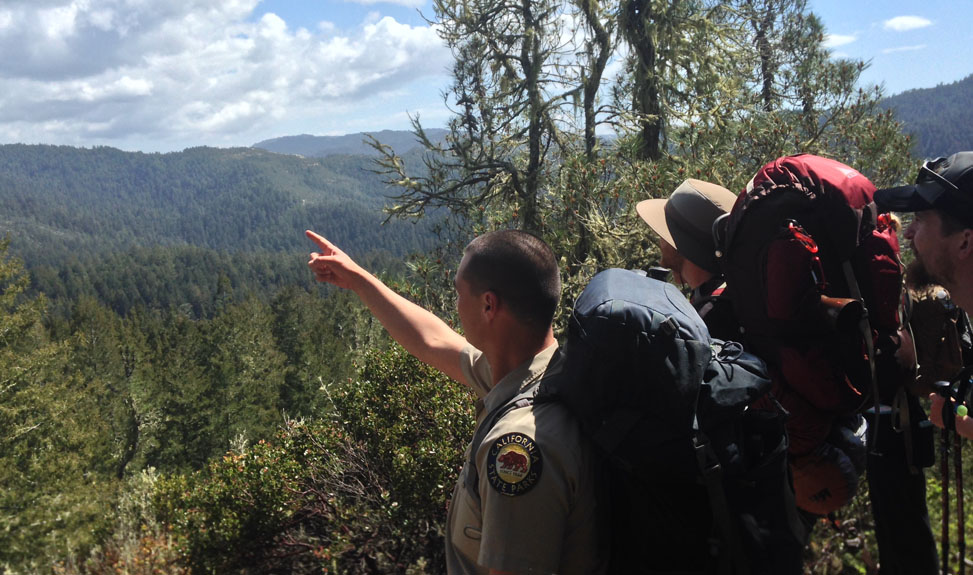 Looking for your next adventure?
California State Parks Backpacking Adventures offers naturalist-led backpacking trips through the Santa Cruz Mountains each summer. Online registration opens March 1 at 9am.

Artists, we have a special backpacking trip option for you: the Big Basin Artabout! Ten artists will be chosen to particpate in the first backpacking trip in Big Basin since the CZU Lightning Complex Fire on June 3-4, 2023. Artists will recieve a $2500 stipend and will create an artistic piece in the medium of their choice inspired by the trip to be displayed in the park! The deadline to apply is April 28, 2023. For more information, visit the Big Basin Artabout website.


For reservations, please visit www.reservecalifornia.com
Due to inclement weather during the Fall/Winter season, this park may infrequently have to close and park visitors be relocated. If this is the case, campers will have the option to receive a full refund from the day of evacuation or be relocated to another park in the Santa Cruz District based upon availability. Thank you for your understanding.
FAMILY & GROUP SITES
Of the 55 family campsites at the park, one is wheelchair-accessible and four require a short walk from parking. Each site can accommodate up to 8 people. No family campsites have RV hookups.
The park has 4 group campgrounds for visitors with tents only. Ravine Group Camp holds 25 people, and Hillside, Point, and Circle Group Camps each accommodate 50 people. Reservations are required. Limits on the number of persons, including children, are strictly enforced. Visitors pay extra for more than 6 cars at Ravine or more than 12 cars at the other group camps.
For all family and group sites, check-in time is 2 p.m. Check-out time is noon. Pay showers are located in the main campground. The rate is 25 cents for two minutes. Showers may be closed in times of extreme drought.

HIKE-AND-BIKE SITES
The park has 4 hike-and-bike sites at Huckleberry Campground. They are first-come, first-served throughout the camping season.
SLATE CREEK - BACKPACKING TRAIL CAMP
Portola's trail camp is about 2.5 miles from Old Tree trailhead along the Slate Creek Trail. It's part of a network of eight Santa Cruz Mountains backcountry trail camps that extend to Big Basin, Butano, and Castle Rock state parks.

Portola's Slate Creek Trail Camp (for backpackers only) has 6 sites, which are limited to 6 people each. Fires are not permitted, but backpacking stoves are allowed. Water must be packed in or purified from nearby Slate Creek about one-fourth mile from camp. No dogs are allowed.

For more information and to make a reservations please visit Santa Cruz Mountain Trail Camps. Reservations are required and no dispersed camping is permitted.

CAMPGROUND RULES
The maximum length is 21 feet for trailers and 24 feet for motor homes. RV sites are numbers 1, 4, 7, 8, 9 and 19. There are no hookups.

If you do not have a reservation, check at the park office for a list of available sites. You may register for only one night at a time for a listed available site. You may not register for a site reserved by someone else.

Juveniles (under 18 years of age) not camping with a parent or legal guardian must have written permission to camp here. Permission forms must include the park name, name of the juvenile, dates they are staying, and the name, address, phone number and signature of parent. Children under 15 years of age may not camp without a parent present.