Phone Number
(650) 879-2040
Max. Trailer Lengths
Trailer: Up to 24 Feet
Camper/Motorhome: Up to 24 Feet
Park Hours
Sunrise to Sunset
Dogs Allowed?
Yes
Dogs allowed in campgrounds, and paved areas, and on fire roads.
Driving Directions to Butano SP
The park is on the San Mateo Coast, off Highway One. Three miles northeast of the Gazos Creek Coastal Access Point by way of Gazos Creek Road, and about 4.5 miles southeast of Pescadero by way of the Pescadero and Cloverdale Roads.


Online reservations are available 24 hours a day, seven days a week. Reservations can be made 6 months in advance beginning at 8:00 a.m. PST via the website, by mail, or by calling the toll free telephone number at 1-800-444-7275. Due to seasonal volume, access to the ReserveCalifornia website and the telephone line may at times be limited.
Trail Camps
For more information and reservations, please visit the Santa Cruz Mountain State Parks
Backcountry Trail Camp Page
.
Upcoming Park Events
No events scheduled at this moment.
OVERNIGHT FACILITIES
Environmental Campsites
Family Campsites
RV Access

TRAIL USE
Bike Trails
Hiking Trails
Horseback Riding

DAY-USE ACTIVITIES & FACILITIES
Historical/Cultural Site
Picnic Areas
Env. Learning/Visitor Center
Exhibits and Programs
Guided Tours
Interpretive Exhibits
Family Programs
Geocaching

OTHER FACILITIES & VISITOR INFORMATION
Parking
Drinking Water Available

Follow us on social media!
Trail Closures
The following trails are closed: Gazos Trl, Jackson Flats Trl (from Mill Ox Trl to Butano Fire Rd), Little Butano Creek Trl, Canyon Trl, Indian Trl, Chimney Tree Trl, Ray Linder Memorial Trl, Upper Ben Ries Campground Loop (Sites 2-21), Goat Hill Trl (from Ben Ries Trl to Water Plant Rd), Water Plant Rd, Butano Trail Camp (See
Butano SP Map of Trail Closures
).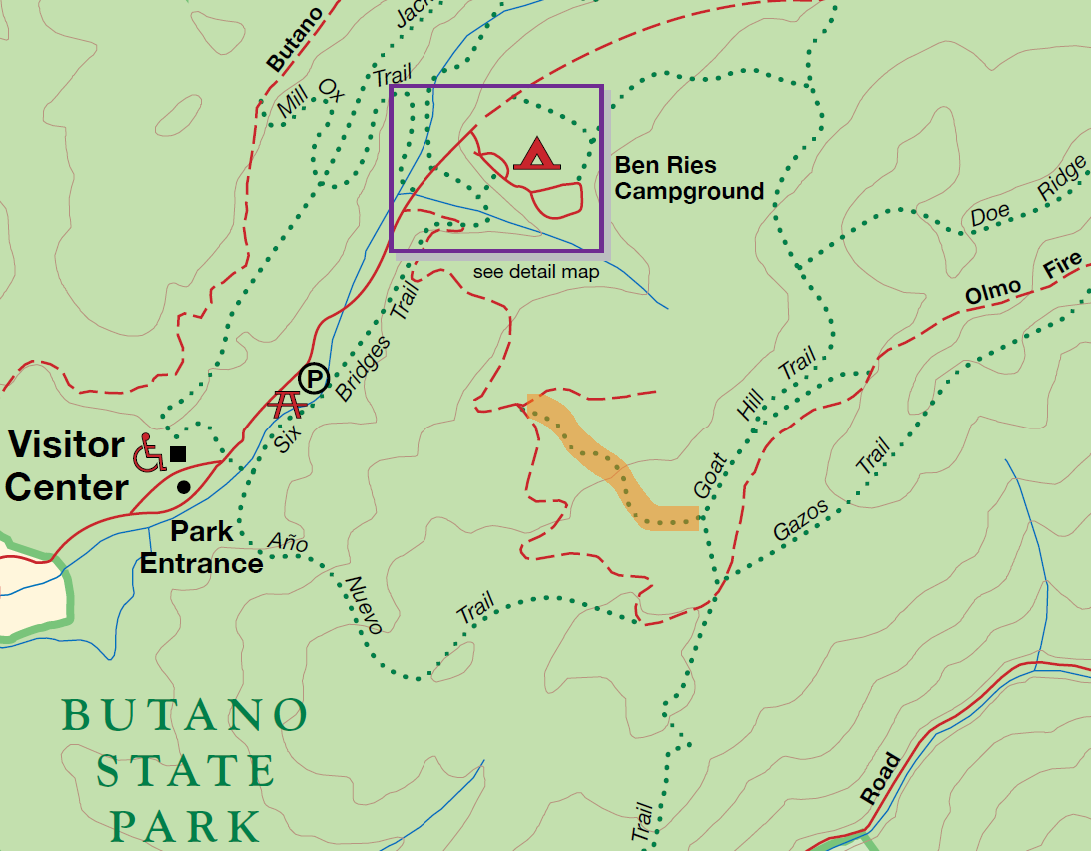 Trail Closures
The trail outlined in orange (part of Goat Hill Trail) will be closed Monday-Friday through the end of September due to tree felling work that is part of the Forest Health Project.
Forest Health Project
The San Mateo Resource Conservation District, in collaboration with CAL FIRE and California State Parks, are implementing a forest health project within Butano State Park. This project is intended to promote biodiversity, improve forest health, and reduce the risk of high intensity fire. In the next 2-3 years, more than 400 acres of the park will be treated using mechanical mastication, understory hand thinning, and thinning of Douglas-fir trees to reduce competition, fuel loading, and support biodiversity. Work is anticipated to be conducted until fall of 2024; however, weather impacts may necessitate project extension. Operations will take place between 7:00 a.m. and 6:00 p.m., Monday through Friday, with no work occurring on holidays. For visitor safety, trails will be closed intermittently when equipment is working nearby.
For additional information please contact:
California State Parks Contact: Tim Hyland, Natural Resource Program Manager – 831-335-6318; tim.hyland@parks.ca.gov
San Mateo RCD Contact: David Cowman, Forest Ecologist/Project Manager – 650-712-7765 x 107; david@sanmateoRCD.org
Funding for this project was provided by CAL FIRE's Forest Health program, which is part of the California Climate Investments Program. For more information, visit the California Climate Investments website at www.caclimateinvestments.ca.gov. Additional funding was provided by the California Department of Parks and Recreation Wildfire and Forest Resilience Program.
View our guided hikes and other public programs schedule and make a reservation by visiting our Parks Events page!
Crumb Clean Campaign
This park is Crumb Clean! Watch this short video to learn about the marbled murrelet, an endangered bird that nests in the park, and how you can protect it. Vea el video en español aquí.
Visiting Butano State Park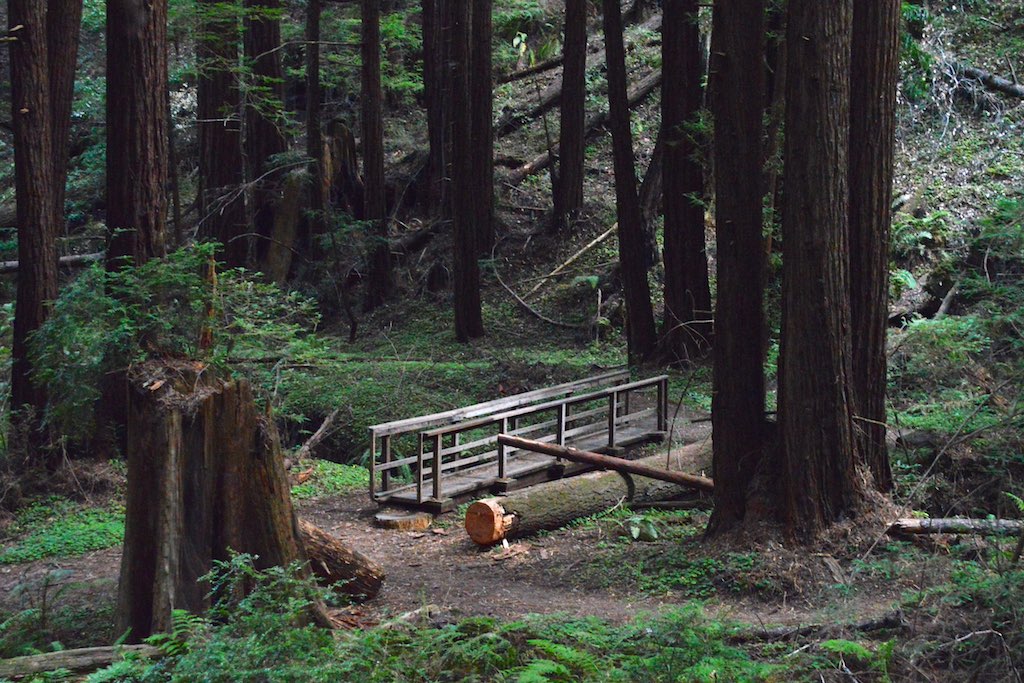 Butano State Park was created in 1957 to protect California's coast redwoods from logging. Today's visitors to will discover a quiet canyon filled with towering second- and third growth-redwood trees, babbling creeks, and more.
The park features 40 miles of hiking trails that wind through over 4,000 acres of canyons and uplands. Scattered throughout are patches of oak woodland, wet riparian, and sunny chaparral ecosystems. Among the diverse wildlife and plants in the park, hikers may spot woodpeckers, newts, and flowering calypso orchids in springtime.

Hidden amongst the redwoods the park provides 21 drive-in campsites, 18 walk-in campsites and a backcountry trail camp with 8 campsites. Restrooms with running water are provided in the main campground. Drinking water is available at the park in both the main campground and the day-use areas. There are no showers.

Guided nature walks and weekend campfire programs are offered during the summer.
If you have an hour, enjoy the redwoods, ferns, and sorrel along the gentle yet spectacular Little Butano Creek Trail. It extends 1.5 miles into the heart of the park's redwoods
If you have half a day, stretch your legs and see the redwoods, wetlands, and ridgetop views from the 5-mile-long Jackson Flats Loop.
If you have a full day, leave civilization behind and venture out into the forgotten forests and scenic overlooks of the 9.5-mile-long Canyon Loop.
Basic Park Information
DOGS are permitted in the campground and in paved developed areas, providing they are controlled at all times by an adult holding a leash no more than six feet long. Dogs must be confined to a tent or vehicle at night. Except for service animals, dogs are not permitted on park trails.
BEN RIES CAMPINPGROUND is CLOSED as a result of fire-related damage to the park's water system.
BUTANO TRAIL CAMP is CLOSED due to fire damage.
DRONES are not allowed in the park. To protect wildlife and cultural resources, and for the safety and welfare of visitors and staff, the park is closed to the use of Model Aircraft, Unmanned Aircraft Systems (UAS), and Gliders in flight.
WEDDING & SPECIAL EVENTS PERMITS please contact SMPermits@parks.ca.gov or call (650) 726-8819.
FILM & PHOTOGRAPHY PERMITS please contact the park directly.


---