Closure Notice (8/19/2020):
The park is currently closed due to the CZU Lightning Complex Fires until further notice. Thank you for your patience and understanding.
Phone Number
(650) 879-2040
Max. Trailer Lengths
Trailer: Up to 24 Feet
Camper/Motorhome: Up to 24 Feet
Park Hours
Sunrise to Sunset
Dogs Allowed?
Yes
Dogs allowed in campgrounds and paved areas.
Driving Directions to Butano SP
The park is on the San Mateo Coast, off Highway One. Three miles northeast of the Gazos Creek Coastal Access Point by way of Gazos Creek Road, and about 4.5 miles southeast of Pescadero by way of the Pescadero and Cloverdale Roads.


Camping and Lodging
Online reservations are available 24 hours a day, seven days a week. Reservations can be made 6 months in advance beginning at 8:00 a.m. PST via the website, by mail, or by calling the toll free telephone number at 1-800-444-7275. Due to seasonal volume, access to the ReserveCalifornia website and the telephone line may at times be limited.
Trail Camps
For more information and reservations, please visit the Santa Cruz Mountain State Parks
Backcountry Trail Camp Page
.
Upcoming Park Events
No events scheduled at this moment.
OVERNIGHT FACILITIES
Environmental Campsites
Family Campsites
RV Access

TRAIL USE
Bike Trails
Hiking Trails
Horseback Riding

DAY-USE ACTIVITIES & FACILITIES
Historical/Cultural Site
Picnic Areas
Env. Learning/Visitor Center
Exhibits and Programs
Guided Tours
Interpretive Exhibits
Family Programs
Geocaching

OTHER FACILITIES & VISITOR INFORMATION
Parking
Drinking Water Available

Visiting Butano State Park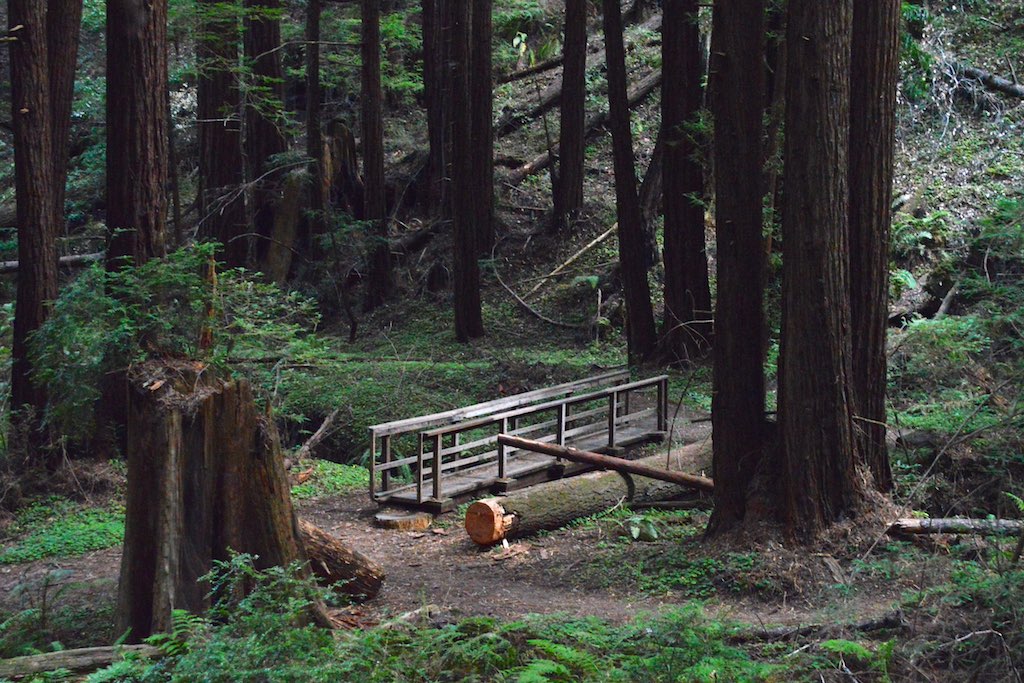 Butano State Park was created in 1957 to protect California's coast redwoods from logging. Today's visitors to will discover a quiet canyon filled with towering second- and third growth-redwood trees, babbling creeks, and more.
The park features 40 miles of hiking trails that wind through over 4,000 acres of canyons and uplands. Scattered throughout are patches of oak woodland, wet riparian, and sunny chaparral ecosystems. Among the diverse wildlife and plants in the park, hikers may spot woodpeckers, newts, and flowering calypso orchids in springtime.

Hidden amongst the redwoods the park provides 21 drive-in campsites, 18 walk-in campsites and a backcountry trail camp with 8 campsites. Restrooms with running water are provided in the main campground. Drinking water is available at the park in both the main campground and the day-use areas. There are no showers.

Guided nature walks and weekend campfire programs are offered during the summer.
If you have an hour, enjoy the redwoods, ferns, and sorrel along the gentle yet spectacular Little Butano Creek Trail. It extends 1.5 miles into the heart of the park's redwoods
If you have half a day, stretch your legs and see the redwoods, wetlands, and ridgetop views from the 5-mile-long Jackson Flats Loop.
If you have a full day, leave civilization behind and venture out into the forgotten forests and scenic overlooks of the 9.5-mile-long Canyon Loop.
Basic Park Information
DOGS are permitted in the campground and in paved developed areas, providing they are controlled at all times by an adult holding a leash no more than six feet long. Dogs must be confined to a tent or vehicle at night. Except for service animals, dogs are not permitted on park trails.
BEN REIS CAMPINPGROUND is closed from December 1st to March 31st. Reservations for April 1st through November 30th are available by clicking the online reservation tab above or by calling 1-800-444-7275.
BUTANO TRAIL CAMP is open year round. Starting November 1st, the Butano Trail Camp will be OPEN with reduced service. Reservations and Backcountry Permits are still required. To avoid damaging the backcountry road system by driving on the dirt roads during the wet winter months, California State Parks will not be providing toilet paper or trash service to the backcountry trail camps until May 1st 2019. Please pack out all trash and please bring your own toilet paper. Do not dispose of trash in the pit toilets or the food lockers. For more information on Santa Cruz Mountains Backcountry Trail Camps, please click here
DRONES are not allowed in the park. To protect wildlife and cultural resources, and for the safety and welfare of visitors and staff, the park is closed to the use of Model Aircraft, Unmanned Aircraft Systems (UAS), and Gliders in flight.
WEDDING & SPECIAL EVENTS PERMITS please contact SMPermits@parks.ca.gov or call (650) 726-8819.
FILM & PHOTOGRAPHY PERMITS please contact the park directly.